Broadcast Launch, a software provider specialising in listener communications and radio station management, announced they have recently launched their first package ideal for internet radio and smaller stations. It allows individuals to receive unlimited SMS messages from over 15 countries worldwide via any web browser enabled device, along with email handling, Facebook and Twitter integration amongst other highly valuable broadcaster centric tools.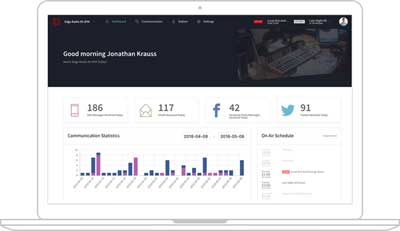 This will enable radio listeners to communicate with presenters, accept song requests, and even run competitions across a wide range of communication methods including SMS, email and social media.
All incoming messages are completing free using Broadcast Launch after the monthly radio numbers are settled. Additional communication methods are included in the monthly subscription. The software was designed to be a convenient, streamlined approach for radio communication and interaction with interested listeners across a range of communicative devices.
"We look forward to working with a wide range of stations from all over the world. From Internet radio stations, right up to commercial stations, we will deliver high quality and affordable software to help their staff and presenters receive valuable listener interactions. We're broadcasters ourselves, so we build for the industry we know and love," said James Davey, Founder and Developer at Broadcast Launch.
Broadcast Launch has impressive smart features built into its fabric, including smart codes that are ideal for running competitions on air, auto-responders for informing any radio listeners, and advanced blocking to stop unwanted listeners and spam from sending messages.
About Broadcast Launch
Since 2017, Broadcast Launch has been developing their system with one simple aim, to help radio stations communicate with their listeners. They achieve that by offering SMS messaging, email handling, Facebook integration and Twitter integration via one intuitive and affordable system. https://broadcastlaunch.com/