The burgeoning podcast medium will be the focus of a new conference program, show floor pavilion and recording studio at the 2018 NAB Show, April 7-12 at the Las Vegas Convention Center. The annual convention is the world's largest event encompassing the convergence of media, entertainment and technology.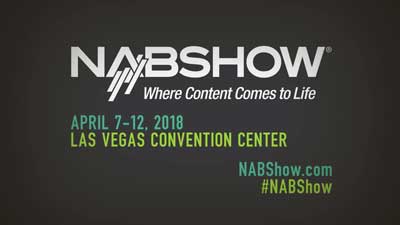 The new Content Strategies for Podcasting conference, sponsored by The NAB Podcast and held Wednesday, April 11, will include sessions on content creation, distribution tactics, fan engagement and monetization.
"The Anatomy of a Podcast Hit" session will feature the Tenderfoot TV team behind hit podcasts "Up and Vanished" and "Atlanta Monster." Podcast host and co-creator Payne Lindsey, co-creator Donald Albright and producer Meredith Stedman will discuss how they craft each episode and what challenges must be addressed to develop quality content.
"The Podcasting Boom: Engaging the Mobile Consumer" session, led by Photofocus Director Pamela Berry, will explore what's driving podcasting's recent growth and the best strategies for connecting to current and future audiences.
"We have greatly expanded podcasting's presence at NAB Show to help individuals and businesses understand and implement the latest technologies and content strategies to capitalize on the medium's growing popularity and potential," said NAB Executive Vice President of Conventions and Business Operations Chris Brown.
The new Podcasting Pavilion, located in the South Upper Hall, will feature companies supplying podcasters with the tools necessary to commercialize audio content. Examples of exhibitors include Blubrry, Libsyn, and Voxnest, among others. Also, the pavilion will house an Ask the Expert Area, powered by Podcast Engineering School, where attendees can gain professional insight on audio production, content, marketing, audience growth and monetization.
New to the lobby in Central Hall will be the NAB Show Podcast Studio. Attendees will have the opportunity to listen as episodes of well-known podcasts, including "Vegas Never Sleeps," are recorded directly from the convention center. Additional information is available here.