TASCAM's DR-10L ultra-compact digital recorder/ lavalier microphone has proven a winning combination for creative filmmakers and videographers, thanks to its outstanding sound quality, reliability, ease of use, and convenience. The new TASCAM DR-10LW is an all-white version of this powerful professional tool that is a perfect solution for location-recording applications such as wedding videography, where its small size and unique white finish ensures that it won't detract from the lovely bride as she walks down the aisle.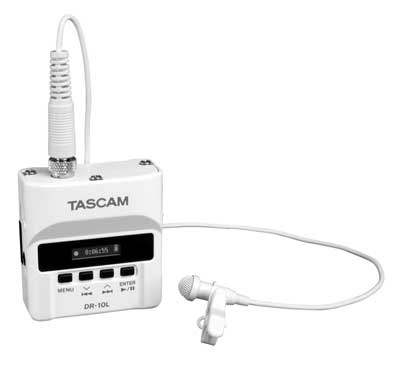 Easy to use and wear, the DR-10LW has all of the same features as the original DR-10L, including dual recording, which captures two files simultaneously at different levels. With dual recording, the lower-level recording serves as a safety track in case a sudden jump in audio level causes clipping distortion on the high-level track. This is just one of several level-management features that ensure a clean recording, even in challenging field conditions; others include automatic level control and a built-in limiter. You also get a low-cut filter.
The DR-10LW can capture up to 24-bit audio at up to 48 kHz and records standard WAV files (compatible with BWF format) to microSD or SDHC card. Its built-in clock function is convenient for editing and searching, and a timed track-incrementing function can create new files at regular intervals (about every 15 minutes) during recording. A micro USB B port enables easy data exchange with computers. This tiny recording powerhouse operates for up to 10 hours on one AAA alkaline battery and weighs only 63g (2.2 oz), including battery.
Although the DR-10LW comes with a professional-quality lavalier microphone, when recording on location, it's wise to have color options and an extra mic for emergencies. To that end, TASCAM has announced the TM-10LB (black) and TM-10LW (white) microphones. These two professional lavalier microphones make it fast and easy to choose the right color for the job, regardless of the color of the bodypack, and they serve as emergency replacements should disaster strike in the field. Both mics are equipped with Sennheiser-type connectors, making them compatible with a wide range of third-party equipment and accessories.
The TASCAM DR-10LW is available immediately at TASCAM dealers for a MAP/street price of $199.99. The TASCAM TM-10LB and TM-10LW are expected to be available early in 2018 at a MAP/street price of $79.99 per unit. www.tascam.com.