Pro Sound Effects has released Stallion - the third exclusive library from their partnership with renowned recordist and film sound pioneer, Ann Kroeber. Stallion features an incredible variety of charismatic horse sound effects from thunderous gallops to subtle breaths and expressive vocalizations.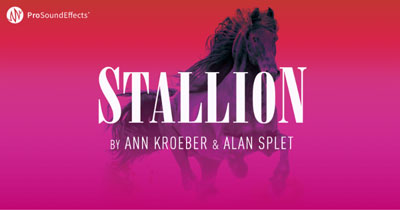 Kroeber, along with her late partner Alan Splet, are celebrated for innovating the evocative use of sound effects in film. Many of the horse sounds in Stallion were recorded while working on major feature films including The Black Stallion, The Horse Whisperer, and Hidalgo. Splet's work on The Black Stallion won him a Special Achievement Academy Award® for Sound Editing.
Using a unique custom microphone rig for the horse - with one mic fastened under the belly and another in front of the nose - the galloping sounds in this library achieve an extraordinary dramatic quality with the horse's powerful footsteps captured in harmony with its breathing.
"Ann's amazing animal recordings are truly unique, and always extremely evocative, powerful and textured," says Peter Albrechtsen, MPSE (The Girl With the Dragon Tattoo, Thelma). "The Black Stallion is a milestone in film sound and has been a major inspiration for generations of sound designers. The expressive vocals and detailed, sensitive sounds of the horse still amaze me."
Stallion Key Features:
• 89 sound effects (1.1GB)
• 24-bit/48kHz broadcast .wav files
• Descriptive embedded metadata
• 100% Royalty-Free
• Download or flash drive delivery (+$40)
• Free Sampler available for download (2 sounds, 18MB)
Learn more about Pro Sound Effects
Pricing and Availability:
The Stallion sound effects library is available now at $149 for a one-user lifetime license. A free sampler including two WAV files selected from the library is available for immediate download at prosoundeffects.com/stallion.
2+ users? Contact This email address is being protected from spambots. You need JavaScript enabled to view it.. .