BOSS announces the VE-500 Vocal Performer, a unique and powerful vocal harmony/multi-effects processor pedal. The VE-500 is a high-performance vocal toolkit with automatic harmony/pitch correction, a vocoder, and deep effects options that allow users to process their voice any way they like, from subtle sweetening to the dramatic, over-the-top effects heard on many modern records. It's the perfect addition to the pedalboard of any singing guitarist, providing top-flight vocal processing right alongside standard guitar effects pedals.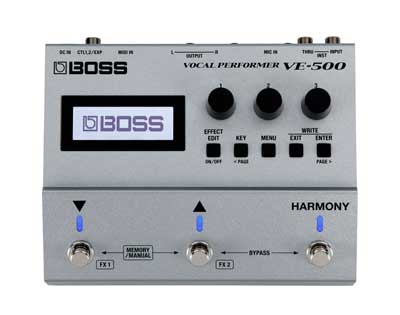 The VE-500's streamlined stompbox configuration makes it simple to integrate with any pedalboard setup. Plugging a guitar into the instrument input drives the harmony, pitch, and vocoder functions, while the Thru output provides an unprocessed signal to feed regular pedals. Three assignable footswitches offer versatile real-time performance control, and stereo XLR outputs enable processed vocal sounds to be sent directly to a PA mixer, stage monitor, or recording device.
Powered by advanced BOSS processing, the VE-500's automatic harmony engine detects the chords and key played with a guitar to generate smooth and natural two- and three-part harmonies in real time as the user sings. Selectable harmony modes provide further options for refining the harmonies to suit songs that have more complex key structures. The harmony engine can alternately be driven via MIDI (through either the VE-500's MIDI or USB inputs), enabling users to generate pitch-perfect live harmonies with a MIDI keyboard or DAW-based backing tracks.
The VE-500's creative and inspiring vocoder function is derived from BOSS's innovative VO-1 Vocoder pedal. By vocalizing into the connected mic as they play, users can instantly transform their guitar's tone with synthesized electronic voices. It's also possible to replicate traditional talk box sounds, providing access to classic "talking lead guitar" tones without having to use a talk box rig and mouth tube.
Inside the VE-500 are wide-ranging effects for crafting nearly any vocal sound imaginable. Included are compressor, EQ, and de-esser tools for shaping the core vocal tone, plus world-class reverb, delay, and modulation sounds and specialty effects like distortion, filtering, and many others. Up to nine effect sections can be used simultaneously, and highly flexible routing options are available for processing live and harmonized vocals together or separately. A dedicated looper is accessible as well for looping vocal sounds.
The VE-500 also features a dedicated pitch correction section, which is driven via guitar or MIDI just like the harmony function. It can be used for transparent pitch stabilization or replicating heavily effected sounds heard on modern hits, including hard pitch correction, electronic tonalities, and even robot-voice sounds.
With the VE-500's large display and panel knobs/buttons, it's simple for users to edit sounds and save them in 99 user patch locations for instant recall while performing. Editor/librarian software is also available for tweaking and organizing sounds from a Mac or Windows computer via USB.
To learn more about the VE-500 Vocal Performer, visit www.Boss.info.