Propellerhead Software announced that Reason 10 is now available via the Propellerhead website and authorized resellers worldwide. Unlock a wealth of inspiring sounds and breathe new energy into your tracks with two massive new synthesizers – the Europa Shapeshifting Synthesizer and the Grain Sample Manipulator. Dive deep with three new organic instrument devices, a premium acoustic piano, a creative modulation device, and 3 GB of cutting-edge drum loops and samples. Open up a new world of exciting creative possibilities with Reason's biggest content upgrade ever.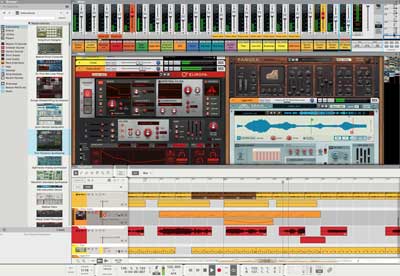 "Reason 10 builds on our award-winning software with the best sounding instruments we've ever created," said Mattias Häggström Gerdt, Propellerhead Product Manager. "Europa and Grain continue our tradition of stunning yet intuitive synthesizers with more than a few tricks up their sleeves. Our users have been asking for powerful new devices that enable them to explore new sounds, and we delivered with Reason 10. Now that it's here, we're very excited to see what music they will create."
Europa is a dynamically generated wavetable synthesizer that offers extreme flexibility and power. Apply a wide range of modulation to the waveform itself, add advanced spectral filtering and harmonics processing – even draw custom waveforms. And despite its deep synthesis powers, you'll find it surprisingly easy to use, thanks to an intuitive interface and workflow.
Grain opens up the world of granular synthesis for Reason users with immense sonic power and an inviting interface. Drop any sample into Grain and explore endless sonic variations using an extensive collection of algorithms, ultra-flexible modulation, routing and effects.
Reason 10 also includes three new sampled instrument collections created in collaboration with Soundiron. Klang Tuned Percussion includes 10 high-quality sampled melodic percussion instruments that are perfect for modern pop and electronica. Pangea World Instruments includes 11 world instruments that add a unique flavor to any genre of music. Humana Vocal Ensemble is a collection of choirs and solo vocals, perfect for adding a human touch to film scores, soundtracks and more.
Reason 10 also includes Propellerhead's acclaimed Radical Piano instrument and Synchronous Effect Modulator – previously only available as Rack Extensions via the Propellerhead Shop. Radical Piano is an authentic, flexible and bendable piano instrument that provides sounds for every situation and every song. And with Synchronous, you can bring your music to life with quick sidechain effects – and even draw your own LFO curves to control filter, delay, reverb, distortion and level.
In addition, Reason 10 comes with over 3 GB of new sample content in Reason Drum Supply and Reason Loop Supply. These ReFills include a wealth of new drum samples and loops – from vintage drum machines to the sounds of the future.
View the Reason 10 announcement video below.
For more detailed videos about the new Reason 10 features, click on the following links to learn more about Europa, Grain and the new organic instruments and sounds.
For details, see https://propellerheads.se/Reason10.
Pricing and Availability
Reason 10 is available as a direct download via https://www.propellerheads.se or from an authorized dealer at the following suggested retail pricing:
Reason10 EUR USD $449 / €405
Reason Essentials 10 USD $129 / EUR €120
Reason 10 Upgrade (from any previous Reason version) USD $129 / EUR €129
Propellerhead is offering a grace period for customers who purchased Reason 9 on or after September 1, 2017. Purchasing and registering a qualifying product today makes users eligible for a free upgrade to Reason 10 instantly when it becomes available.