Page 1 of 3
Todd Manley, Creative Director, WGN Radio, Chicago, Illinois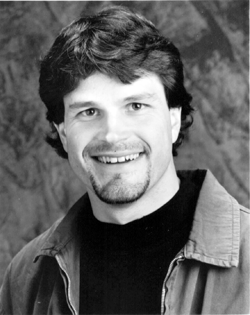 By Jerry Vigil
There you are, a production guru at a killer music station in a major market. Ever look at the ratings and see an AM talk station perched on the top or near it and said to yourself, "What the heck is that all about?" Even in a world of hi-tech music machines and FM music stations across the dial, it's not hard to find an old AM station kicking butt and taking names, as well as dollars. Speaking of old AMs, WGN in Chicago recently celebrated its 80th anniversary! It's kicking a lot of butt in Chicago-land, and even more unique is its ownership. Owned by Tribune, it is the only radio station the company owns. At the creative helm is Todd Manley. We last checked in with Todd about 8 years ago when he was nestled at WCKG. He's currently in his 7th year at WGN and visits with us this month about this amazing radio station and the creative task at hand.
JV: What's happened since we last talked back in '98?
Todd: Well actually, not long after we talked back then, maybe just a few months later, WGN radio called. They were talking to some people about creating — and this sounds wild to say in the late '90s — a concept for imaging. But in many ways, a lot of the heritage full-service AMs were moving late into that foray. Some of the smart ones, I think, jumped on early, and fortunately there were some people here at the time with Tribune that decided it was time to build up the production department. So we started talking, and I've been here now about seven years. It's been a really great run. In fact, I was lucky enough to work for the same PD for about six and a half of those years. We just now have some new leadership in tow, and we're kind of turning the page into some newer and cool challenges.
Anyway, I came here as the Production Director to oversee the commercial production department as well as create imaging. At the time, the shows themselves more or less did their own promos. So we started trying to strip the place down and look at how to build up a sound for all the talk programs. And we're live and local 24/7; that was the one thing that pulled me away from 'CKG. I loved that gig — great talent and it was cool doing the Stern stuff. Steve Dahl was there, and Jonathan Brandmeier was there at the time doing middays. We had that whole link up thing via KSLX in Los Angeles. But us imaging cats, on our best days, like to be the common thread that runs through the radio station. So the challenge of doing something that was live and local and not brokering weekends was something that really appealed to me, even though I would have loved to have spent another couple of years with CBS and the 'CKG team.
So while I'm watching all my brethren in the business take on five, six, seven stations in terms of imaging or production or whatever, I come here and find things quite the opposite. What's wild about this place is that we sit under this big Tribune umbrella where mostly what we do is publishing. In the past few years they have really been expanding their television holdings, but we're still the only radio station they own, and there are about 26 television properties. And we doubled the size of the company when we purchased the L.A. Times. I act like they consulted me on that, but that would have been a bad idea. I just said, "Cool, man!" We also have the Orlando Sentinel and we're in Hartford, and there's Newsday in New York and of course the Chicago Tribune. The Tribune itself now has a paper that is geared 25-54, as much as anything specifically to the urban commuter. It's called Red Eye. So while I found everybody else in a big group imaging several stations, my role expanded within the company to share what we do with sound across the publishing end of things and the rest of the broadcast group.
Then in 2001 they asked me to take on the role of Assistant PD in addition to doing the imaging. I had seven full-time show producers and seven part-time show producers reporting to me, and then a production staff of one full-time producer, the commercial production manager, and then a small pool of voices that come in and do spots for us ala carte. And then a little over a year ago, we looked at focusing some of my efforts in some other areas and went back to having a full-time Assistant PD, and I was given the title Creative Director. That's my title now, but I've headed up a bunch of different projects. I've worked within the marketing team for external stuff as well as doing the imaging. And lately I've been part of getting this charge going on podcasting. We do about 6,000 downloads a week right now.
JV: You mentioned sharing some of what you're doing with the rest of the broadcast group. Are you doing some audio for the TV stations?
Todd: Well oddly enough, as it turns out, it's more web driven than television driven. We do some sound sharing. Through the ENPS system, we have a shared audio drive across all of the broadcast properties within Tribune. So it's interesting. We can access each other's projects. It's not a matter of promos, but a lot of the news sound is pooled, which is pretty cool.
I'm also doing special projects on CDs. For example, I worked through our publishing group on doing sound design for a CD-ROM that commemorated the one-year anniversary of 9/11. That was an insert in a Sunday paper back in 2002. And then I do little composite pieces. This started probably about five years ago. I would do montages or different pop culture sound pieces for the various websites. I did a tribute to George Harrison that the L.A. Times posted, and the different papers ask for different things from time to time. More and more, that's kind of what I get to delve into. Just a year ago I produced an 80th anniversary CD commemorating 'GN Radio, and then I just finished a CD that commemorates ten years of our play-by-play team for the Cubs.
JV: It has to be different to be at a station that is the only station in the company, and in your case, the ownership isn't even primarily a radio company. You've been on both sides, what's different?
Todd: Well, you definitely learn a lot in terms of merchandising outside of radio. At one point I thought we were going to have to get a specialist in here doing commercial campaigns. But the reality of the place is that a lot of our local revenue is really live reads by talent. So I thought, okay, here's what we're going to do. We're going to create quarterly albums that the national sales staff will take out to sell the place to the agencies, and there also would be composite pieces that our local sellers could take out. And again, it was just an extension of imaging. It was just me trying to be the biggest fan of the radio station and somehow sell that passion to everybody else.
Eventually, as we started to pass sound around the internet like everybody is crazy with now, I started doing this thing for our sellers that would be almost like a four minute promo for the radio station, say dawn to dusk or even around the clock, to give people a snapshot of how we sounded if they were out of market or if they had some misconceived notion of what the radio station was. As a heritage full service AM, there was that kind of misconception that the place wasn't contemporary. So we got people like Spike O'Dell and Steve Cochran, formerly of Z100 New York; and we've got John Williams who was at 'CCO in Minneapolis; and two visionary groundbreaking female talk personalities in Kathy and Judy, that do some really great radio everyday.
Plus we're the Cub station and I'm a baseball freak, so every other year I work with a studio here to create some new thematics for our Cubs broadcast and things like that, and that's just made the whole package pretty fun. But you're right, it is weird being kind of a standalone. I really relish my relationships with music suppliers and people nationally. And one of my favorite things to do is to make that trip to Dan O'Day's summit every year because I learn so much from people who are in the big groups. I do some seminars and things like that with people here statewide that keep me plugged in to what's going on elsewhere, and I try to sprinkle in some of the stuff that they may not have thought of with regards to the way we do business here.