Voxengo is happy to release a new major version 3 of its Polysquasher plugin. Polysquasher is a mastering compressor plugin for professional music and sound production applications, available in AudioUnit, VST and VST3 plugin formats (including native 64-bit support), for Mac OS X (v10.6 and later), and Windows computers.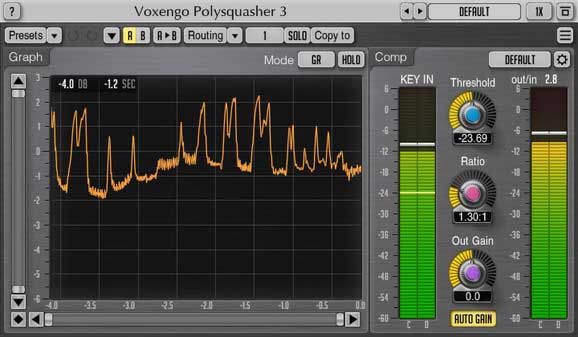 Changes version 3.0 implements:
Redesigned the compression algorithm and its parameters.
Added ProTools 12+ AAX-64 support.
Polysquasher was designed with a main goal: to be transparent. Transparent compression action is a cornerstone for any mastering compressor. Transparency of audio signal processing is necessary to preserve all existing elements in the mix, while compression itself is necessary to make the mix sound uniform to other mixes (tracks) and to make it sound more solid and "glued".
Polysquasher achieves its goal by using a unique compression algorithm which requires a small number of parameters – basically threshold and ratio only – making this compressor a joy to use. More advanced settings are hidden in the "compressor mode editor" panel where you can create your own compressor modes that can be easily recalled later.
Polysquasher is best used as a finishing compressor inserted in the chain before the final mastering limiter.
Polysquasher also features real-time gain reduction and waveform graphs. Full multi-channel operation is supported.
Polysquasher features:
Transparent compression sound
Real-time gain reduction graph
6 built-in compressor modes
Compressor mode editor
Stereo and multi-channel processing
Internal channel routing
Channel grouping
Mid/side processing
Up to 8x oversampling
64-bit floating point processing
Preset manager
Undo/redo history
A/B comparisons
Contextual hint messages
All sample rates support
22 ms compensated processing latency
Polysquasher is available for purchase on-line for USD 89.95. If you purchased the previous version in the last 90 days the upgrade is free, otherwise the upgrade price from the previous version is USD 39.95. Demo version of Voxengo Polysquasher and other pro audio plugins can be downloaded at the Voxengo web site.