► Roswell Pro Audio® has announced the Aurora, a premium, all-purpose studio condenser microphone, featuring an unhyped and natural frequency response, high sensitivity, and low self-noise. Describing the Aurora, Roswell founder Matt McGlynn said, "We built this mic for recording engineers looking for an ultra-clean FET sound. It works particularly well on vocals and acoustic guitar, where its balanced frequency response, low noise, and high output outperform most competitive offerings." The microphone uses a highly optimized transformerless circuit, which provides a pristine, low-distortion signal path. Two switches provide a choice of Cardioid and Omni polar patterns, and a 10 dB pad. The mic has a frequency range of 20 Hz to 16 kHz, with a response curve carefully tailored to provide full lows, neutral mids, and high-frequency detail without sibilance. Its sensitivity is 40mV/Pa, with a self-noise level conservatively rated at 12dBA. The mic's 7.25ʹʹ x 2ʹʹ body is made of heavy brass, finished in black. The brass mesh grille is brushed silver. The microphone's circuit is built by hand in the US, using the finest components sourced from around the world, including low-noise NOS transistors and audiophile capacitors. Each Aurora is assembled in California, burned in, and extensively tested after manufacturing to ensure the best possible performance. The Aurora includes an elastic shock mount, a vinyl storage pouch, and a compact flight case. The Aurora is available now from Roswell Pro Audio's network of U.S. dealers at a US MAP of $749. www.roswellproaudio.com.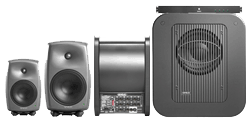 ► Genelec is expanding the SAM™ (Smart Active Monitoring™) series with five additions: the new 8340 and 8350 monitors, combined with new 7360 and 7370 subwoofers, offer the highest possible system flexibility for demanding monitoring needs, for both analog and digital audio applications. SAM subwoofers are also complemented by the new 9301 AES/EBU Multichannel interface, which allows easy connection to any 7.1 digital audio sources. Genelec next-generation SAM systems include floating-point DSP engines, linearized phase response and even more refined auto-calibration and spectral tuning capability than before, allowing better room integration and ease of use in any environment. Highly efficient Genelec-designed Class D amplifiers, combined with latest-technology drivers, allow the 8340 and the 8350 to achieve high sound pressure levels and dynamic range, improved frequency response flatness and very low distortion. This means clean and neutral audio reproduction at all volumes without listening fatigue, enabling audio professionals to work with consistency and accuracy. Also achieving higher sound pressure levels with more amplifier power and headroom, the new 7360 and 7370 include a multichannel bass-management system offering both 7.1 analog and stereo digital inputs in a single package without the need for additional external A/D converters. The Genelec Loudspeaker Manager™ software (GLM™ 2.0) is one part of the GLM system, a monitor control networking system that manages connectivity to all Genelec SAM systems. www.genelecusa.com.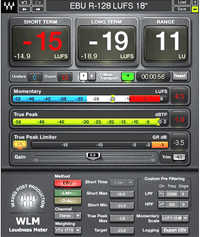 ► Waves Audio offers the Waves Loudness Meter Plus (WLM Plus) plugin. The next generation of the WLM Loudness Meter plugin, the WLM Plus brings anticipated enhancements and features new correction and adjustment tools. Ideal for content creators, post-production houses and cable head-end facilities, WLM Plus is an affordable, all-in-one cross-platform, multi-format loudness metering software solution. WLM Plus is fully compliant with all current ITU, EBU and ATSC specifications, including new, dedicated presets meeting ARIB TR-B32, OP-59 and the current Discovery Channel requirements. The WLM Plus also includes two presets useful for gaming content creators for leveling, when working on Sony ASWG (Audio Standards Working Group) loudness scanner – geared towards portable and home based devices. It offers comprehensive Momentary, Short Term, Long Term and True Peak readouts, as well as a unique warning and logging system that keeps track of users' levels and alerts them when they have exceeded them or fallen short. WLM Plus now features Gain and Trim controls for correction of loudness levels and a True Peak Limiter, which saves users the need to use additional equipment or software.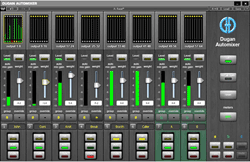 Also from Waves, the new Dugan Automixer plugin, a software version of the popular Dugan Speech System Automatic Mixing Controllers. Available for every console, the Dugan Automixer is MultiRack SoundGrid®- and MultiRack Native-compatible and works on 32 or 64 channels. Using Dugan's proprietary voice-activated process, the Waves Dugan Automatic Mixing Controller plugin automatically controls the gains of multiple live microphones in real time while preventing feedback and excessive noise pickup. Maintaining the gain of one mic in the room even when multiple speakers are talking simultaneously, it makes perfectly matched transparent cross-fades. Ideal for: Broadcast news panels and discussion programs, dialog recording for film and television, multiple wireless mics on stage and more. www.waves.com.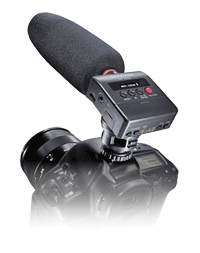 ► TASCAM announced the DR-10SG, a microphone/digital audio recorder combo unit. Designed for videographers who employ DSLR cameras as their primary capture device, the DR-10SG aims to eliminate the compromises imposed by traditional on-camera audio. "The ability to shoot hi-def video on DSLR has revolutionized all aspects of filmmaking, from corporate and indie productions through Hollywood blockbusters," said Jim Mack, Executive Vice President of TASCAM. "Our goal is to elevate the quality of the sound to match the visuals, and the DR-10SG enables us to achieve that goal." By combining a purpose-built shotgun microphone, a self-contained digital audio recorder and an integrated shock mount, the filmmaker is able to more effectively reject ambient sound while simultaneously avoiding transference of mechanical noise from shutter and lens mechanisms. In addition to direct camera attachment with the built-in shock-absorbing shoe mount, the DR-10SG features 4 selectable EQ presets (natural/flat, standard, interview, field), a Camera Output connector for audio pass through, a slate tone generator for easy audio sync during post production and a unique Dual Recording feature which automatically records a safety track at a lower level to safeguard against accidental overload and distortion. All in a lightweight 110g design which includes the AAA battery (providing over 8 hours of continuous use). The DR-10SG, expected to ship in May with an MSRP of $249.99, will include a custom windscreen, noise isolation arm, attenuation cable, and cable clip. www.tascam.com.

► Focusrite announced the launch of the Red 4Pre interface. The 58-in/64-out Thunderbolt Red 4Pre interface combines four of Focusrite's specially-developed digitally-controlled mic preamps, plus high-headroom instrument inputs, with dual Pro Tools HD DigiLink™ and Dante™ network audio connectivity. Four of Focusrite's new "Red Evolution" preamps lie at the heart of the Red 4Pre, featuring clear audio performance with -129 dB EIN and 63dB of gain. Software control allows recall of settings and stereo linking, plus configuration of HPF, polarity invert and individual phantom power. The preamps include Focusrite's unique "Air" effect, recreating in the analog domain the sound of the transformer-based mic preamps in the classic ISA range – ideal for bringing out the quality of a vocal or adding presence to an acoustic guitar. Red 4Pre also includes high-headroom instrument inputs, instantly accessible from the front panel. The Red 4Pre's new high-performance conversion system features "parallel path summing," where two matched converters are run in parallel to increase the signal-to-noise ratio. They operate at up to 24-bit, 192 kHz sampling – ideal for high-resolution audio – with a dynamic range of 118dB(A-D)/121dB (D-A). The Red 4Pre delivers ≤0.0009% THD+Noise and a frequency response flat from 20Hz to 35kHz ±0.25 dB or better. Dual Thunderbolt 2 ports connect to any DAW while allowing daisy-chaining of drives and displays. Focusrite's lowest round-trip latency permits recording with preferred plug-ins in real-time, while dual DigiLink ports connect the Red 4Pre directly to any Pro Tools HD system. In addition, The Focusrite Red 4Pre will be shipping in May 2016 with U.S. pricing of $2499.99.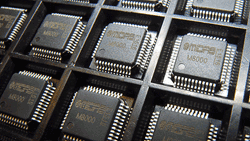 ► MUSIC, umbrella company of brands MIDAS, LAB GRUPPEN, LAKE, TURBOSOUND and TANNOY, etc. has announced the launch of the MIDAS M8000, an ultra-high performance 192 kHz, 8 channel A/D converter with unprecedented audio and sonic performance. Andy Trott, SVP, Enterprise & Entertainment Division states: "For over four decades, MIDAS has been the undisputed leader in audio and sound performance, especially known for its award-winning microphone preamplifiers and best sounding mixing consoles. Our Manchester Innovation team spent over 3 years and close to 1 US$ million to develop what we believe is the world's best-sounding A/D converter. Based on advanced multi-bit delta-sigma architecture and a revolutionary high-speed TDM interface, the converter's performance delivers close to 120 dB of dynamic range with sampling rates up to 216 kHz." Andy continues: "We are especially proud of the M8000's incredible audio performance, which industry standard components could not achieve. For the first time in our history we now have found the perfect match between our preamps and an A/D converter, that is able to capture every nuance of the microphone preamp and convert it into the digital domain. The audio results and sonic performance are simply astounding and have exceeded all our expectations." MIDAS will start converting its mixing consoles to the new M8000 chip by end of 2016 and considers offering upgrade kits to existing customers. www.midasconsoles.com. www.music-group.com.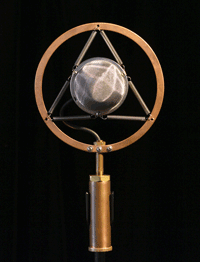 ► Ear Trumpet Labs announced Josephine, the newest addition to their product line of microphones handcrafted in Portland, OR. A medium-large diaphragm (26mm) condenser microphone, Josephine, is designed for live vocal and ensemble use, with an avant-garde styling evocative of 1930s and '40s classic microphones. Josephine is optimized for use by singers or acoustic ensembles from 6" to 48" away. The design, form-factor, and sound are ideal for period swing or jazz vocalists or single-mic techniques with bluegrass or traditional musicians, with significantly better feedback rejection than the large diaphragm condensers typically used in these applications. www.EarTrumpetLabs.com.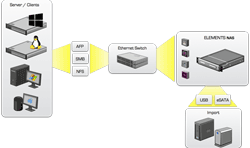 ► ELEMENTS, developer of advanced solutions for unrestricted collaboration in shared media workflows, has announced that the Company has signed a reselling partnership agreement with ALT Systems, a full-service systems integrator. Based in Los Angeles, CA, the media and entertainment experts will be offering ELEMENTS' comprehensive range of SAN and NAS media storage solutions effective immediately. ELEMENTS ONE, is a 4U all-in-one SAN/NAS server and storage solution that allows for an impressive 360TB of shared storage. ELEMENTS ONE features native media sharing, enabling all connected clients to access all files through a truly shared file system and storage, even embracing Avid Media Composer with full Avid bin-locking and project sharing support. For those facilities that already have an Xsan or StorNext-based shared storage environment in place, the developer offers ELEMENTS GATEWAY, a 2U gateway server that provides all the features and benefits, but without the storage. And even a mobile appliance for the use on-location is available: ELEMENTS CUBE supports up to 16 drives in a small factor chassis, providing full editing and data management capabilities on the go. www.elements.tv. www.altsystems.com. ►