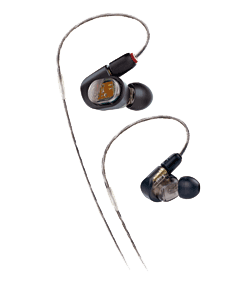 ► Audio-Technica has debuted its new E-Series Professional In-Ear Monitor (IEM) Headphones. Bringing the sonic signature of the M-Series to an in-ear design, the three models in the E-Series have been designed to fully answer the needs of demanding sound professionals and musicians from the studio to the stage to the DJ Booth. E-Series headphones are compatible with A-T's popular M2 and M3 in-ear monitor wireless systems – together offering a comprehensive in-ear monitoring solution from Audio-Technica. They offer a perfect solution for use in any application requiring the use of in-ear monitoring. The ATH-E70 is the flagship in-ear monitor model in the E-Series. Its accuracy and detail allow precise balancing of the mix, making it the perfect choice for monitoring on stage and ENG mixing in the studio. ATH-E70 Features: Three balanced armature drivers provide accurate and extended response across the entire frequency range; Flexible memory cable loops over ears for a custom fit and long-wearing comfort; Specially designed housing provides maximum isolation, allowing you to focus on the music; Detachable cable offers exceptional durability and optimized audio performance. The new E-Series headphones are available with street prices as follows: ATH-E70 $399.00, ATH-E50 $ 199.00 and ATH-E40 $99.00. www.audio-technica.com.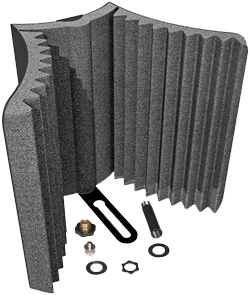 ► Auralex® Acoustics, Inc. introduces its updated MudGuard™ v2 Microphone Shield, which isolates mics by eliminating external noise bleed and filtering out external overtones. This design is engineered for maximum effectiveness using Auralex Studiofoam® to reduce excessive room ambience and off-axis sound. The Auralex MudGuard v2's patent-pending multi-radii convex shape is designed to direct any unwanted and off-axis acoustic energy away from the microphone. Most flat and concave microphone shields tend and focus energy toward the microphone causing unwanted colorations. The non-perforated, solid back on the MudGuard v2 allows for maximum sound isolation by blocking sound from the recording environment, through the shell, to the microphone. The included hardware allows the MudGuard v2 to easily mount to most microphone stands and allows the user the flexibility to adjust the microphone proximity. Dimensions: 16" Wide x 10" Deep x 14" Tall. www.auralex.com.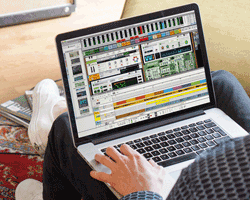 ► Propellerhead Software announced Reason 9, the latest version of their production software. Reason 9 builds on the Reason platform by introducing a host of new devices, sounds, and creative tools. Reason 9 introduces three Player devices that instantly transform any MIDI input into music. Note Echo creates rhythmic, pitched MIDI delays for melodies, drum rolls, and more. Scales & Chords turns simple melodies into beautiful harmonies and chords so you can stay focused on the music making. Transpose notes to a selected scale and automatically generate chords for your song, no music theory required. Dual Arpeggio transforms chords into intricate and inspiring rhythms. From classic up-and-down to polyphonic and polyrhythmic, Dual Arpeggio breathes new life into any instrument in your Reason rack. Reason's new Pitch Edit mode helps you produce flawless vocals. Fix out-of-tune notes, add vibrato, change your timing, create new melodies from your recording, change the dynamics, and more. Audio to MIDI lets you convert your vocals to MIDI notes for endless sound manipulation possibilities. Reason 9 also comes with 1000 new sounds to ignite your creativity. Reason 9 will be available for purchase worldwide on June 21, 2016 at the following suggested retail pricing: Reason 9 EUR €405 / USD $449, Reason Essentials 9 EUR €120 / USD $129, Reason 9 Upgrade (from any previous Reason version) EUR €129 / USD $129. www.propellerheads.se.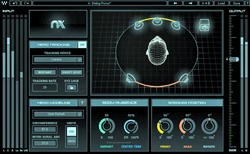 ► Waves Audio is now shipping Waves Nx, a Virtual Mix Room plugin that puts you in the sweet spot – everywhere you go. Waves Nx gives you the optimal acoustics of a great mix room – right inside your headphones. Powered by Waves' Nx technology, this plugin lets you hear, on headphones, the same natural depth, natural reflections, and panoramic stereo image you would be hearing from speakers in an actual, physical room. You can now enjoy all the advantages of headphones – portability, affordability, privacy – with all the acoustic benefits of a great-sounding, fully professional mixing facility. Waves Nx "unmasks" your headphone sound, letting you hear everything with real-world dimension, rather than flat in your head. This way, you can hear all the elements of your mix accurately laid out in space, just as you would in the sweet spot of a beautiful-sounding room. Want to mix for 5.1 surround on your regular stereo headphones? Waves Nx lets you do exactly that as well. Most importantly, Waves Nx does all this without coloring your sound in any way. What you hear is your mix, exactly the way you want it to sound. www.waves.com.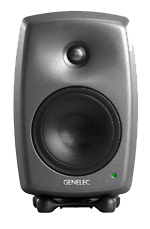 ► Genelec is offering the 8430A SAM™ Studio Monitor enabling direct monitoring of audio-over-IP stream content – the first studio monitor on the market supporting AES67 and RAVENNA standards. Based on RAVENNA technology for audio transport over IP networks, and fully AES67-compatible, the 8430 is the culmination of years of research that included feedback from leading engineers and producers in the recording and broadcast sectors. In recent years, much has happened in the world of audio-over-IP, including the publication of the AES67 interoperability standard in 2013. AES67 is now fast gaining acceptance as an industry standard and is rapidly establishing audio-over-IP in the mainstream. As a member in the Genelec Smart Active Monitoring (SAM) Series, the 8430 shares the electro-acoustic features such as Genelec MDE™ and DCW™ technologies, a flow-optimized reflex port, very low distortion, high SPL and wide bandwidth, uncolored response in a very compact enclosure – all this achieves the accurate sound reproduction. Also, the 8430 uses the intuitive Genelec Loudspeaker Manager (GLM™ 2.0) control network and software allowing adjustments of all aspects of monitor settings and full multiloudspeaker system control. The 8430 Ethernet audio streaming capability supports the standard audio sample rates up to 96 kHz high resolution format. www.genelecusa.com.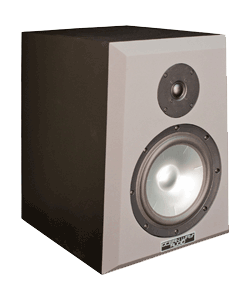 ► Ocean Way Audio is now shipping three new near and mid field monitors – the Pro2A, HR4 and the HR4S. Their design offers a 100x40-degree dispersion pattern, allowing everyone in the control room to hear what the artist or mixing engineer has created. The accurate sweet-spot is due to a dual/hybrid waveguide system engineered utilizing 3D modeling and cast in a stone-like resin. Company President Rick Plushner remarks, "There's nothing that looks or sounds like these speakers; their sonic image is simply unmatched by any competitive monitor. We offer the HR4 series in a 2-way or 3-way configuration. Very big sounding speakers in a sleek 25.5"-wide, console-friendly design. Starting at $6,000 a pair, these self-powered speakers are accessible to a wide range of professional applications." Plushner continues, "The Pro2A punches well beyond its weight class comparing to speaker systems costing thousands more. At $3,500 per pair, they are an amazing value. Hearing is believing." www.oceanwayaudio.com.

► Since its introduction in the early 1990s, the Manley ELOP optical limiter has been an essential tool in the arsenals of recording and mastering engineers everywhere, and the fabled all-tube limiter has graced the signal chain of countless recordings. Nearly a quarter of a century later, the engineers at Manley Labs have created a new and improved ELOP - introducing the ELOP+, now with integrated stereo compressor. The ELOP+ has kept the same controls and functionality as the original ELOP, while adding the versatility of an on-board stereo compressor. Advancements in technology have enabled Manley Labs to create a dramatically improved layout, giving the ELOP+ a new solid metal chassis and faceplate design. The output stage has been re-engineered to deliver an even more pristine signal path, and a new ultra-low impedance switched mode power supply is standard. Manley Labs President and Co-Founder EveAnna Manley remarked, "the ELOP has always been a fantastic sounding limiter. With the ELOP+, we've truly stepped it up a notch, both in sonic quality and versatility. And what's even better - thanks to our streamlined production and increased buying power, the cost of a new ELOP+ is lower than the original ELOP!" The new ELOP+ is available at a MSRP of $2500. www.manley.com.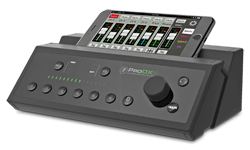 ► Mackie announces an all-new line of ultra-compact digital mixers with complete wireless control - The ProDX Series. The line features two models, the 4-channel ProDX4 and the 8-channel ProDX8. With wireless streaming and control, powerful processing, and an intuitive control app for iOS and Android™, ProDX mixers deliver the benefits of digital mixing in Mackie's most compact mixers ever. ProDX Series mixers couple the power of digital mixing and an ultra-compact form factor perfect for solo performers, small bands, venues and commercial applications that require lower channel counts. Both mixers are equipped with Mackie's Wide-Z™ mic preamps. These combo inputs allow connection of mic, line and instruments and require no gain adjustment for easy setup. And with their single knob hardware design, any user can make quick and easy level adjustments. Using the companion MixerConnect™ control app, users unlock powerful processing and total wireless control plus the ability to wirelessly play back music or backing tracks from any Bluetooth® capable device. In addition to the quick front panel hardware, ProDX mixers provide complete wireless control over everything from EQ and FX to voicing and mix presets using the MixerConnect app available for iOS and Android™ devices. This allows the mixer to be stored safely and out of sight without losing any control. Performers can attach their phone to their mic stand for fast changes to their mix without interrupting the performance to run to the mixer. ProDX mixers are equipped with the essential I/O that typical small mixer applications require. The ProDX4 features two Wide-Z preamps, plus TRS main outs and an aux send for sending audio to a monitor or separate zone. The ProDX8 extends the input count to 6 mic preamps and the addition of a second aux send. Both mixers also come with a 1/8" stereo aux input for connecting a media player and a headphone output for monitoring or silent practice. The Mackie ProDX4 and ProDX are available worldwide at U.S. MSRPs of $259.99 and $389.99 respectively. www.mackie.com.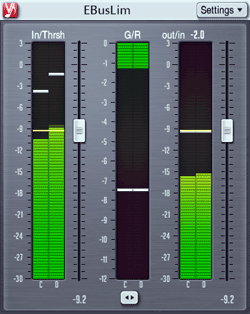 ► Voxengo announced the release of EBusLim version 1.1, a brickwall peak limiter and loudness maximization plug-in for professional music production applications, available in AudioUnit, VST and VST3 plug-in formats (including native 64-bit support), for Mac OS X (v10.6 and later), and Windows computers. EBusLim implements a single EL-4-based limiter mode originally designed in Elephant mastering limiter plug-in. This mode is suitable for bus, drum bus, master bus and track processing. The design idea behind EBusLim is to produce an extremely easy-to-use yet effective limiter. EBusLim features: Elephant-plug-in-quality limiter mode; Extreme ease of use; Stereo and multi-channel processing; 64-bit floating point processing; All sample rates support; 0.5 ms compensated processing latency. www.voxengo.com. ►