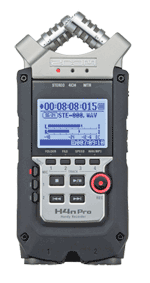 ► Zoom North America unveiled the new H4n Pro Handy Recorder. With the H4n Pro, Zoom has taken everything creators love about the original H4n and brought it to the next level. Featuring advanced microphones, high-performance mic preamps, and an extremely low noise floor, the H4n Pro delivers high-quality four-track audio recording for music, film, podcasting, and more. The H4n Pro's built-in condenser mics are newly updated to handle up to 140 dB SPL, allowing distortion-free X/Y recording in loud environments. The Pro's two XLR/TRS inputs utilize the same high performance, low-noise mic preamps as the Zoom H5 and H6 Handy Recorders. The improved noise floor (-120 dBu EIN) allows for audio capture with less noise and fewer artifacts. The new rubberized, ergonomic body is perfect for use in the field. Newly added locking combo connectors ensure mic cables stay secure. A headphone/line out jack makes it easy to send high-definition stereo directly to a camera, while a built-in monophonic reference speaker provides quick audio reference in the field. The H4n Pro also features three recording modes, built-in studio-grade effects, and the ability to function as a 2-input/2-output USB audio interface. $219.99. www.zoom-na.com.
► Mogees is making its North American debut this month, shipping to MV Pro Audio dealers across the U.S. and Canada. Suited for musicians, DJs, performance artists, and music-tech enthusiasts in general, Mogees transforms any object into a musical instrument, opening up an entire world of new creative music-making. Turn a tree into a harp; a table into a drum kit; a chair into a MIDI controller. Using the system is as simple as attaching Mogees to an object and its output to your iOS or OSX (AU) device. (Windows VST version coming soon.) When you "play" the object -- for example, tapping, hitting, scraping, or brushing it -- the resulting vibrations are transformed into signals that can trigger the Mogees software's built-in synths, be mapped to external MIDI devices, recorded in your DAW, and more. Unlike traditional instruments, Mogees lets you freely define both your playing technique(s) and the resulting sounds. Using advanced machine-learning technology, the software recognizes and distinguishes between the different types of gestures you create, such as scratches, taps, or strikes. A thump with your thumb might trigger an 808 kick, while taps with your fingers trigger the snare and scrapes fire cymbals. A complement of easy-to-use tools allows the gesture recognition to be refined and the sonic results customized. MIDI Input lets you re-imagine and perform existing tracks live, with note pitches controlled via MIDI while their triggering is controlled in real time. MIDI Output allows you to play back your own samples, trigger clips, control effects, and more with your gestures, effectively letting you turn any object into a MIDI controller as well as a playable instrument. Current Mogees software includes a physical modeling synthesizer, 808 and retro electro-percussion drum machine emulations, and a steel string resonator. Additional synthesizers are in development and will be released on a regular basis, with the new sound engines made available at no charge for Mogees owners. Mogees is easy enough for novice musicians to learn in minutes while being deep and versatile enough to be incorporated into any pro instrumentalist's setup. Street price $139.99. www.mvproaudio.com.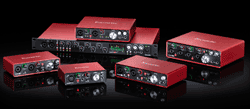 ► Focusrite announced worldwide availability of its second generation of Scarlett USB audio interfaces. While the i/o count of every interface remains the same, the second generation of Scarlett USB audio interfaces is packed with improvements, notably delivering Focusrite's fastest USB performance yet, with roundtrip latency measurements as low as 2.74ms. There are six interfaces in the range, as well as two studio pack bundles, from the Scarlett Solo (two-in/two-out, single-mic preamp), up to the Scarlett 18i20 (rack-mounted 18-in/20-out). The improvements include new metal gain controls and a sleeker red metal chassis. The latest Scarlett mic preamp now features a more even gain structure, so users can accurately set their levels, and the instrument input has also been completely redesigned with increased headroom so it can handle seriously hot guitar pickups. Focusrite has provided analog protection circuitry across both the inputs and the outputs, guarding the interfaces against unwanted power surges. The Scarlett range also now operates at sample rates up to 192kHz. Scarlett second-generation interfaces will ship with Avid Pro Tools® | First, Ableton Live Lite, Softube's Time and Tone bundle, the Focusrite Red Plug-In Suite, 2GB of Loopmasters samples and more. The Scarlett range is Mac- and PC-compatible, working across all major DAWs. www.focusrite.com.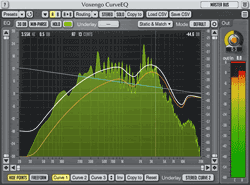 ► Voxengo CurveEQ update version 3.5 is now available for download. Voxengo CurveEQ, available in AudioUnit, AAX, VST and VST3 plug-in formats (including native 64-bit support), for Mac OS X (v10.6 and later), and Windows computers, is a spline equalizer plugin for professional music and audio production applications. Version 3.5 update includes the following changes: Added ProTools 12+ AAX-64 support; added curve scaling factor readout; added internal filter calculation parallelization for faster visual response. CurveEQ implements spectrum matching technology that allows you to transfer spectrum's shape of one recording to another. In other words, this allows you to "copy" frequency balance of existing time-proven mixes to other mixes. This technology also greatly helps in music mastering since using it allows you to easily lessen any dramatic differences in the area of frequency balance between various tracks. USD 89.95. www.voxengo.com.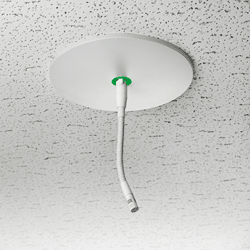 ► Audio-Technica introduced two new Dante™-enabled ceiling-mount microphone solutions: the ATND931 Dante six-inch gooseneck microphone and ATND933 Dante hanging microphone – both available in a number of configurations, including black and white color options and a selection of three polar patterns (cardioid, hypercardioid and MicroLine®). All configurations come standard with the new ATND8734 Microphone Ceiling Mount Power Module with Dante Network Output, offering a simple and cost-effective solution for integrating these new microphones with a Dante network without the need for a separate, standalone audio interface. The ATND931 and ATND933 join the ATND8677 Microphone Desk Stand and ATND971 Network Boundary Microphone, the world's first wired microphone products to transmit both audio and control data using the Dante network protocol. A simple Ethernet connection allows these microphones (powered by network PoE) to communicate across an existing network of Dante-enabled devices. The ATND8734 Ceiling-Mount Power Module with Dante Network Output is designed to be permanently installed in a U.S. standard metal 2-gang electrical box, and comes equipped with an 80 Hz low-cut UniSteep® filter, as well as a three-position input gain level selector (+30 dB, +40 dB, and +50 dB) and green/red LEDs. All features may be configured and controlled remotely via third-party software. An RJ45 connector provides plug-and-play access to the Dante audio network over CAT5e (or better) cable. www.audio-technica.com.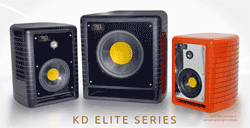 ► Keith Klawitter, founder and former CEO and chief design engineer of speaker manufacturer KRK Systems, Inc., is celebrating his return to the MI and pro audio industries with the launch of the KD Elite series monitors, the flagship products of his new company, Klawitter Designs. Housed in eye-catching cabinets sporting a sleek, modern aesthetic, the KD Elite monitor family comprises biamplified two-way 8" and 6" models and a complementary 12" subwoofer, each outfitted with custom components. For recording and mixing, the KD Elite series represents a significant evolution of the Klawitter signature sound. Klawitter describes the technological advances in the Elite monitors as "refining the recipe behind my speakers, with a substantial improvement in overall system performance." When outfitted with an optional KD network audio card, the monitors are fully compatible with the latest industry network protocols, including Dante, AVB, and AES67. Networked KD monitors support 100% digital audio input, with analog conversion taking place before the input stage of the integrated KD-X amplifiers. On-board telemetry reports critical component performance to the mix engineer; precise adjustments to individual speakers and/or components can be made wirelessly via iOS or Android smart devices. Ideally suited for high-end multi-channel surround-sound production and playback, KD Elite monitors offer unprecedented control over virtually any sound space, and make light work of ensuring that the system is always performing to optimum specification. www.mvproaudio.com.

► Having launched just over three months ago, SourceAudio's unique "Detect" product has begun revolutionizing the way music in audiovisual productions is being tracked and reported for rights owners and their collection agencies. The monitoring platform, developed by the Los Angeles based technology provider SourceAudio, uses Digimarc's patented, state of the art watermarking technology to decode an indelible, inaudible code hidden within a music file. Unlike preceding fingerprinting-based monitoring solutions, SourceAudio Detect eliminates false-positive detections, thereby ensuring 100% accuracy on detected usage. In just a few months' time, the new Detect solution has quickly been adopted and is already widely in use by many of the country's top production music companies, music publishers, and broadcasters in need of tracking the usage of their music assets. To date, nearly 200,000 Detects have been recorded on behalf of SourceAudio's various clients, with precipitous increases in monthly activity as more and more watermarked assets are being downloaded from SourceAudio's cloud-based delivery platform. From production music libraries like Megatrax Music and 5 Alarm Music, to boutique trailer music companies like Pitch Hammer Music, publishers and labels across the spectrum of the entertainment industry have begun to use the new Detect system. SourceAudio Detect currently monitors 80 broadcast and cable networks on TV. The system automatically determines if music detected on these channels was heard as background music in a show, or if that music was used in a commercial, promo or movie trailer. The data is organized accordingly in an intuitive dashboard that allows users to easily export their performances in PRO approved report formats. www.sourceaudio.com/detect.