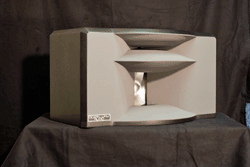 ► Ocean Way Audio (OWA), a manufacturer of high-bandwidth reference monitors for the professional audio and audiophile market sectors, recently unveiled two new near-field monitors, the HR4 and the Pro2A. Based on the sonic performance of the Ocean Way HR2 speaker, the HR4 is a two-way, self-powered monitor that is at home on a console's meter bridge or free-standing speaker stands. "We've captured the sonic performance of our large horn-based wave guide design, which delivers 100 degree dispersion, and have released this unique speaker in a 24-inch mixing-board-friendly design!" states Allen Sides, OWA Founder and CEO. Company President Rick Plushner remarks, "The HR4 is our entrée into the near-field market. Producing a portable speaker that meets Allen's standards was a challenge. The HR4 reproduces a frequency range of 45Hz to over 20kHz with an SPL of 115db; therefore, no sub-woofer is required. However, for those who want to play their mix exceptionally loud, the company offers a companion self-powered sub, the S12A, which pushes levels beyond 118db and frequency response down to 30Hz. Plushner continues, "Extending our range of near-field powered monitors, we are also releasing the Pro2A. This speaker has been adapted from the award-winning hi-fi designs of Bruce Marien, Director of Engineering, re-focused for the studio mixing environment. This 2-way speaker also meets Allen's standards of excellence and offers a unique trapezoid design, reproducing frequencies from 38Hz to 22kHz delivering an SPL of 110db. Pro2A is designed to offer unparalleled performance at a very affordable price."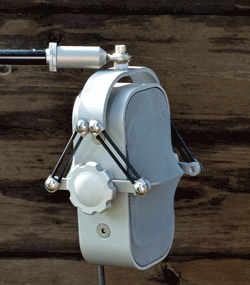 Also from Ocean Way Audio, the new RM1 Ribbon Mic. This Bidirectional Ribbon Microphone, designed by Cliff Henricksen, is among the first models introduced under the brand name "Cliff Mics," (www.cliffmics.com), brought to market through Ocean Way Audio's growing dealer network. The mic features the greatest magnetic force ever available in a Ribbon Mic. The super-quiet 48V phantom first stage preamp has been designed with all discrete audiophile circuitry. The output level is comparable to the quietest condenser mics, and the high-intensity NeO-powered magnet super-circuit delivers 6dB more level. Unlike most ribbon mics, the RM1 works with any modern preamp equipped with phantom power drawing about 8mA (4mA per side). www.oceanwayaudio.com.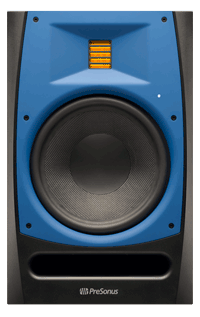 ► PreSonus' new R80 active studio monitor speakers offer a custom Air Motion Transformer (AMT) tweeter, which delivers an extremely fast transient response to provide exceptionally detailed resolution. These biamped monitors feature Class D power amplifiers, with 100W RMS driving the woofer and 50W RMS driving the AMT tweeter, making them some of the most powerful monitor speakers in their category. As with all PreSonus® studio monitors, both models are equipped with the company's lauded Acoustic Tuning controls. Both the R65 and R80 employ a 6.8-square-inch AMT tweeter that responds to the subtlest waveforms and high frequencies, making them an ideal choice for hearing ultra-highs that add "air" and a sense of space. PreSonus R-series monitors offer wide lateral dispersion for a broad "sweet spot," along with very narrow vertical dispersion, which helps reduce ceiling reflections that can muddy the sound. This helps to minimize room anomaly interference, providing a more consistent sound in different listening environments. The R65 employs a 6.5-inch, coated Kevlar® woofer, while the R80 sports an 8-inch woofer. This design results in cohesive, less time-smeared audio with minimal coloration and extremely punchy bass. The Acoustic Space switch controls a second-order, low shelving filter that helps to compensate for the boundary bass boost that occurs when the monitor is placed near a wall or corner. An HF-driver level control is also provided to help mitigate room problems. An onboard, four-position highpass filter makes it easy to integrate a subwoofer into your monitoring setup. Balanced XLR and ¼" TRS and unbalanced RCA input connections make hookup quick and easy. Safety features include RF shielding, current-output limiting, over-temperature protection, and subsonic protection. Frequency response is rated at 50 Hz to 25 kHz for the R65 and 45 Hz to 25 kHz for the R80. The PreSonus R65 and R80 are available immediately at PreSonus dealers for U.S. MAP/street prices of $399.95 and $499.95, respectively. Also from Presonus, the PreSonus® DigiMax™ DP88 8-channel microphone preamplifier and A/D/A converter combines eight remote-controllable, high-headroom mic preamps with advanced remote control features, superior connectivity, unprecedented integration with the new Studio 192 audio interface, and compatibility with third-party, ADAT Optical-equipped audio interfaces. The newest member of the company's DigiMax series, the 24-bit, 96 kHz DigiMax DP88 delivers exceptional audio quality thanks to its clean audio path, eight XMAX™ Class A preamps, and Burr-Brown A/D/A converters with 118 dB of dynamic range. Unlike most recallable mic preamps, which rely on digital integrated circuits that compromise audio quality, the recallable XMAX is a true analog preamp with a separate digital volume control circuit. In addition to offering front-panel control, the DP88's preamps can be controlled via MIDI with any DAW. Unlike most remote preamps, the DP88 uses simple MIDI CC messages to control Level, Phantom Power, and direct ADC input. MIDI Channel 1 controls Preamp 1, MIDI Channel 2 controls Preamp 2, and so on, making MIDI management easy and intuitive. When connected via ADAT Optical to a PreSonus Studio 192 audio interface, the DP88's preamp controls also are accessible from PreSonus' Studio One DAW and UC Surface control software for Mac OS X and Windows. No additional setup is required; the DP88 becomes a natural extension of the Studio 192 inputs and outputs. The DP88 also adds analog I/O and remote controllable preamps to ADAT Optical-equipped, third-party interfaces. All inputs and outputs are on the rear panel. The DP88 provides eight channels of ADAT Optical I/O at up to 96 kHz (using dual SMUX). Mic inputs are on XLR and DB25 connectors. Eight balanced, line-level direct inputs that bypass the preamps are available on a DB25 connector and can be connected at the same time as the preamp inputs. The DigiMax DP88 is available now in the USA and is expected to be available worldwide in January, with an expected street price of $699 U.S. www.presonus.com.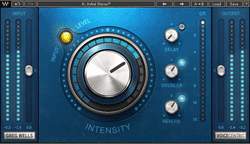 ► Waves Audio is now shipping the Waves Greg Wells VoiceCentric plugin, part of the Waves Signature Series. The Greg Wells VoiceCentric plugin is the first in a line of Greg Wells Signature Series plugins, created in collaboration with multiple GRAMMY®-nominated producer, songwriter, musician and mixing engineer Greg Wells (Adele, Katy Perry, Mika, OneRepublic, Twenty One Pilots), who has songs on over 85 million units sold. Greg Wells VoiceCentric is a user-friendly plugin featuring one main control and three additional controls for Wells' customized Delay, Doubler and Reverb settings. Designed for those looking for an A-level mixed vocal sound, this plugin gives you quick access to Greg Wells' sonic signature – a world-class solution for vocal processing.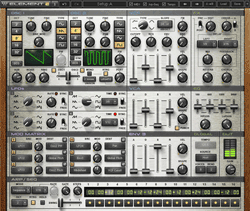 Also from Waves Audio, the Element 2.0 Virtual Analog Synth. Powered by Virtual Voltage technology, Element 2.0 is an updated version to the original Waves Element, an analog-style polyphonic instrument engineered to deliver the fat, gritty sound of the classics, with all the precision, flexibility and control of contemporary digital synths. Element includes a vast array of convenient features and functions, including integrated effects, a 16-step arpeggiator/sequencer, MIDI Learn for all controls and a massive preset library with total tweakability. Plus, all parameters are laid out right there in front of you, so when inspiration strikes, there's no need to scroll through page after page to customize your sounds. Searing leads, booming basses, ethereal pads, electro-percussion, sequential motions, mind-blowing FX and lots more: Additional features include a new "Unison" algorithm with selectable 2- and 4-voice modes, re-designed high quality Reverb and a new Crusher effect. www.waves.com.

► Wave Arts announces new versions of their plug-ins. All have been updated including: Power Suite - 5.84, Master Restoration Suite - 5.84, Tube Saturator 2 - 2.02, Dialog - 1.34, and Tube Saturator (legacy version) - 1.34. There is no upgrade fee. The upgrade includes many fixes for bugs/issues. www.wavearts.com.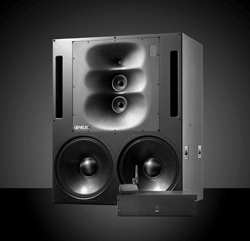 ► Genelec debuted the new 1236 Smart Active Monitoring™ (SAM™) Main Monitor System. The 1236 and its individually calibrated 3U-high Remote Amplifier Module RAM-XL provide the highest performance possible in a large format, flush-mounted main monitoring system. The new design is based on the high-efficiency proprietary double-18-inch bass driver design of Genelec's 1036. The 1236's frequency response extends from 17 Hz to 26 kHz, and it is capable of delivering 130 dB SPL at 1 meter through a combination of modern digital signal processing and efficient Class D amplifiers, providing 2 x 1000 W, 800 W, and 400 W of short-term power into woofers, midrange and tweeter channels, respectively. The 37.75" H x 46.5" W x 25.625" D enclosure features two 18-inch high-linearity woofers, with two Genelec proprietary high-efficiency five-inch midrange drivers, as well as a two-inch high compression tweeter, mounted in a very large Directivity Control Waveguide (DCW™) enclosure. SAM technology is a vital part of the RAM-XL design. All crossovers, protection circuitry, and driver calibrations are implemented in the digital domain with the highest precision. In addition, the latest version (V2) of Genelec Loudspeaker Manager™ (GLM™) and AutoCal couples with the 1236 to ensure that the speaker-to-room interface remains as near to perfect as possible from the moment the sound leaves the cabinet until it reaches the user's ears. www.genelecusa.com.

► The next masterpiece from German plugin maestros Brainworx is now available, exclusively through plugin-alliance.com. An emulation of Brainworx founder Dirk Ulrich's personal Neve VXS 72 desk, bx_console ($299 MSRP) changes the game of analog emulation with Brainworx's new patent-pending Tolerance Modeling Technology (TMT). Thanks to TMT, bx_console is the first Brainworx product that not only models the components in a circuit, but also models individual component tolerance differences, which cause the unit-to-unit differences between analog equipment of the same make and model. TMT provides bx_console with 72 different channels, which effectively emulate the nuanced sonic differences of the original desk. The plugin also has a comprehensive dynamics section, including a compressor/limiter and expander/gate, four-band EQ, as well as high-pass and low-pass filters. The emulation even features several Brainworx "mods" to the fantastic original Neve design, including a Noise control that lets you mimic the noise of the original console, dial out the noise entirely or even add more noise to capture a certain vibe. One of the highlights is the Analog Stereo Mode, which enables the user to use two slightly different modules for Left and Right channels, introducing the realistic imperfections of a large-format mixing desk in your DAW. Taking in-the-box mixing to a new level of analog authenticity, TMT emulates the component tolerances of an individual piece of analog gear. To emulate this circuitry, Brainworx cataloged the tolerances of over 150 individual components, along with all the variations within their realistic specs, as provided by the component manufacturers. So while bx_console faithfully recreates the legendary rock 'n' roll Neve signal path, it also delivers the character of Ulrich's individual Neve VXS, a console that served at Skywalker Sound in California and Bohus Sound in Sweden (formerly run by an ABBA member) before finding its way to Brainworx Germany. www.Plugin-Alliance.com. ►