► Berlin-based Tegeler Audio Manufaktur, maker of high-quality, hand-made professional audio gear, is now shipping their products in the US market. The company is highly respected by pro audio insiders, and their recording, mixing, and mastering products, which are sought-after by elite studios all over Europe, have a reputation as some of the best-sounding on the market. One of Tegeler Audio Manufaktur's best sellers is the Crème, a passive EQ based on the Pultec principle and a high-end bus compressor in a single device."Many successful mixing engineers mix with a compressor and EQ in the master channel to get an idea of how the mix will sound in mastering", said Michael Krusch, founder and Head of Development of Tegeler. "The Crème puts the very best of both in one device and helps in finding the right volume balance for individual sounds, especially the vocals." The EQ: Tegeler Audio Manufaktur took the filter circuitry from the original Pultec and carefully updated it. Unnecessary controls have been replaced by fixed values and irrelevant frequencies have been removed from the mix bus. The passive EQ is focused on the most popular applications: A bass boost that gives the mix a solid foundation and thrust, and treble boost that gives the mix that signature shine. All of the controls on the Crème are rotary switches for greater precision and limiting the range of settings has made adjustments much more precise. This gives the "Crème" its accurate stereo tracking features. The result is an EQ that is best experienced in person, in the studio. The Compressor: The Crème's VCA compressor can be pushed hard, giving the mix a noticeably more open and brilliant sound without any loss of high end. The compression is very harmonic in nature, keeping the sound transparent and allowing individual instruments to find their place in the mix. Crème's compressor helps define and unify the bass and refine it with subtle dynamics. The switchable high-pass filter in the side chain ensures that, when required, even heavy bass doesn't lead to pumping. Tegeler Audio Manufaktur also offers the Vari Tube Recording Channel, the Classic Equalizer EQP-1, the Vari Tube Compressor, the analogue mastering matrix Konnektor, and soon to be released: the Schwerkraftmaschine, the ultimate compressor. Tegeler Audio Manufaktur offers a 14 day Try-Before-You-Buy Program: studios and sound engineers can have a unit shipped directly to their studio to evaluate for 14 days free of charge. The Crème is $1,799.00. For details and availability of the Crème and all other Tegeler Audio Manufaktur gear, please contact: Martina McConnon. More information at www.tegeler-audio-manufaktur.com.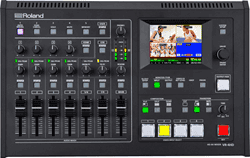 ► Roland announced the introduction of its VR-4HD High-Definition AV Mixer, an easy-to-use, compact and portable AV Mixer that integrates a digital audio mixer, video switcher, multi-viewer touch screen and USB video/audio streaming interface into a stand-alone device. "The VR-4HD is a portable live HD production solution ideal for schools, churches, council meetings, corporate events, sports, training, or any other live event," said Christian Delfino, Vice President of Product Management for the Roland Professional A/V Division. "Whether being used to produce an online broadcast, support a presentation or even as the hub for a multi-input teleconference system using standard online chat software, the VR-4HD's all-in-one hardware design and audio digital signal processing capabilities, including Auto-Mixing function, make it easy for a single operator to achieve professional results." The VR-4HD has three dedicated HDMI input connectors compatible with a variety of equipment and offering support for 1080p/1080i/720p video resolutions. A fourth input includes a scaler to support both video and computer resolutions and also supports analog RGB and component input, as well as HDMI, so older devices can be used as sources without the need for external conversion equipment. HDCP is supported for input of copy-protected content from devices such as Blu-ray disc players. The VR-4HD's 18-channel audio mixer features digital signal processing offering three-band parametric EQ, reverb, a compressor/gate on the mic inputs and level/multiband EQ on the master mix. The VR-4HD supports advanced features including auto-mixing, echo cancel, audio follow and up to 500ms of delay for perfect lip-sync between audio and video. The VR-4HD's audio mixer can mix the four XLR microphone inputs, unbalanced stereo inputs on RCA and 1/8 mini connectors, along with the audio embedded in the four HDMI inputs. The final mix can be outputted via XLR or RCA and also embedded into the HDMI output, while a headphone output facilitates audio monitoring. A unique loop-back audio capability via the USB 3.0 port can bring in audio from a connected PC using a conferencing software such as Skype and return audio to the PC without any audio feedback thanks to the included Echo Cancellation feature. This makes the VR-4HD an ideal web conferencing tool that allows for multiple video and audio sources to be used with online web conference software. The included Auto-Mixing function makes for simple and easy mixing of multiple presenters or panelists at conferences and events by automatically managing the levels of individual microphones, and can even give priority for volume to an event moderator who will always be heard above the other participants. The VR-4HD includes DSK (Downstream Keying), Picture-in-Picture (PinP), Split and Quad composting effects ideal for creating news-style broadcasts and corporate presentation content. The DSK supports both Luminance Keying (Black / White) and Chroma Keying (Blue / Green). Compositing two videos in one screen using Picture-in-Picture or the split function is ideal for seminars and presentations. Recording or webcasting from the VR-4HD is easily achieved by connecting to a PC or Mac using the built-in USB 3.0 connection. Up to Full 1080/30p uncompressed resolution video can be outputted from the VR-4HD. The VR-4HD embeds the audio mix with the video program and delivers it at the selected resolution. Included VR Video Capture application for Mac and PC provides an easy and effective way to capture uncompressed video with high-resolution audio. Additionally, main audio is included on both HDMI program and preview outputs, as well as via XLR and RCA connectors, and AUX audio output from RCA connectors is also provided. The balanced XLR main audio output is suitable for connection to professional PA equipment, and the AUX audio output can be used for sending monitor signals to presenters on stage. The VR-4HD can also be controlled by the companion PC/Mac RCS application when connected by USB and also has RS-232 for integration in third-party control systems. The VR-4HD features a clean, intuitive control layout with broadcast switcher cross-point switches for key and transition operations and an easy-to-use touchscreen interface. The audio mixer features short-throw faders and knobs for dedicated hardware control of each individual audio source. http://proav.roland.com.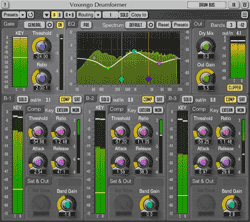 ► Voxengo Drumformer update version 1.5 is now available for download. Voxengo Drumformer is a multiband drum and master track dynamics processing plug-in for professional music and audio production applications, available in AAX, AudioUnit, VST and VST3 plug-in formats (including native 64-bit support), for Mac OS X (v10.6 and later), and Windows computers. Version 1.5 update changes include: Added ProTools 12+ AAX-64 support; fixed incorrectly working gate in VST3 version; implemented color scheme editor with load and save functions; redesigned the infrastructure controls; reduced plugin file size considerably for faster loading. Drumformer can operate in broadband, 2-band and 3-band modes, with each band having compressor-expander and saturation modules. The sound of the compressor can be defined as "gluey with a ping", because it instantly creates a "tight and glued together" sound while masterfully emphasizing the transients. The saturation module offers you a choice between six saturation modes, each having a smooth sound and differing harmonic content. www.voxengo.com.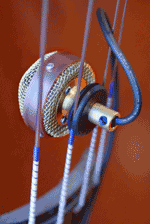 ► Boutique microphone company, Ear Trumpet Labs (ETL), announces Nadine, the newest addition to their product line designed specifically for upright bass. Nadine is a medium-large diaphragm condenser microphone that excels in capturing the natural acoustic sound of the upright bass, picking up as much of the surface sound as possible while highlighting its rich low end. With great feedback rejection, it is perfect for live players to use with stage monitors. Physically, the mic is separated into the body, which securely straps to the tailpiece with velcro elastic, and the head, which mounts easily between the strings above the tailpiece using a rubber grommet. There is a 14-inch Mogami cable that connects the two parts, making it easy to place the mic on any bass and transition from instrument to instrument. Ear Trumpet Labs is currently accepting orders for Nadine via their website with a waiting list. www.EarTrumpetLabs.com. ►