► Tascam announces the new iXR USB Audio/MIDI interface with iOS connectivity. Designed to bring your mobile devices into the world of professional audio, the iXR is a full featured "Made for iPad" PC/Mac USB audio interface that also delivers direct connectivity to your iPhone and iPad via the standard iOS Lightning or 30-pin connector, without the need for special adapters or mini-plugs. Featuring two of TASCAM's Ultra-HDDA mic preamps with phantom power, mic and instrument-level inputs, zero-latency monitoring, MIDI in and out, and supporting up to 96kHz/24-bit resolution, the iXR is an all-in-one, professional audio interface in a slim, rugged, backpack-approved package that's equally at home on stage or in the studio. With balanced stereo outputs, the iXR is also the perfect bridge between an iPad and a professional quality concert sound system. Recording to your iOS device just got easier too, bundled with Cubase LE for Mac and Windows, as well as Cubasis LE for iOS. Simply connect a microphone or instrument and record vocals and live instruments directly to your iPad, iPhone, Mac or PC with zero-latency direct monitoring. Available soon at your local retailer or online with an MSRP of $259.99 and a street price of $159.99.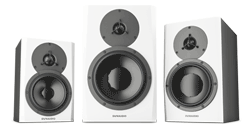 ► Dynaudio introduced its new range of professional and personal reference monitors. Dynaudio's LYD 5, LYD 7 and LYD 8 are ready to ship to music stores worldwide. "Regardless of what type of music you produce or which LYD model you choose, we made sure that you get a precise and true image of your mix, even at low volumes," says Dynaudio Product Manager, Sebastian Rodens, as he continues. "In particular low frequencies tend to be skewed at low listening levels, which often causes you to counter-adjust, taking bad mix decisions that likely have to be redone the next time you listen to it at a louder level. We created a monitor that ensures a consistent listening experience at any volume..." Apart from the consistent sound reproduction across various listening levels, a most welcomed addition is an extended sweetspot, which is key when collaborating with other musicians or producers in the same room. Further, the new LYD monitors address the classic problem of phase errors when applying EQ filters to adjust for room acoustics. Rather than relying on traditional EQ tools, LYD monitors come with tilt filters, carefully designed for tailoring the 'balance' perfectly to fit the environment without introducing the common phase compromises. LYD Pricing: LYD 5 (each): $599 / €499; LYD 7 (each): $669/ €599; LYD 8 (each): $789 / €699. www.dynaudio.com.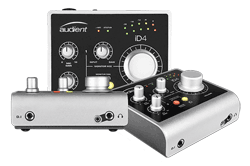 ► Audient announced the iD4, a compact and affordable bus-powered audio interface, perfect for singer songwriters and on-the-go producers. iD4 is packed with features, including Class-A mic pre technology found in the flagship ASP8024 Heritage Edition mixing console, pristine AD converters, a JFET D.I, dual headphone outputs, console-style monitor control and Audient's virtual scroll wheel technology, 'ScrollControl', all housed in compact, ergonomic, solid steel and aluminum casing. Audient's technical director, Tom Waterman adds, "Alongside superlative quality at its price point, the beauty of iD4 is how simple it is to use," he continues, highlighting the 'ScrollControl' facility. "With a touch of a button the volume encoder becomes a virtual scroll wheel, which means you can use the iD knob to manually adjust DAW hosts, plug-in parameters, write automation and even scroll through your iTunes library - just like you're using a piece of hardware!" iD4 comes with two brand new features designed to make the recording process even easier for users: Monitor Mix and Monitor Pan. "The Monitor Mix feature lets you monitor a blend of both iD4s inputs and your DAW playback, providing near-zero latency monitoring whilst recording," explains Waterman. "Also, if you're recording an acoustic guitar and vocal, the Monitor Pan feature enables you to pan both the mic pre input and D.I input from left to right, making it easy to create a balanced headphone mix that suits." iD4 retails at $199 MAP. www.audient.com.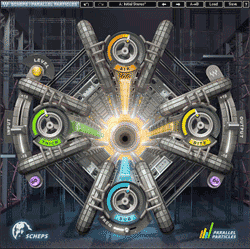 ► Waves Audio is now shipping the Waves Scheps Parallel Particles plugin, part of the Waves Signature Series. Created in collaboration with GRAMMY®-winning producer/mixing engineer Andrew Scheps (Adele, Metallica, Jay Z, Red Hot Chili Peppers, Black Sabbath, Lana Del Rey), Scheps Parallel Particles captures Andrew's masterful know-how in the form of four easy-to-use controls, each representing one of Andrew's go-to mixing processes: Sub is a harmonic generator that creates lows and adds sub frequencies that were never there before. By working more with resonance than with EQ, it's a great way to create a presence in the low end without things getting out of control. Air focuses on those elusive air frequencies and brings them to the forefront. Like Sub, it is a harmonic generator that creates resonances that do not exist in your source. Bite is designed to create sonic vitality and emotion. It controls the front ends of the notes (those that reach your ear first), but it also has a big impact on the release. It can be used on anything to make your sound more aggressive. A singer will sound more energetic, a snare drum will have more attack, a bass guitar will sound more present, and so on. Thick adds solid body to the signal, evening out the lower mids and midrange, creating a feeling similar to that of a microphone being a little bit closer, or the room ambience being darker. www.waves.com.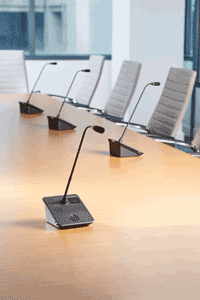 ► Audio-Technica introduces the ATUC-50 Digital Wired Discussion System. Components include the ATUC-50CU Control Unit, ATUC-50DU Discussion Units, and the ATUC-M43H and ATUC-M58H Gooseneck Microphones. The ATUC-50 system is designed for intuitive operation and plug-and-play functionality. The system provides 24-bit/48 kHz uncompressed digital audio for clear and intelligible communication that significantly increases meeting efficiency and effectiveness. The system offers multi-mode operation, 12-band feedback suppressor, ability to record a meeting directly to a mass storage device on the front of the control unit and interpretation channels. A choice of two gooseneck lengths is available: the ATUC-M43H 17" (430 mm) and ATUC-M58H 23" (580 mm) microphones, allowing for added flexibility in terms of positioning. Employing standard Cat5 (and above) cables, a complete system can support up to 3 ATUC-50CU control units and 150 ATUC-50DU discussion units can be connected in either daisy chain or ring topology (for added redundancy) and controlled from any web browser with no need for additional software installation. Configuration via Web Remote Control is simple and quick, with settings able to be stored as presets for easy recall. The user-friendly design of the ATUC-50 and its extensive feature set make it ideal for applications throughout the corporate sector (including boardrooms and meeting rooms), government facilities, multilingual conference needs, hospitality (hotels, conventions, etc.), courts and judicial facilities, education, rental and more. www.audio-technica.com. ►