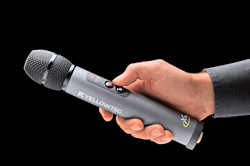 ► ENCO announced a new partnership with Yellowtec that accelerates time to air for news content gathered in the field. The two companies unveiled a remote newsgathering solution featuring ENCO's iDAD mobile application and Yellowtec iXM recording microphones, giving reporters a high-quality, handheld system to record, process and transfer audio files back to the studio. The collaborative workflow reduces equipment costs, eliminating the need to use expensive field recorders to gather interviews in the field. Additionally, reporters no longer need to use codecs to transport files back to the studio; or drive back to the station to deliver files for editing. Instead, reporters and sources speak into the iXM microphone, which incorporates auto leveling to ensure pristine-quality recordings. ENCO's iDAD app can connect wirelessly to the iXM's internal WiFi storage device, allowing iDAD to directly access iXM recordings for editing and director transfer to a radio station's DAD audio library. iDAD can also remotely control the ENCO DAD automation system at the studio. Users can download the latest iDAD mobile app for free in the Apple iOS App Store. The iXM incorporates only two large buttons (record and stop) and three light-up status icons, essentially canceling any learning curve for the reporter. ENCO also developed what is believed to be the broadcast industry's first iWatch app, giving radio broadcasters in the field connectivity to ENCO DAD automation systems back at the studio. The in-house developed app offers the same control capability as ENCO's iDAD mobile app, which was release three years ago to streamline live remote and newsgathering workflows. For broadcasters, the remote control functions of both iDAD and the new iWatch app simplify and enhance remote options via ENCO's DAD Command Language. These are presented on the app's GUI through a clean array of user-definable buttons. The differentiator for the iWatch user is a further reduction of clutter; rather than fumbling with a mobile device while conducting an interview or live broadcast, the user can simply press a button on a wristwatch to send a command back to the studio. The free app is available for download from iTunes. www.enco.com.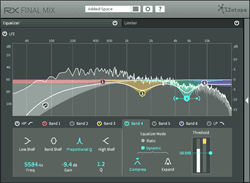 ► iZotope, Inc. recently released a new low-latency limiting algorithm for its newest post-production mixing solution, RX Final Mix. RX Final Mix helps audio post-production and broadcast professionals create balanced mixes that are sonically impactful yet True Peak compliant. The Dynamic EQ and True Peak Limiter modules in RX Final Mix enable editors and mixers to maintain the optimum balance between sonic elements when creating deliverables such as mix stems. The latest update includes a new low-latency limiter algorithm (as low as 120 samples at 48 kHz), and an optimized dynamic EQ that uses up to 60% less CPU bandwidth. This pyschoacoustically-enhanced algorithm responds differently based on the characteristics of the audio source to deliver the most transparent output possible. Having a low-latency mode allows audio editors and mixers to deploy multiple plug-in instances in high track-count sessions without any processing delays. In addition, a new "Enable True Bypass" mode provides zero latency for cases when only the Dynamic EQ module is required for sonic sculpting of a surround mix. RX Final Mix 1.01 supports VST, VST 3, AAX, RTAS, and AudioSuite in mono, stereo, 5.0, 5.1, 7.0, and 7.1 surround formats. AU is supported in mono, stereo, and 5.1. RX Final Mix 1.01 is available for free for existing RX Final Mix customers. Current users can download the update from iZotope's website. RX Final Mix is available now for a price of $299 / €279 / £205 MSRP. iZotope also recently announced its strategic decision to divide the current iZotope product line into two distinct families of products, one focused on Music Production and the other on Audio Post Production. "Since 2001, iZotope has developed products to inspire musicians, producers, and audio engineers of all kinds," explains Mark Ethier, co-founder and CEO. "In recent years, more and more audio post production professionals have joined our community, with unique needs from the world of TV, film, and other media. To keep inspiring all of our customers, we know we need to address each world individually." Moving forward, the Music Production family is led by one of iZotope's flagship products, Ozone for mastering, and is complemented by products for mixing, vocals, and creative effects, like Alloy, Nectar, and Trash. The Audio Post Production family spotlights iZotope's other flagship product, RX, the Emmy Award-winning audio repair and enhancement suite. Rounding out the family of Post tools are RX Final Mix for balancing mixes and submixes, and RX Loudness Control for ensuring loudness compliance with international loudness standards. www.izotope.com.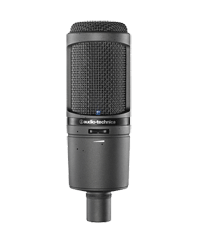 ► Audio-Technica is now shipping the AT2020USBi Cardioid Condenser USB Microphone featuring iOS compatibility. Combining high-resolution audio with increased connectivity options, the AT2020USBi cardioid condenser microphone adds a new level of sound-quality and convenience to Audio-Technica's USB microphone line. Modeled after the AT2020, this digital output mic features an A/D converter with a 24-bit/96 kHz sampling rate to deliver high-resolution articulation and intelligibility that's perfect for home studio recording, field recording, podcasting and voiceover use. The AT2020USBi brings high-resolution audio (24-bit/96 kHz) to A-T's line of USB mics. The AT2020USBi works with both USB and Lightning cables (included), so users can employ it straight from the box to digitally capture audio on the device of their choice: PC, Mac or iOS. The integrated gain control adds to the convenience, allowing users to adjust the input level directly on the microphone. U.S. estimated street price: $199.00. www.audio-technica.com.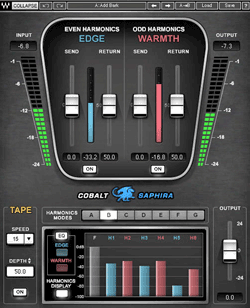 ► Waves Audio is now shipping the Waves Cobalt Saphira plugin. Waves Cobalt Saphira is an advanced harmonics shaping tool that lets you give your mixes analog musicality, depth and "glue" by adding rich harmonics to your tracks and separately shaping the various qualities of the harmonics you are adding. Waves Cobalt Saphira gives you an unprecedented level of precise digital control over different aspects of your harmonics: Edge and Warmth – for separately controlling and balancing even and odd harmonics; 4-band EQ – for separately shaping the frequency spectrum of each type of harmonics; Harmonics modes – seven different modes, with graphical representation so you can see the changes in harmonic structure; Tape – five tape speeds for adding wow-and-flutter modulation in order to give your tracks extra musicality and depth. Waves Audio also announced that Image-Line's digital audio workstation FL Studio 12 is now compatible with Waves plugins. www.image-line.com. www.waves.com.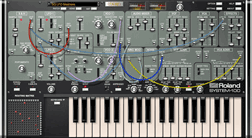 ► Roland announced the SYSTEM-100 PLUG-OUT Software Synthesizer. Part of the AIRA series, this new soft synth is a modern reproduction of Roland's now-legendary semi-modular SYSTEM-100 monosynth. It integrates the features of the original Model 101 Synthesizer and Model 102 Expander units to deliver a fat and uniquely versatile, two-oscillator monosynth with modular routing capabilities. Designed for use with Roland's SYSTEM-1 and 1m, as well as Mac and PC hosts, the new SYSTEM-100 uses Analog Circuit Behavior to faithfully recreate every detail of the warm, expansive sound of the original. Created in 1975 and still sought-after to this day, the distinctive SYSTEM-100 broke new ground for monosynths. Its modular patching capabilities complemented ultra-fat oscillators and creamy filters to vastly increase sound design options. Pairing a Model 101 Synthesizer with a Model 102 Expander provided two VCOs and two LFOs, as well as Sample and Hold, Ring Modulation and a Noise Generator, along with modular routing capabilities. www.rolandus.com.

► Auralex® Acoustics is now shipping enhanced "v2" models of the acclaimed and popular Sustain™ Bamboo Sound Diffusors. The new and improved design is based on customer input and extensive testing. These handmade, environmentally friendly bamboo sound diffusors offer increased performance and exceptional craftsmanship and aesthetics to complement any space. They feature sharper angles and updated construction. In addition to enhanced v2's of the popular Sustain Prism™, Sustain Lens™, Sustain QuadraTec™ and Sustain Pyramid™, Auralex is offering the new Sustain Metro™ Bamboo diffusor. The Sustain Metro™ adds a contemporary cityscape aesthetic to your space, while its exacting design eliminates flutter echoes and evenly disperses acoustical energy throughout your environment. www.auralex.com.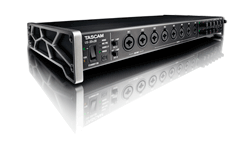 ► TASCAM's new Celesonic US-20x20 packs 20 channels of analog and digital I/O into a single rackspace with great sounding preamps and USB 3.0/2.0 connectivity. Eight Ultra-HDDA microphone preamps provide 56dB of gain and high headroom to make microphones sound their best. Up to ten channels of digital I/O are included on ADAT and S/PDIF connectors, with word clock also provided for use with external clocks like TASCAM's CG-1000. MIDI I/O allows use with controllers and synthesizers, and sample rates up to 192kHz/24-bit are supported. The TASCAM Celesonic US-20x20 is the first USB 3.0 interface to use class-compliant drivers for future-proof use with computers and tablets. A built-in DSP mixer includes parametric EQ and compression on every channel and a stereo reverb send for great-sounding monitor mixes. The DSP mixer can also be used as a live mixer or submixer with computer control. The US-20x20 has three modes: audio interface, digital mixer, and 8-channel digital mic preamp. Like the US-16x08, the US-20x20 includes a pair rack ears as well as bio-cell side panels to angle the interface off a desktop. $499.99 estimated street price. www.tascam.com.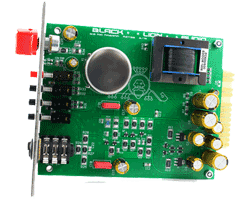 ► Black Lion Audio announced the release of the B12A MKII 500, an API®-style single channel microphone preamp just like the popular B12A MKII ½ rack unit, but in the convenient and flexible 500 series format. All Black Lion Audio products are designed and manufactured in Chicago, Illinois. Already known for that classic API® American rock sound, the MKII version features an upgraded input transformer, higher gain, and lower noise than the original B12A. It also features an output transformer, a Hi-Z input, phantom power, pad, and phase. "The original B12A was very popular, but we were continually being asked by customers to modify them for more gain," commented Nate Bierdeman, Director of Marketing for Black Lion Audio. "So we created the MKII with higher gain and lower noise. This revision also gave us the opportunity to integrate a nicer input transformer, and has resulted in an incredible-sounding preamp with lots of API®-style gain. Now it's available in the popular 500 series format." The B12A MKII 500 is available at Black Lion Audio dealers worldwide for a MAP of US $599. www.blacklionaudio.com. ►