► Wave Arts has released new versions of their plug-ins. The most important changes are improved support for Pro Tools 12 and Media Composer 8. All plug-ins are updated, including Power Suite Plug-ins/5.83, Master Restoration Suite Plug-ins/5.83; Tube Saturator/1.33; and Dialog/1.33. Many bugs/issues were fixed in these versions. This is a free update. You may simply install the new version over any existing version. Visit the Downloads page at www.wavearts.com.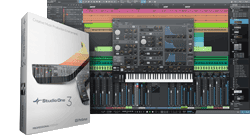 ► PreSonus announced that Studio One 3, the most significant update to its digital audio workstation, is now shipping. Available in Artist and Professional editions, version 3 adds innovations in song arranging and experimentation, as well as inspiring new ways to craft unique and evocative sounds. In addition, Studio One 3 opens users to new ways to control and mix within the application as the first DAW to offer a dual platform (Mac and Windows), multi-touch interface. Furthermore, Studio One 3 Professional users now have the freedom to create away from the desk through Studio One Remote for iPad. Studio One 3 Professional introduces the Arranger Track, which makes it easy to build and rearrange songs, letting you copy or move entire song sections with simple drag-and-drop. It has its own Track Inspector that shows all sections of the song, which also doubles as a quick navigation tool for your song. Unique Scratch Pads, also in Studio One Professional, provide an independent parallel timeline that lets you safely experiment on alternate ideas without jeopardizing arrangements. Simply drag Arranger sections, individual content, or entire songs into the Scratch Pad, make edits, then drag it back to your main song. The updated Browser, found in both Artist and Professional, makes it easier to find content, with tag-based "musical" search. You can now search for loops, samples, and presets by typing keywords like "genre" and "instrument" or by filtering content by selecting tags. The Browser also now has an integrated Cloud tab to access additional content online. Extended FX Chains, new in the Professional version, provide new ways to build complex, multi-dimensional sounds by chaining and combining effects plug-ins in serial, in parallel by channel, or by frequency with up to five splits. Multi Instruments allow you to combine multiple instruments as layers or splits in a single Instrument Track and play them like one instrument. Further dimensions can be added to a sound by using Note FX on individual Instruments layers within a Multi Instrument. Note FX is a new plug-in type introduced in Studio One 3 that adds life to Instrument tracks by processing their note data. The four Note FX included with Studio One 3 Professional are Arpeggiator, Chorder, Repeater, and Input Filter. Each console channel and Multi Instrument in Studio One Professional now offers Macro Controls, which allow individual instrument or plug-in parameters to be assigned to control knobs, switches, and X/Y pads for easy access. Multiple parameters can be assigned to the same control with independent settings for range/polarity/curve. Studio One version 3 features a powerful new instrument engine that drives two new instruments. Mai Tai is a polyphonic analog modeling synth for modern electro and bass sounds. Presence XT is an expandable, full-featured sampler with a comprehensive sample library that covers all the bases. There are over 70 new features and updates included in the Studio One version 3 upgrade. Studio One 3 is now available in Artist and Professional versions, as both upgrades and full programs, at music retailers worldwide and direct from PreSonus. This month, PreSonus will also introduce Studio One Prime, a fully functioning free version, which will provide a great way to get started with Studio One. For more information on Studio One version 3, visit http://studioone.presonus.com.

Also from Presonus, the Studio 192 USB 3.0 Audio Interface and Studio Command Center. The new 26 x 32 interface records at up to 192 kHz and combines eight digitally controlled XMAX™ Class A solid-state mic preamps and premium Burr-Brown converters with StudioLive™ Fat Channel signal processing. The Studio 192 also acts as your studio's command center, managing speaker switching and talkback (with onboard condenser microphone) and featuring main mix Mute, Mono, and Dim. The result is a comprehensive solution for advanced studio recording and monitoring. PreSonus' innovative UC Surface touch-ready control software for Mac®, Windows®, and iPad® is included, for easy management of all Studio 192 functions and quick creation of eight stereo monitor mixes with full Fat Channel processing on every analog input, plus reverb and delay. Users of PreSonus Studio One® DAW will find full preamp control and zero-latency monitor-mix functions integrated into their recording environment. Studio One's exclusive hybrid Fat Channel plug-in runs on the computer's processor and seamlessly switches to the Studio 192 DSP. This allows you to monitor with Fat Channel EQ and dynamics while switching between playback and recording with no audible change. U.S. retail price is $1,199.95. www.presonus.com.
► Source Elements announced new features for their current beta version 0.5.3 of Source-Connect Now, their real-time audio system for a number of workflows. It only requires the Chrome web browser and a common broadband internet connection. Excellent sound quality is provided by using the OPUS audio codec in a high bit-rate mode, thus sounding as good or even better than what users expect from ISDN systems. Working with both mono or stereo high-definition sound, Source-Connect Now is applicable for a wide number of uses including replacing ISDN workflows, music collaboration, music lessons, high definition conversations, or any other use where high quality audio is required. Recent feature additions include recording of PCM audio directly in the browser, left and right panning functionality to separate distinct audio sources so you can record interviews with multiple guests, and advanced connection technology that assures your session remains online in case of intermittent network issues. While in Beta, Source Elements is providing free Source-Connect Now accounts to anyone. The service operates on any Chrome web browser including the Mac, Windows, Linux and android platforms. www.source-elements.com.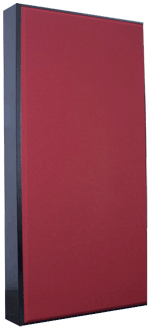 ► Auralex® Acoustics, Inc. is now shipping its new Deep6™ Low-Frequency Absorber, a 2' x 4' x 6" powder-coated, black steel frame-enclosed absorption device. The Deep6 Low-Frequency Absorber is specifically designed to be installed on a wall or across a vertical corner to improve low-frequency absorption throughout the room and accuracy at the mix position, but without the sonic artifacts of competing products. This acoustical treatment is perfect for rooms where corner-fitted bass traps are not possible due to doors or windows, and provides usable broadband control down to 40Hz. The Deep6 is Class A fire rated for commercial and residential applications. It complements a wide range of acoustical products & turns mid-high absorbers into a complete broadband system. Available in Sandstone and Obsidian fabric colors, each Deep6 comes fully assembled and ready to install with the included wall mounting brackets. www.auralex.com. ►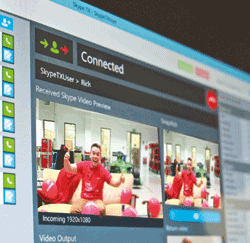 ► Riedel's STX-200 broadcast-grade professional Skype interface brings any Skype user worldwide into professional broadcast workflows. The reliable, 1 RU, single-box solution allows broadcasters to engage with both reporters and viewers in live programming, and now comes with improved and easy-to-use management and control software, as well as AES67 Interfacing. The updated Skype TX Control software provides customers with the ability to manage multiple Skype TX channels from a single user interface. Other parameters that the software manages include stream resolution, aspect ratios, FPS, logo overlays, and various audio options. Riedel's STX-200 also offers unique device monitoring functions, such as temperature measurement and system status that can be monitored by means of Simple Network Management Protocol (SNMP). "We have only scratched the surface of how this amazing device will be used to create new workflows for broadcasters and build community for organizations from small businesses to major sports leagues," said Lars Höhmann, Skype & MediorNet product manager at Riedel Communications. "Just last month, Real Madrid used a Riedel-supplied STX-200 solution, including a MediorNet signal transport backbone and Artist intercoms, to facilitate a live two-way exchange between players and their fans from around the world." Licensed by Microsoft, the STX-200 offers broadcast-quality HD-SDI and balanced XLR audio I/Os. Previously, users relied on consumer PCs running common Skype clients that then needed to be integrated with scan and HDMI-to-SDI converters to produce content suitable for air. Further, audio dropouts and menu pop-ups on the live feed are avoided with this dedicated solution. Broadcast-grade audio interfaces include a two-channel balanced analog audio XLR input and output, as well as SDI embedded audio. Other features include a Gigabit Ethernet connection, a user-interface connection via DisplayPort, USB ports for accessories, and GPI/Os. www.riedel.net.

► Focusrite recently showed four second-generation models from its extended RedNet line of products based around the industry-standard Dante™ audio-over-IP networking system. Now shipping are the MP8R 8-channel remote-controlled mic pre and the D16R AES interface; the new HD32R HD Bridge for Pro Tools and D64R MADI Bridge. Interoperable with all other Dante-compatible units, these RedNet interfaces are particularly designed for live sound and broadcast applications, due to their power supply and network-redundancy, locking Ethernet connectors, and compact 1U form factors. The new products include a series of features that make them particularly applicable to broadcast, live sound/recording and system integration markets, where reliability is paramount. Dual Ethernet ports, fitted with locking Ethercon® connectors, are provided, with several operating modes including daisy-chaining and redundancy confirmed by front-panel indicators. Two separate power supplies with fault detection capability are included, with separate power input sockets on the rear panel. Power failure is indicated both remotely and on the front panel. The modules feature a rugged exterior with maximum internal build quality, in a compact 1U rack-mount form factor. RedNet MP8R is an 8-channel remote controlled mic pre and A/D, with redundant power and networking. RedNet D16R features 16 channels of AES/EBU connectivity to and from a Dante audio network, with redundant power and networking. RedNet D64R is a development of the RedNet 6 Dante to MADI interface, providing a reliable link between any Dante network and any MADI / AES10 setup, with redundant power and networking. RedNet HD32R, a development of the original RedNet 5, is a second-generation Pro Tools bridge linking Pro Tools|HD and the Dante audio network, with redundant power and networking. For more information on the RedNet range, go to www.focusrite.com/rednet. ►