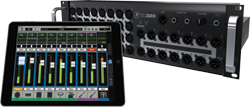 ► Mackie introduced a new 32-channel digital mixing system completely controlled wirelessly from Mackie's intuitive Master Fader™ iPad® app, the DL32R 32-Channel Wireless Digital Mixer with iPad Control. Featuring complete wireless control over everything, including fully-loaded DSP and multi-track recording/playback, you can control everything from anywhere with the DL32R. The Mackie DL32R features a mix of flexible, professional I/O in an ultra-compact 3U rackmount design. Each of the 32 inputs (24 XLR, 8 XLR/TRS combo) feature Mackie's all-new Onyx+™ recallable mic preamps, with remote control over preamp gain and phantom power. The new Onyx+ preamps outperform the industry-proven Onyx design, which has garnered rave reviews for its boutique-quality sound and performance. Fully-assignable using the Master Fader control app, there are 14 XLR outputs great for anything from stage monitors to matrix outputs. The front panel also features a stereo AES digital output for connecting gear like speaker processors. A dedicated stereo monitor output is ideal for connecting an in-ear monitor system for detailed listening from anywhere in the venue. With complete wireless control of the system using Mackie's Master Fader iPad app, a new world of mixing possibilities opens up. There is no longer any need for a fixed FOH position. Place the mixer where it works best - be it next to the stage, backstage or even tucked away in a utility closet. This can also eliminate the need for an expensive, bulky analog snake. The DL32R does away with troublesome FOH positions such as under a balcony, behind a pillar, etc. The user can tune the room right from the problem spots and get on stage to ring out monitors or work with the band to dial in the perfect monitor mix. Multi-track recording and playback are critical for professional applications and the DL32R features two flexible methods for multi-track recording and playback. The first of these is direct to USB hard drive, which is currently a 48 kHz, 24-bit, 24 input by 24 output platform. This will be expanded soon to 32x32 via a free firmware update. The direct-to-disk option delivers unprecedented wireless control over your multi-track recording and playback. An additional USB 2.0 computer audio interface is available for 32x32 recording and playback that can directly connect with any DAW, great for studio applications and rehearsal spaces. MSRP $2499.99. www.mackie.com.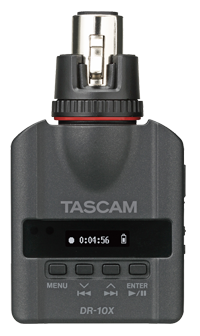 ► TASCAM has announced the compact DR-10X, which attaches to a handheld microphone for the ultimate compact news gathering recording system. A captive XLR connector attaches firmly to your microphone, capturing interviews at 48kHz/24-bit Broadcast WAV resolution. Offload recordings through the microUSB connection or by removing the MicroSD card. The DR-10X has both manual and automatic gain settings, with a low cut filter and limiter to prevent overloads. The Dual Recording mode captures a copy of the audio at a lower level, so if there is distortion you have a backup safety. Recording can begin instantly by sliding the record switch while turning the unit on. $179.99 estimated street price. Also from TASCAM, the US-16x08 audio interface, with 16 mic and line inputs and advanced features to manage big sessions. Eight Ultra-HDDA microphone preamps deliver the cleanest and quietest specifications in their class while delivering up to 56dB of gain. An additional eight line inputs are provided, two of them switchable to instrument level for direct guitar or bass recording. Eight balanced line outputs are also available, two with a level control on the front panel for monitoring. Built into the US-16x08 is a DSP Mixer for low-latency digital mixing. Each channel has four-band EQ and compression for polished-sounding monitor mixes. In addition to interface mode, the US-16x08 can be used as a standalone mic preamp. Mac and Windows drivers are provided, as well as USB Audio Compliance 2.0 drivers for iOS compatibility. MIDI input and output are also available on the rear panel. $299.99 estimated street price. www.tascam.com.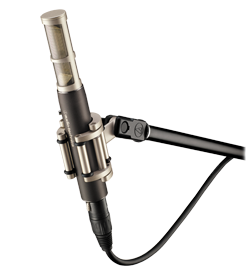 ► Audio-Technica introduced the AT5045 Cardioid Condenser Microphone, the latest addition to A-T's flagship 50 Series of premier studio microphones. The hand-built AT5045 is a "stick-design," large-diaphragm electret side-address condenser instrument microphone with a cardioid polar pattern that enables the user to capture audio with profound realism and depth, translating the natural sound of the instrument. Available separately or as stereo pairs (AT5045P), the mics are engineered to meet the most critical requirements of professional recording. The AT5045 features a large diaphragm, fast transient response, low noise, the ability to handle high sound pressure levels (149 dB SPL), and one of the widest dynamic range specs available (141 dB). These specs make it an ideal instrument microphone, designed specifically for use on overheads, percussion, acoustic guitar, strings and other acoustic instruments in professional studio applications. The AT5045 (single microphone) and AT5045P (stereo pair) are available with U.S. MSRP pricing of $1399 for AT5045 and $2499 for AT5045P. www.audio-technica.com.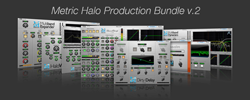 ► Metric Halo announced the availability of version 2 of its Production Bundle plug-ins. The full Production Bundle includes eight plug-ins. Starting with the -renowned ChannelStrip, the Production Bundle adds TransientControl, Character, HaloVerb, Dirty Delay, Multiband Dynamics, Multiband Expander, and the Precision DeEsser. The v.2 of Production Bundle introduces a brand new plug-in, MH Dirty Delay. Dirty Delay is a visceral, gritty, musical feedback delay processor with integrated Character and filters in the delay path. It can create vintage echo and tape-delay style sounds as well as lush and subtle spaces in a mix. With this release, Metric Halo is providing VST versions of the plug-ins for both Mac and Windows, in addition to the previously supported Pro Tools AAX on Mac and Windows, and Audio Units on Mac. All of the plug-ins support 32-bit and 64-bit hosts on all platforms. New Production Bundle licenses are available with a MSRP of $699. www.mhlabs.com. ►

Black Lion Audio, an independently owned company in Chicago, announced the release of the B12A MKII, a single-channel microphone preamp in the style of an API 312A. Already known for that classic API American rock sound, the MKII version features an upgraded input transformer, higher gain, and lower noise than the original B12A. It also features an output transformer, a Hi-Z input, phantom power, pad, phase, and is housed in a 1U, 1/2 rack chassis. "The original B12A was very popular, but we were continually being asked by customers to modify them for more gain," commented Nate Bierdeman, Director of Marketing for Black Lion Audio. "So we created the MKII with higher gain and lower noise. This revision also gave us the opportunity to integrate a nicer input transformer, and has resulted in an incredible-sounding preamp with lots of API-style gain." US $549. www.blacklionaudio.com. ►