► Harbinger, a provider of affordable sound-reinforcement solutions, introduces the L2404FX-USB compact analog mixer, the newest member of its popular LvL series. Designed for both live sound and recording and packed with professional features not often found in this price class, the 24-channel mixer offers outstanding sound quality, flexible routing, built-in effects, and USB recording. A versatile complement of inputs and outputs enables the L2404FX-USB to accept signals from virtually any analog source. The mono channels feature XLR microphone inputs, balanced ¼-inch line inputs, and insert points. Stereo channels 9/10 and 11/12 include balanced XLR mic and ¼-inch line inputs, while channels 13/14 and 15/16 offer ¼-inch line inputs and unbalanced RCA inputs for connection to a media player or external recording device. The main L/R outputs are on XLR connectors. You also get eight ¼-inch direct outputs. Each channel includes an input-gain trim, a dedicated 60 mm fader, pan/balance, mute, and solo, with globally switchable AFL/PFL solo. Signal processing is generous, including a single-knob compressor with LED indicator, a high-pass filter (set at 75 Hz), and 3-band EQ with sweepable midrange on every mono channel. Each stereo channel is equipped with a 4-band, fixed-frequency EQ with variable level, and two of the stereo channels include a high-pass filter. You also get a studio-grade, 24-bit stereo digital effects processor on the main L/R mix, with Parameter Edit, Tap Tempo, and optional footswitch control. Routing and recording are also strengths. The L2404FX-USB provides four subgroup buses with dedicated faders, two post-fader aux buses, two aux buses that are switchable pre/post fader, and four aux returns. Control room outputs let you easily integrate the L2404FX-USB into your studio, and a USB port enables recording the main L/R mix to a computer. You'll have no problem monitoring your levels, thanks to a pair of 15-segment LED ladders for the main L/R mix and Clip and Mute LEDs on each channel. The Harbinger L2404FX-USB is available now in stores and online, with a street price of $399.99. www.harbingerproaudio.com.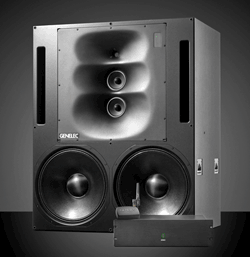 ► Genelec recently debuted the new 1236 Smart Active Monitoring™ (SAM™) Main Monitor System. The 1236 and its individually calibrated 3U-high Remote Amplifier Module RAM-XL provide the highest performance possible in a large format, flush-mounted main monitoring system. The new design is based on the high-efficiency proprietary double-18-inch bass driver design of Genelec's 1036. The 1236's frequency response extends from 17 Hz to 26 kHz, and it is capable of delivering 130 dB SPL at 1 meter through a combination of modern digital signal processing and efficient Class D amplifiers, providing 2 x 1000 W, 800 W, and 400 W of short-term power into woofers, midrange and tweeter channels, respectively. The 37.75" H x 46.5" W x 25.625" D enclosure features two 18-inch high-linearity woofers, with two Genelec proprietary high-efficiency five-inch midrange drivers, as well as a two-inch high compression tweeter, mounted in a very large Directivity Control Waveguide (DCW™) enclosure. All crossovers, protection circuitry, and driver calibrations are implemented in the digital domain. www.genelecusa.com.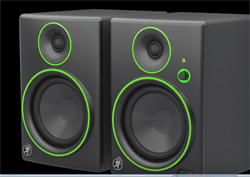 ► Mackie introduces two new models to its CR Series Multimedia Monitor line, the CR4BT and CR5BT. Both new models feature Bluetooth music streaming from any capable device, adding source flexibility perfect for auditioning comparison tracks or simply enjoying multimedia. The new CR4BT and CR5BT join the CR3 and CR4, all designed to bridge the gap between professional and personal applications. The new CR5BT features a high-output 5 inch woofer, delivering added low-frequency response, perfect for extended-range music and A/V post-production. All CR monitors utilize 3/4 inch silk-dome tweeters for smooth, articulate highs. Unique to the line, a left/right speaker placement switch allows users to locate the volume control on the left or right of their workstation. The front panel includes an on/off/volume knob with a lit power indication ring that will also control the volume of headphones, which can be plugged directly into the front of the monitors. Both new models feature a front panel Bluetooth button for easy pairing and connection indication. Bluetooth streaming is great for comparing mixes, auditioning files or just enjoying a bit of music or video. There is an additional front panel aux input for connecting alternate audio sources. "With smartphones always at your side, you can easily find yourself creating professional multimedia one minute and streaming a video the next," commented Redmon. "With our new Bluetooth-capable CR monitors, you get the best of both worlds... studio-quality performance and effortless connection to the music you love." The new Mackie CR4BT and CR5BT are now shipping. Sold in pairs, CR4BT monitors will have a U.S. MSRP of $259.99 and CR5BT monitors will have a U.S. MSRP of $329.99. www.mackie.com.

► The PreSonus® Studio 192 USB 3.0 Audio Interface and Studio Command Center is now available. The new 26 x 32 interface records at up to 192 kHz and combines 8 digitally controlled XMAX™ Class A, solid-state mic preamps and premium Burr-Brown converters with 118 dB of dynamic range. Easily expanded with PreSonus' new DigiMax™ DP88 professional 8-channel A/D/A converter with remote-controllable preamps, the Studio 192 provides a completely integrated hardware and software solution for personal and professional studios. The Studio 192 acts as your studio's command center, managing speaker switching and talkback (with onboard condenser microphone) and featuring main mix Mute, Mono, and Dim. In addition to advanced monitor mixing, you get StudioLive™ Fat Channel signal processing on every analog input and the first eight ADAT channels. PreSonus' UC Surface touch-ready control software for Mac®, Windows®, and iPad® is included for management of all Studio 192 functions. The Studio 192 offers ample I/O, with 2 front-panel mic/instrument inputs and 6 rear-panel mic/line inputs; 16-channel ADAT Optical In and Out (8 channels at 88.1 or 96 kHz); coaxial, stereo S/PDIF I/O; and BNC word-clock I/O. You get eight balanced TRS outputs, balanced stereo Main outputs, and two headphone amplifiers with independent outputs and level controls. All A/D/A conversion is at 192 kHz. Studio One version 3.1 is being released concurrently with the Studio 192 and is now available. The new version adds preamp and Fat Channel control for the Studio 192 and other new integration features, enhancements, and fixes. The Studio 192 is available at PreSonus dealers at a street price of $899.95. www.presonus.com.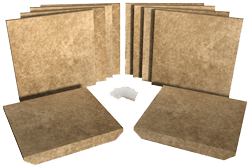 ► Auralex® Acoustics, Inc. announces the availability of new products in its SonoLite™ range called SonoKits™. Modeled after the Auralex Studiofoam® Roominator™ Kits, SonoLite SonoKits™ are convenient and modular configurations of Auralex's SonoLite Panels and SonoLite Bass Traps. They offer the same performance as the Studiofoam, with a stylish velour fabric covering. SonoLite SonoKits are cost-effective, and an excellent choice for residential applications such as home studios and home theaters. SonoLite SonoKit-1™ includes: 8 SonoLite Panels, 2 SonoLite Bass Traps, and 40 EZ-Stick Pro tabs, and is suggested for rooms 228 sq. ft. and smaller. SonoKit-2 accommodates larger rooms. SonoLite Cloud Panels are configurations of two-foot x four-foot panels that can be flown individually or arrayed to form a six-foot x four-foot cloud. Assembly hardware with fly points included. SonoLite Panels and Bass Trap Panels are fabric-wrapped Studiofoam® Pro acoustical absorption panels that provide excellent broad-band frequency control. SonoLite panels are available in packages of 2. SonoLite panels can be used for wall or ceiling applications, and SonoLite Bass Trap panels, sold individually, can be installed in either vertical or horizontal orientations where walls and ceilings meet. All SonoLite products are available in tan or black. www.auralex.com.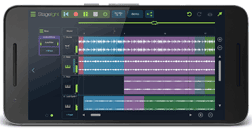 ► Open Labs, LLC introduced its music app, Stagelight, to Android phones with an amazing launch price of: FREE. Stagelight allows users to create, share and play with music on Windows and now Android devices including phones, tablets, phablets, laptops and desktop PCs. "Stagelight is the first music creation app that allows people to start for free and unlock capabilities as they progress." said Cliff Mountain, President and CEO of Open Labs. "With our in-app lessons and unlockable features, music listeners can now easily become music makers in 10 minutes or less. We want to 'Free The Music' in everyone, which is why we have expanded to Android, the largest operating system in the world." Stagelight is designed to be simple and fun for first-time users, but with a powerful engine and expandable feature set making it a platform that encourages even the best musician to develop new skills. Users have the option to explore Stagelight at the very basic level for fun, or dive into more advanced features and production tools. Stagelight includes step-by-step lessons that will teach anyone the basics of song structure, tempo, sharing and more. Stagelight includes its own in-app store packed full of royalty-free content with just about every genre of popular music including EDM, Hip Hop, Rock, Country and much more. Unlockable features, virtual instruments, loops, sounds and other exclusive bundles are available for purchase ($0.99 USD and up). Stagelight is available on devices running Android 4.4+ and Windows PCs running Windows 7 or higher. Minimum Hardware Specs: Dual Core CPU or better, 1GB of RAM (2GB is recommended) and 300MB of available storage. www.openlabs.com.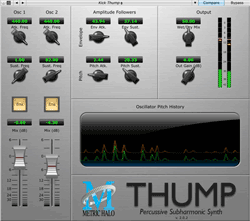 ► Metric Halo, maker of audio interfaces, plug-ins, and sound analysis software, has announced the FREE release of Metric Halo Thump in AU, VST, and AAX formats for both Mac and Windows. Thump is a percussive subharmonic synth that gets triggered by the audio track that it is inserted on, making it the perfect go-to plug-in for adding sub bass to kick drums and percussion. Thump uses the dynamics of its audio input to control two oscillators, each of which has independent attack and sustain frequencies, dynamics amplitude followers, and pitch amplitude followers. A wet/dry mix adjusts the output and a useful display makes it easy to set the controls to create the desired effect. In addition to building low-octave support for bass drum, tom, snare, and other percussive tracks, Thump makes it possible to create kettle drum sounds from regular drum tracks and to recreate the sounds of classic drum synths like the TR-808. Of course, Thump is also great for creating experimental effects that can be subtle, menacing, or bizarre, especially in conjunction with automation. www.mhlabs.com.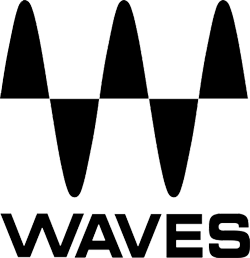 ► Waves Audio announced Waves Central, a new system to replace the current Waves License Center, providing license management and plugin installation (for Waves 9.6 and above) in one interface. Until now, users had to activate their licenses through the Waves License Center, then install the plugins using the online installer or (mainly on Mac OS's) by downloading a huge installer file. With the release of Waves Central, activation and installation will both be done within the new interface. Users will no longer need to download installers. They will now be able to manually install the plugins they choose, or simply click on the EASY INSTALL & ACTIVATE button to automatically install all of their licensed plugins. Waves Central will be available soon as a downloadable application. Waves users with an account login will be able to download the application for free from the Downloads section at www.Waves.com. ►