by Nate Austen
Well, it's been two years since I last made my journey to New York City to check out the goods at the Audio Engineering Society's (AES) biennial conference and convention. So this year's 139th gathering at the Jacob K. Javitz Center came just in time, before my withdrawal symptoms got to be too unbearable.
It was a lot more – shall we say – "kaleidoscopic" this year than others; the convention took place on Halloween weekend, October 29 - November 1. If you've ever marveled at the level of weirdness that permeates New York City any other day of the year, a trip through Midtown on Halloween defies description.
The AES convention is the place to be if you want to see, hear and touch the future of audio recording and production. And as I've said before, it's not a radio-specific convo, as it brings in pros and students alike from the music industry, TV and film production, Web multimedia and academia -- and a few celebs here and there too. But other than the NAB conferences each year and maybe the Consumer Electronics (CES) gatherings, this is probably the best place to be to grab the gear and give it a spin: mics, mixers, software, monitors and cool rackmount products that somehow we find we can no longer live without.
Perhaps "future of audio" was a poor choice of words. The past was also well-represented. Among the longtime supporters and exhibitors who have been with the AES for years, Moog Music and Eventide showed off their wares.
Moog was there to show off its new Mother line of affordable and tiny analog synthesizers, but also brought along a massive patchable system, the likes of which would have made Keith Emerson drool. And Eventide announced it had repackaged forty years' worth of Harmonizers and other magic products into a software suite called "Anthology X." All those great old rackmount units live on as plug-ins that drop right into your favorite DAW, and I'm here to tell you they still sound fantastic.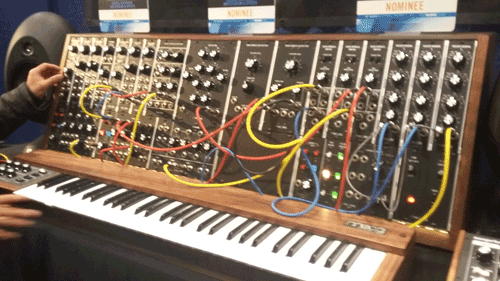 Microphone manufacturers gave a considerable nod to the past as well. AEA made its mark over 20 years ago by being a quality rebuilder of classic RCA ribbon mics, until one day the company decided to issue its own line made with contemporary technology. The R44CE may be pricy at around $2,500, but it is the closest you may ever get to those warm, round-sounding mics of a more golden time.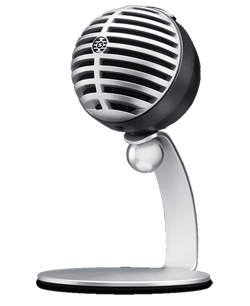 Shure went retro with new tech as well. If you've ever used the company's X2u microphone XLR-to-USB converter, you will like the MVi and MV51. The MVi is a self-contained digital condenser microphone in the style of a classic Shure model motif; and the MV51 takes the "Elvis Mic" look and wraps it around a large-condenser element and five-position DSP selector. It plugs into Macs, PCs and Android gadgets and will be the coolest thing in your portable go-bag.
I think Telefunken scored a retro grand slam when they showed up in a classic VW mini-bus. There was just something very cool about seeing these legendary mics being displayed from the rear of a legendary hippy van.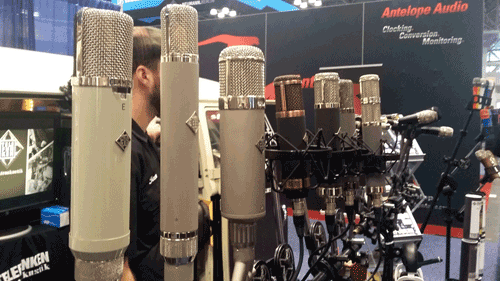 But enough of the past.
If you're beating the bushes for a mic to swap out that old workhorse E-V RE-20, Audio-Technica had just the thing: the BP-40 large-diaphragm dynamic mic. The case isn't as massive as that old '20, but the response is brighter while retaining a bit of the thump you've grown to know. It's even priced a bit less than an RE-20. This is definitely one to try out when you can.
How about finally giving up using SAW32 under Windows 98 as your workstation? The AES conference brought out the boys from AVID (Pro Tools, now at version 12.3); and Magix, which exhibited the familiar and flexible Samplitude program and the outstanding Sequoia audio environment. I had a chance to try out Sequoia once before, and while it is exceptionally powerful, I would probably let the audio-for-film production crowd have that one.
It is unfortunate that so few DAW companies were represented in New York. I have a preference towards Mixbus from the Harrison console people, and Reaper which actually has a New York presence. Neither was there. And as much as I recognize Pro Tools as The Big Ma-Moo of the industry, the underdogs really need to be seen and heard.
What I missed from the DAW folks was made up for by the Plug-In people. I've followed Izotope ever since they came up with that free "vinyl simulator" plugin more than a decade ago. Now a mature company with indispensable products, this year's offering is OZONE7, a powerful mastering suite with a couple of surprises, including a limiter and tape simulator that brings back an analog vibe not felt since those corporate finks wheeled that old Otari 5050 out of your studio.
Izotope impressed me with the RX5 audio editor. When it's time to remove hum, hiss, bad sound, pops, ticks and, yes, room reverb (!!!) from a recording, this is the software you want. This is what I need to reduce the schmutz on telephone recordings and clean up old programs on reel and cassette tapes.
Oxford showed up, courtesy of Sonnox. If you've never run your audio through an Oxford EQ or the Dynamics plug in, you really should download the free trial.
When the acoustic foam tiles in your studio get old and funky, rather than staple up new foam, take a look at what JOCAVI has done. This company gave those dull old sound panels a sweet facelift, with new geometry and new looks to both absorbers and diffusors. Gone are those old wedges and the "building blocks", replaced by a whole new look to your studio.
Funny thing when you improve your acoustics: you find out how much your monitor speakers suck. So this is probably a good time to mention the HS Series of powered speakers from Yamaha, as well as the S.A.M. line from Genelec, which adapt and tune themselves to the room they are in, via the GLM 2.0 User Kit and software.
There wasn't a lot new in headphones this year at the AES, but there were two standouts. First is Audio-Technica again, rolling out both open-back (ATH-R70x) and closed-cup (ATH-M70x) units which scope out to a remarkable 40 kHz – perfect when mated with the Earthworks SR-40 microphone with identical response. Too bad our hearing doesn't go much past 13 kHz anymore, if we're lucky.
And then there is the KSE1500 electrostatic earphone system from Shure, notable for its $3,000 price tag. If you are used to earbuds from the dollar store, this may be an assault on your sensibilities. But don't judge until you've heard them.
Finally, you've probably used Sound Ideas sound effects since your first "real" station gig (not that part-time job where they still had the Valentino Library on vinyl). You probably haven't heard that Sound Ideas merged with The Hollywood Edge and now have a 12-page catalog of effects and music that contains pretty much everything you will ever need in production, via CD, DVD-ROM, hard drive or download.
So again, something for everyone at the 139th AES convention in New York. I'm sitting out the Los Angeles show next fall and will cycle back into New York in 2017. Stop me if you see me and we'll split a Sicilian slice at Rosa's Pizza up 34th Street.
Nate Austen rides the rails between DC and New York, making all kinds of funny and weird sounds for radio everywhere he goes. This is his 10th AES show and the gear keeps getting better all the time. Contact him via RAPMAG.