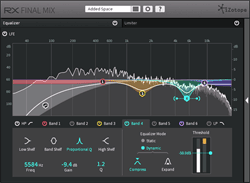 ► iZotope, Inc. released its new RX Final Mix real-time plug-in. RX Final Mix helps audio post-production and broadcast professionals create balanced mixes that are impactful yet True Peak compliant. Built specifically for post-production with support from mono to 7.1 surround, RX Final Mix enables editors and mixers to maintain the optimum balance between sonic elements when creating deliverables such as mix "stems" (for example, when a music and effects mix stem is required for foreign language dubbing). Muddy-sounding mixes can be avoided thanks to reactive EQ and limiting tools that help editors put every sound in its place. The Dynamic EQ and True Peak Limiter guarantee dynamic and transparent mix output that meets True Peak specs. Because RX Final Mix offers the ability to sonically sculpt in the frequency domain, editors can surgically carve sonic elements so that dialogue is clearly heard above music and effects, and that surround channels and low frequency effects don't interfere with dialogue intelligibility. Additionally, RX Final Mix includes a comprehensive library of targeted presets to cover the needs of both video editors and seasoned audio post professionals. Presets such as "video streaming" or "Laptop" provide instant, targeted mixes optimized for unique consumption environments. RX Final mix supports VST, VST 3, AAX, RTAS, and AudioSuite from mono up to 7.1 surround. Apple AU will support mono up to stereo only. For hosts that support both VST and AU, surround functionality can be used via VST. For AU-exclusive hosts, namely Final Cut and Logic, RX Final Mix supports stereo only. $349. www.izotope.com.

► DiGiGrid is expanding its line of advanced audio interfaces with DiGiGrid IOC, a control room I/O for SoundGrid® systems. Perfect for the control room, the DiGiGrid IOC audio interface offers a range of connectivity options, including two mic/line inputs with broadcast/studio-grade preamps; eight line inputs/outputs; 16 AES and ADAT inputs/outputs; and two powerful headphone outputs. With DiGiGrid IOC and a dedicated SoundGrid DSP server on their network, users will be able to run hundreds of SoundGrid-compatible Waves and third-party plugins, all fully integrated within their DAW of choice. By plugging DiGiGrid IOC into a SoundGrid network with a single Ethernet cable, users will enter a new world of real-time tracking, mixing and monitoring, with extremely low latency of only 0.8 milliseconds. Other features: ASIO- and Core Audio-compliant audio I/O for native DAWs; Quick-view front panel metering; High-definition 192 kHz ADC conversion. www.digigrid.net.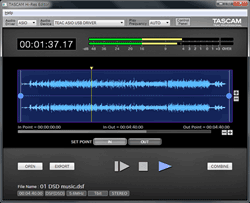 ► TASCAM has announced Hi-Res Editor, a free application that supports up to 11.2MHz DSD files or 384k WAV. The software allows playback and export of DSD files without intermediate conversion to PCM audio. It is available now as a free download for Windows. DSD Audio can be played natively through USB devices that support it, such as the TEAC UD-501 and HA-P90SD. In cases where a PCM interface is used, or even the computer's built-in audio, the software automatically plays DSD back through the interface at any available sample rate. A section of the DSD file can be exported as a new file, either in DSD or WAV format, to separate one long recording into individual tracks. Two DSD files can also be combined into a new file, for example when a file over 2GB is divided. DSD audio can be converted to PCM, and vice-versa, for burning to CD or online distribution. In addition to the above, Hi-Res Editor can edit the gain level for WAV format audio. Ideal for users of hi-resolution recorders like the DA-3000, the free TASCAM's Hi-Res Editor software is one of the only ways to edit native DSD master recordings. www.tascam.com.

► The PreSonus® DigiMax™ DP88 8-channel microphone preamplifier and A/D/A converter combines eight remote-controllable, high-headroom mic preamps with advanced remote control features, superior connectivity, and unprecedented integration with the new Studio 192 audio interface. The newest member of the company's DigiMax series, the 24-bit, 96 kHz DigiMax DP88 delivers exceptional audio quality thanks to its clean audio path provided by Burr-Brown A/D/A converters with 118 dB of dynamic range. Eight digitally controlled XMAX™ Class A preamps employ true analog circuitry, with a separate digital volume control circuit. Phantom power is individually switchable for each preamp. Each channel is equipped with an eight-segment LED input meter and a phantom power indicator. In addition to offering front-panel control, the DP88's preamps use simple MIDI CC messages to control level, phantom power, and direct ADC input, making MIDI management from any DAW easy and intuitive. When connected via ADAT Optical to a PreSonus Studio 192 audio interface, the DigiMax DP88's preamp controls also are accessible from PreSonus' Studio One® DAW and UC Surface control software for Mac® OS X and Windows®. No additional setup is required; the DigiMax DP88 becomes a natural extension of the Studio 192 inputs and outputs. All inputs and outputs are on the rear panel, making it easy to incorporate the unit into any studio. The DP88 provides eight channels of ADAT Optical I/O at up to 96 kHz (using dual SMUX). Mic inputs are on XLR and DB25 connectors. Eight direct, analog-to-digital, line-level inputs are available on DB25 and can be accessed per channel with a front-panel button, allowing you to keep all of your gear connected at the same time. Eight balanced direct outputs are provided on a DB25 connector, as are eight balanced DAC outputs that expand your interface outputs for monitor mixes or speaker switching. You get MIDI I/O on a multi-pin connector and breakout cable and word clock I/O on BNC connectors. Use the DP88 as the master clock, or sync it externally via ADAT or word clock. The DigiMax DP88 is expected to be available in the third quarter of 2015 with an expected street price of $699. www.presonus.com.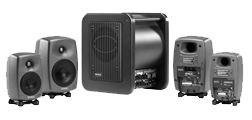 ► During the last eight years, Genelec has created a line of successful Smart Active Monitoring™ (SAM™) products designed to adapt automatically and accurately to the acoustic environment in which they are employed. Recently, Genelec introduced a new generation of SAM systems with the unveiling of two new compact two-way monitors: the 8320 (4-inch woofer, 0.75-inch metal dome tweeter, each powered by dedicated 50-Watt amplifiers) and 8330 (5-inch woofer, 0.75-inch metal dome tweeter, also powered by dedicated 50-Watt amplifiers); and a new complementary subwoofer: the 7350 (8-inch woofer, powered by a 150-Watt amplifier). The 8320 and 8330 monitors feature Genelec's Minimum Diffraction Enclosure™ (MDE™), made of recycled die-cast aluminum, as well as the advanced Directivity Control Waveguide™ (DCW™) technology. While the 8320 and 8330 monitors and the 7350 subwoofer are small in stature, they offer accurate, powerful monitoring with their floating-point DSP engines for signal processing and Genelec-designed Class D amplifiers. U.S. MSRP pricing: 8320 Stereo SAM, $1799.00. 8330 Stereo SAM, $2399.00. www.genelecusa.com.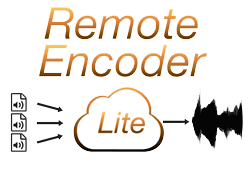 ► StreamGuys, a content delivery network and streaming media provider, has innovated a low-cost, multi-format encoder for the streaming of radio broadcast and in-store media content. Branded as Remote Encoder Lite, the feature-rich software-as-a-service provides a simple platform for ingest of file-based content, and creation of live linear channels. StreamGuys developed Remote Encoder Lite as an alternative to expensive encoding solutions that are suitable for large stations and networks, but overkill for more modest streaming operations. Remote Encoder Lite trades off the bells and whistles of "premium" encoding solutions for a less expensive solution that retains the most important features for professional, broadcast-quality operations. Remote Encoder Lite supports a variety of formats for content ingest (m3u, RSS, etc.), transcoding content for output as Ogg Opus, ACC+ and other high-quality codecs. The system additionally supports direct ingest from file directories without the need for a pre-established playlist. In either configuration, Remote Encoder Lite automatically reloads playlists as new playlists or files are uploaded. This feature is particularly compelling for retailers, supermarkets and other businesses with in-store media streams that lack live audio segments or are not continuously curated. Remote Encoder Lite integrates cleanly within StreamGuys' cloud-based architecture, and interoperates with the company's dynamic, server-side ad insertion service for automated placement of targeted ads; as well as its SGrecast platform for the creation of side channels. The integration of SGrecast with Remote Encoder Lite ensures high-quality yet low-cost encoding and playout for multiple live and on-demand streams, which are created for immediate playout on the fly; or for later playback on a scheduled basis. www.streamguys.com.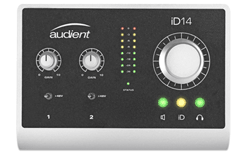 ► Audient announced that the brand new bus-powered interface iD14 is now shipping worldwide and is available to purchase from your authorized dealer. iD14 offers two channels of Audient's classic console mic preamps delivering 10 in/4 out with Burr-Brown AD/DA converters, all in a compact, stylish desktop package. "The mic pres are exactly the same as those found in our flagship ASP8024 console and throughout the rest of the product range, delivering unbeatable audio quality for the price," says technical director, Tom Waterman. One of the few USB audio interfaces in its price range to offer ADAT expandability, iD14 gives the option to add external mic preamps - such as the soon to be available ASP800, which can give you up to 10 inputs. iD14 also introduces Audient's ScrollControl. With a touch of a button iD14's volume encoder becomes a virtual scroll wheel that allows you to adjust DAW hosts, plug-in parameters, iD14's mixer app and even scroll through your iTunes library - just like you're adjusting a piece of hardware. Wherever your mouse pointer hovers, the iD knob can scroll to control. www.audient.com.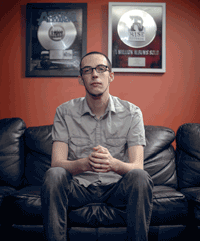 ► Music producer Joey Sturgis introduced Joey Sturgis Tones, a new line of plug-ins. The JST collection is a growing family of plug-ins designed to address some of the toughest recording challenges, including the new Gain Reduction Deluxe vocal compressor, as well as the Toneforge Menace, a virtual guitar rig designed to deliver aggressive power and punch from tracking to mixdown. www.joeysturgistones.com. ►