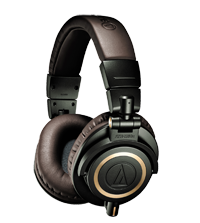 ► Audio-Technica is now shipping the ATH-M50xDG Professional Monitor Headphones, a limited-edition dark green iteration of A-T's popular ATH-M50x and part of A-T's remastered M-Series line of headphones. The stylish dark green color of the ATH-M50xDG may be of particular interest to fashion-forward users looking to add a little style to their work. From the 45 mm large-aperture drivers to its sound isolating earcups and robust construction, the ATH-M50x provides an unmatched experience for the most critical audio applications, including recording, broadcast, DJ, live sound and personal listening. The headphones incorporate technology drawn from Audio-Technica's long history in the field of high-performance professional audio, providing exceptional power handling, very high SPL capability, and natural, accurate sound with impactful bass and high-frequency extension. With professional-grade earpad and headband material and a collapsible design, the ATH-M50x headphones remain comfortable throughout long monitoring sessions and transport easily. Audio-Technica's new limited edition ATH-M50xDG is now available at $259.00 U.S. MSRP. www.audio-technica.com.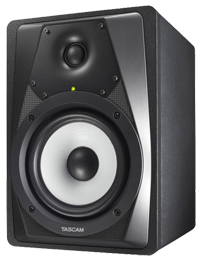 ► TASCAM has a new entry-class studio monitor with the VL-S5 system. The two-way monitors employ a 5" curved Kevlar cone with a high-temperature voice coil and damped rubber surround. A 1" silk dome tweeter produces crisp highs without the fatigue of metal components. The active, bi-amplified power section produces 70W per side – 30W to the highs and 40W for the low end. The monitor has balanced and unbalanced XLR and 1/4" inputs with a trim control. A large rear port extends the low end frequency response from 60Hz to 22kHz. $149 each. www.tascam.com.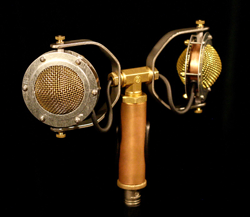 ► Ear Trumpet Labs, a privately owned company in Portland OR that makes handcrafted microphones, announced the release of a new stereo microphone, Evelyn. Evelyn is a stereo mic consisting of two closely matched medium-large diaphragm capsules mounted in individually pivoting head baskets spaced at the correct distance for the ORTF stereo recording technique. Both the capsules and the JFET transistors for each side of the stereo pair are exactingly hand-matched for perfect stereo imaging. The electronics are hand-wired using the finest components, and the result is spectacularly natural stereo sound. Evelyn makes an easy-to-deploy stereo drum overhead or room mic, but she is adept for many applications beyond standard stereo miking as well. With her heritage from the acclaimed Ear Trumpet Labs Edwina, Evelyn makes an ideal live miking solution for acoustic ensembles from traditional bluegrass bands to string quartets, with great feedback control and off-pattern rejection. Each mic includes a standard 5-pin XLR to dual 3-pin XLR adapter cable, and the pinout is standard so other stereo cables can be used. Each Evelyn comes in a solid metal tool case with hand-cut foam lining. Evelyn is now available directly from Ear Trumpet Labs for $1200. www.eartrumpetlabs.com.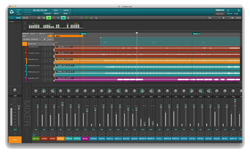 ► Waves Audio announced the availability of Waves Tracks Live, a multitrack recording software solution created with and for live sound engineers and designed to capture live performances of any kind, from the smallest gig to the largest production. Tracks Live enables easy switching between stereo out and multi out modes, allowing you to toggle back and forth between recording and virtual soundcheck with the click of a button. The automatic multichannel re-routing engine also adapts to any changes you make on the fly, making it easier than ever to set up big shows with hundreds of tracks. Designed with close attention to every detail to ensure superior user experience, Tracks Live will make your live recording process faster, easier and absolutely reliable. Highlights: ASIO/Core Audio-compatible and works with virtually any audio interface; PC- and Mac-compatible; Record and play back hundreds of tracks; Supported sample rate of up to 192 kHz; File formats compatible with all popular DAWs; Automatic track routing configuration. Video: http://youtu.be/fD78tm0O2hA. More info at: http://www.waves.com/mixers-racks/tracks-live.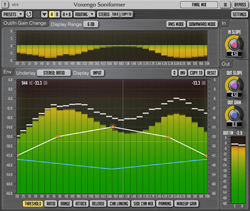 ► Voxengo Soniformer version 3.5 update is now available for download. Soniformer is a spectral mastering dynamics processor plug-in for professional music production applications, available in AudioUnit, VST and VST3 plug-in formats (including native 64-bit support), for Mac OS X (v10.5 and later), and Windows computers. This update includes the following changes: Implemented a fast Shift+Click insertion of control points; Implemented a more flexible way to copy envelopes; Made the correlation and balance meters' ballistics depend on the Release Time meter setting; Added the "Disable Range" switch; Redesigned the infrastructure controls. Every parameter in Soniformer is defined by means of a graphic envelope which is freely-modifiable and which may contain unlimited number of control points. Beside usual threshold, attack, release and compression/expander ratio parameters Soniformer offers you control over "stereo width" and "panning" parameters making Soniformer an effective tool for stereo field adjustments. USD 89.95. Also from Voxengo, Polysquasher update version 2.5. Polysquasher is a mastering compressor plugin for professional music and sound production applications. Changes version 2.5 implements include: VST3 support; a color scheme editor with load and save functions; "Brown" and "White" color schemes; and redesigned infrastructure controls. Polysquasher was designed with a main goal: to be transparent. USD 79.95. www.voxengo.com.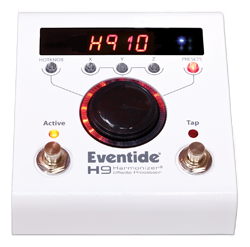 ► Eventide announced the availability of the Looper algorithm for H9 users. Priced at $25, Looper is available for download through the H9 Control app available for Windows, Mac, and iOS. A video demonstration can be found here: http://bit.ly/H9Looper. Looper advanced features include: Reverse play and record with immediate reverse playback with real-time Varispeed control; Seamless Varispeed overdubbing and loop playback over a full range of speeds from 2x to pause to reverse 2x; Real-time, non-destructive, loop head and tail trimming; Auto beat-quantization of footswitch actions in Tempo Mode; Tempo Mode maintains real time intelligent beat sync even with speed changes or trimmed loop; MIDI clock sync to your drum machine or sequencer for locking your loop to the beat without drift. www.eventide.com.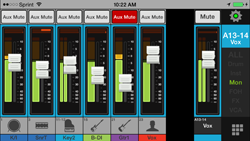 ► Mackie announced a major update to the My Fader control app, which delivers powerful, pocketable control over Mackie DL32R, DL1608 and DL806 digital mixers. Designed for iPhone® and iPod touch®, My Fader v3.0 is ideal for on-stage performers controlling their own monitors or engineers who need quick mobile control over any mix. The new version includes a new updated user interface and an expanded feature set for additional control on-stage or off. The new design also supports a host of new features that will give users increased functionality and control. Channel ID can now be configured using My Fader. Users can add custom names, icons or even photos for effective identification during the show. Channel colors and output colors are also now supported. In the mixer view, users now have access to subgroups and VCAs for additional mix management. This allows one-touch volume control over groups of channels like backing vocals, horns or other channels that need to be controlled at once. The view group selector is now accessible, allowing users to view only the channels needed for that particular song or setup. Access limiting has also been updated, providing even more control over what each device can control, keeping specific users out of other mixes, including the front-of-house mix. My Fader v3.0 is available now as a free download directly to your iPhone or iPod touch. For more information on the Mackie DL32R 32-Channel Digital Live Sound Mixer with iPad Control, visit http://dl32r.mackie.com.
♦