Houston – September 8, 2014 – Yahoo! Sports Radio revealed evening host Ken Thomson's new audience-friendly studio in The Palazzo Las Vegas during his live program last night. The glass-enclosed, state-of-the-art facility is located in Lagasse's Stadium at The Palazzo Las Vegas, where listeners can now watch the broadcast live, Monday-Friday, 10 p.m.–1 a.m. ET/7 p.m.-10 p.m. PT.
Below are photos of the new studio: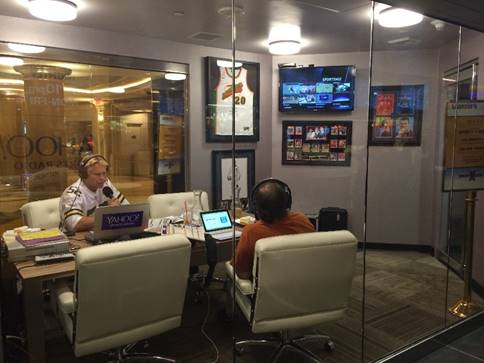 Pictured: Ken Thomson broadcasts in the new Lagasse's Stadium studio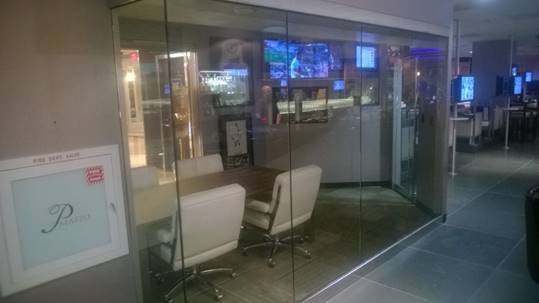 Pictured: The new, audience-friendly studio at Lagasse's Stadium is located in the facility's restaurant.
For more information, please visit YahooSportsRadio.com.
About Yahoo! Sports Radio
Based in Houston, Yahoo! Sports Radio reaches an estimated five million people each week on a network of more than 500 terrestrial stations, Sirius Satellite Radio, and mobile platforms. The 24-hour network features top sports personalities, including Steve Czaban, Bob Ryan, Travis Rodgers, Sean Salisbury, Geoff Ketchum, Dan Wetzel, Pat Forde and more. In partnership with Yahoo! Sports, Gow Broadcasting, LLC distributes audio content under the Yahoo! Sports Radio brand (www.yahoosportsradio.com) to radio stations nationwide, backed by a private investment group which includes Steve Webster, Co-Manager and Co-CEO of Avista Capital, Patrick Dugan, Vice President and General Counsel of Nortex Corporation and David Gow, Chairman and CEO of Gow Broadcasting, L.L.C.
###