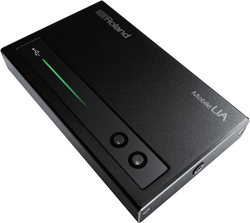 ► Roland announced the Mobile UA, an ultra-compact USB audio interface that incorporates newly developed S1LKi sound technology. Featuring up to four channels of DSD and PCM audio playback in a small, bus-powered device, the Mobile UA delivers exceptional audio quality and low-latency operation for on-the-go music production, live performance, and general listening enjoyment. Not much bigger than a deck of cards, the Mobile UA supports both DSD and ASIO. It offers native playback of DSD audio sampled at 2.8 MHz, and Roland's proprietary S1LKi audio engine also reproduces traditional PCM audio at rates of 44.1 kHz and above with extreme precision. Using the same type of 1-bit D/A converter used in DSD, the resulting conversion produces ultra-smooth, unclouded sound when compared to standard D/A conversion in PCM-based devices. Inheriting Roland's acclaimed VS Streaming technology for low latency and stable operation, the Mobile UA provides up to four simultaneous channels of audio playback. Both USB audio streaming and DSP are processed on a single custom chip, offering mobile music creators pro performance for playing virtual instruments and editing tracks in DAW software. ASIO and Core Audio drivers are available for compatibility with popular Windows and Mac audio applications. The Mobile UA is equipped with quality TRS mini-jacks on each side of the unit, providing two stereo audio outputs for monitoring with headphones or connecting to external sound systems. The main audio signal can be sent to both outputs, allowing two people to monitor the same sound at one time with headphones. Alternately, a musician can use one jack for sending the main audio signal to studio speakers or a PA, and use the other for monitoring a click track and/or cue mix via headphones or stage monitors. The Mobile UA features a high-performance headphone amplifier with 158 MW + 158 MW output at 40 ohms. This enables the use of a wide variety of headphone types and provides plenty of volume for monitoring in situations where isolation from ambient sounds, nearby performers, and crowd noise is essential. www.RolandUS.com.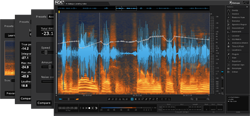 ► iZotope, Inc. released the next generation of its industry-standard audio repair toolkit, RX. iZotope's award-winning software transforms flawed audio into pristine, usable material by removing noises, distortions, reverb, and other common audio problems. RX 4 and RX 4 Advanced incorporate significant new workflow-optimizing functionality. For anyone in audio post production, broadcast, dialogue editing and mixing, independent filmmaking, or music production, RX 4 can make poorly recorded audio intelligible and ready for primetime. RX 4 Advanced is the result of iZotope's collaboration with working professionals to identify new ways of improving workflows. They've translated these insights into technologies that address common needs and reflect the way people naturally want to work. New features in RX 4 move beyond audio repair—letting professionals enhance their audio. RX 4 enables users to significantly speed up their workflow through the addition of new intelligent modules, time-saving features, and deeper levels of integration with their host. Significant new features in RX 4 include: Clip Gain: Easily adjust and balance the volume of vocals and instruments with this new non-destructive editing feature. Dialogue Denoiser: Reduce distracting background noise from dialogue and vocals in real time (now a standard feature with both RX 4 and RX 4 Advanced). RX Connect: Streamline the editing process with a round-trip workflow compatible with industry-standard hosts. For audio professionals in post production, music production, and mastering, RX 4 Advanced boasts additional time-saving features. Leveler: Automatically balance the volume of a mix, freeing more time for creative mix decisions. Ambient Match: Match the environment noise or room tone of two different audio recordings with ease. EQ Match: Ensure a consistent-sounding mix by matching multiple recordings with varying sonic profiles. Loudness: Process whole program mixes or segments to comply with international industry standards and network-specific guidelines. RX 4 and RX 4 Advanced are available now. RX 4 is available for $349 MSRP and RX 4 Advanced for $1199. Both RX 4 and RX 4 Advanced can be used as a standalone audio editor or as a plug-in. www.izotope.com.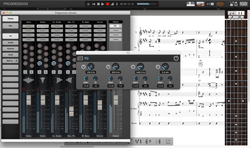 ► PreSonus® is shipping Progression™ 3, a major upgrade to its popular composing software for guitar, bass, and drums. This new version makes it easier to write your ideas quickly and includes an enhanced chord library, new effects from PreSonus Studio One®, a Capo feature, and many notation and publishing improvements. Progression and its sibling product Notion are the only composing and notation applications that let you create and edit with, and exchange files between, Mac, Windows, and iPad. This is the first update since Progression joined the PreSonus family. The user interface has been redesigned to more resemble Studio One and other PreSonus software, and Progression 3 adds PreSonus Native Effects™ Limiter, Compressor, and EQ plug-ins. Progression 3 also adds Mac Retina display support and Windows 8 touchscreen optimization. Progression 3 is available at an expected MAP/street price of $49. Also from Presonus: based on the StudioLive™ AI-series engine and controlled with battle-ready UC Surface software for Mac®, Windows®, and iOS®, the StudioLive RM16AI and RM32AI 32x16x3 rack-mount Active Integration™ digital mixers are scalable, compact, and 100 percent recallable. PreSonus' new UC Surface control software was specifically designed to be an interface for live mixing but also serves well in a studio environment. The remote-control software runs on Mac and Windows computers, as well as iPad. UC Surface supports iPad and Windows 8 touchscreens. The 3U rack-mount RM16AI provides 16 locking XLR inputs with recallable XMAX™ Class A preamps, 8 XLR line outs, and 3 main outs (left, right, and mono/center); 32 internal channels and 25 buses; a 52x34 FireWire 800 recording interface; 96 kHz operation; and extensive signal processing. The 4U rack-mount RM32AI offers 32 inputs with recallable XMAX preamps and 16 line outputs but otherwise has the same features as the 16-input version. Both mixers offer individual +48V phantom power on all inputs; a +48V Meters button displays phantom-power assignment on the input meter grid. The RM-series mixers' Active Integration™ technology includes direct Wi-Fi and Ethernet networking and tightly integrated Capture™ recording software with true Virtual Soundcheck mode and Studio One® Artist DAW for Mac and Windows. www.presonus.com.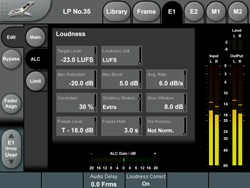 ► TC Electronic announced the arrival of Loudness Pilot, a new multiple stereo and mono loudness controller and true-peak limiter. Loudness Pilot has been designed specifically for TV and Radio stations with a fit-for-purpose design featuring two stereo audio tracks. Now, busy broadcasters can find peace of mind on a focused unit, fully compliant with all major loudness and broadcast standards. Broadcasters often need to transmit two signals simultaneously in different languages. Loudness Pilot transforms this into an effortless process, on a single unit – with all of the dual redundancy features welcomed by users across the industry. The unit even automatically switches over to another audio-stream, should a secondary language not be available. It launches with five different versions: SDI 1, 2 or 3 streams and AES balanced or unbalanced. Loudness Pilot is purpose built and its focused design in both the SDI and AES versions also includes the option to add the renowned TC Loudness Radar Meter and 24/7 logging as a separate license. www.tcelectronic.com.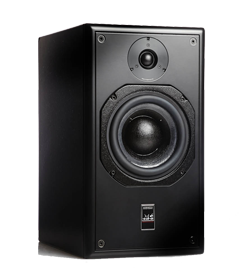 ► TransAudio Group, U.S. rep for ATC and other boutique professional audio companies, introduces the ATC SCM20ASL Pro MkII near-field reference monitor. The ATC SCM20ASL Pro MkII improves upon the ATC SCM20ASL Pro. Like its predecessor, the MkII is a high-performance two-way active loudspeaker that is ideally suited for critical near-field applications or as surround channels in larger systems. Its exceptionally neutral output extends across the audible spectrum and is now improved by a new amplifier design, a new ATC-made dual suspension tweeter, and a new cabinet design. The new SCM20ASL Pro MkII is based around the ATC 6.5-inch "Super Linear" LF driver with integrated midrange, utilizing the same SL technology developed for the larger nine-, twelve- and fifteen-inch based monitors. Constructed with a 75mm/three-inch voice coil and a short-coil, long-gap topology, it combines the high-power handling and low-power compression usually only found in large, high-efficiency systems with the fine resolution and balance of modern high fidelity systems. MSRP $6,695/pair. www.transaudiogroup.com. ►