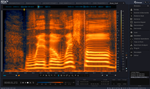 iZotope Inc. announced the release of its new digital guide entitled Audio Repair with RX 3: Tools, Tips, and Techniques. The reference guide, available free of charge in the iTunes store and through iZotope's website, provides information for audio editors repairing or restoring audio. Audio Repair with RX 3 outlines the most common types of audio problems in recordings and covers the fundamental concepts of audio repair, while providing helpful tips from professionals for salvaging previously unusable audio. Geared toward helping users approach audio restoration based on their specific goals, readers can navigate through tips and techniques from professionals including Emmy award-winning sound mixer Bill Jackson, Pro Tools Expert deputy editor Mike Thornton, and others. Key Features: Identify the basics of audio repair and restoration, and understand the tools of the trade. Learn the use of a spectrogram to identify audio problems. Expand efficiency in denoising, including reducing broadband noise, hum and tonal noise, and dialog denoising. Removing intermittent noises and gaps, clicks and pops, clipping, and reverb. www.izotope.com.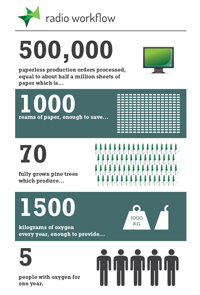 ► After four and a half years, Radio Workflow is proud to announce a milestone of half a million paperless production orders that have been created and completed using their project management software. At their current rate of growth Radio Workflow will surpass one million orders by the end of the year. "Radio Workflow would like to thank our incredible customers and developers for helping us top 500,000 orders" said Shane Zammit, Radio Workflow's lead developer. "Radio Workflow has completely transformed the way stations manage and complete their tasks. We're greatly honoured to have reached this number in less than five years." Radio Workflow is owned and developed by Media Workflow Pty Ltd (www.mediaworkflow.com) and is a provider of sales CRM & project management solutions for modern radio stations. Radio stations all over the world have adopted the online radio station software not only because of its extensive feature list but also because it is cloud based which means that it is very easy to access anywhere and anytime. www.radioworkflow.com.
► New York Festivals World's Best Radio Programs™ is now accepting entries. World-wide since 1982, NYF's International Radio Program competition honors the most innovative work in radio broadcasting, receiving entries from radio stations, networks, and independent producers from around the globe. Rose Anderson, executive director of New York Festivals International Radio Program competition, launched several new categories for 2014, including Travel & Tourism categories. The categories include both Documentary and Podcast, honoring exceptional programs showcasing global travel and tourism. Additional new categories include Best Nonfiction Series and Best Student Journalist. The deadline for entering the 2014 World's Best Radio Programs competition is March 19, 2014. www.newyorkfestivals.com.
► More than 400 students, college faculty and staff members, and media professionals joined College Broadcasters, Inc. for the second annual National Student Electronic Media Convention. Over three days, and more than 90 educational and networking sessions and events, students learned valuable skills and techniques to take back to their college broadcasting organizations at colleges and universities across the country. Attendance saw a near 20 percent increase in paid registrations since last year. Student, faculty and staff attendees each benefited from panels and sessions designed especially for them, as well as general sessions on broadcasting which were designed with everyone in mind. "The NSEMC was a huge success. We are confident that all of our attendees had a fun and educational experience, and left San Antonio energized and equipped to improve their student media outlets," said CBI President Greg Weston. Saturday's Keynote speaker Dean McFlicker, Vice President and Creative Director for NBC Entertainment Marketing, captivated the members with his presentation "Secrets to Career Success: How to Market Yourself in an Increasingly Broadcast Savvy Multi-media World." CBI also presented the annual Student Production Awards on Saturday, honoring the best student work in video, television and radio production in 24 categories. Judges honored four finalists and one winner in each category from more than 700 entries. A complete list of winners, and clips of their winning work, is available on the CBI San Antonio website askcbi.org/sanantonio under the awards tab. The 2014 National Student Electronic Media Convention will be held at the Renaissance Seattle hotel, October 23-25, 2014 in Seattle. www.askcbi.org.
► SAG-AFTRA announced that the staff at KPBS public radio and television in San Diego voted to join 165,000 media and entertainment professional in recognizing SAG-AFTRA as their union. The new bargaining unit will cover 55 public media professionals who produce, report, host, and present content for television, radio, and the internet. This election allows them to move forward to negotiate a first contract. "KPBS provides a unique and valuable service to the San Diego community," said Peggy Pico, host of Evening Edition for KPBS. "We look forward to a role in decision-making and to starting our negotiations." "We will be standing with you to ensure that your quest for a real voice at work, guaranteed by a binding union contract, is heard and respected" SAG-AFTRA President Ken Howard, Executive Vice President Gabrielle Carteris, Secretary-Treasurer Amy Aquino and National Vice President, Broadcasters Catherine Brown said in a statement to KPBS staff. KPBS is the second public media station in Southern California to organize with SAG-AFTRA this past year. In January 2013, staff of KPCC in Pasadena voted to join SAG-AFTRA. SAG-AFTRA also represents public media professionals at National Public Radio (NPR), KQED in San Francisco, WNYC in New York, and other stations. SAG-AFTRA represents more than 165,000 actors, announcers, broadcast journalists, dancers, DJs, news writers, news editors, program hosts, puppeteers, recording artists, singers, stunt performers, voiceover artists and other entertainment and media professionals. SAG-AFTRA members are the faces and voices that entertain and inform America and the world. A proud affiliate of the AFL-CIO, SAG-AFTRA has national offices in Los Angeles and New York and local offices nationwide representing members working together to secure the strongest protections for entertainment and media artists into the 21st century and beyond. Visit SAG-AFTRA online at SAGAFTRA.org.
► Dynaudio Professional announces the release of "Choosing by Ear – Practical Loudspeaker and Monitor Systems Evaluation". Authored by Paul Mac the paper provides a practical guide to monitor selection by ear. Choosing the right monitors can be a challenge in any scenario. To choose well from many candidate monitors for their multiple stereo and 5.1 monitor setups, recording studios and broadcast production facilities often conduct blindfold listening tests. They do this to make the best possible decision based entirely on pure audio considerations. "Monitors must be the most overhyped and least understood part of the audio chain," says Fred Speckeen, Global Business Manager, Dynaudio Professional. "Paul Mac brings together his own extensive experience and the seminal AES20 standard to this paper, providing a practical approach to selecting monitors via critical listening. Inspired by the fact that monitor selection by systematic blindfold tests is increasingly common at the highest levels of the pro audio industry, this paper covers the issues of listening environment, listening material and the listening process. Buying monitors is one of the most critical and expensive decisions each of us has to make in assembling a studio that's a joy to work in. We hope that this paper contributes to making that process a success for everyone." The paper is available as a free download at www.dynaudioprofessional.com along with accompanying audio files for stereo and multichannel system configuration.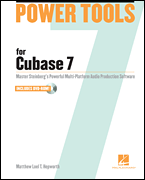 ► Hal Leonard Books is now shipping Power Tools for Cubase 7 by Matthew Loel T. Hepworth. Cubase is a program that transforms your computer into a complete recording studio, providing every button, knob, switch, and fader found in a hardware-based studio, plus a few extra controls that don't normally exist in that realm. Cubase 7 offers practically unlimited tracks for musicians, producers, and music enthusiasts alike, limited only by the power of the host computer. With so many options, the processes of composing, recording, editing, mixing, and mastering can be challenging, but Power Tools for Cubase 7 will help the reader easily and efficiently take advantage of all that creative power and flexibility. Power Tools for Cubase 7 was written with the new user in mind. First, you'll learn the process of installation and proper studio configuration. Then, you'll learn the foundations of rudimentary Cubase operations; how to avoid common mistakes; how to properly record and edit MIDI instrument and audio tracks, and how to use techniques that produce smoothly polished and powerful results. Finally, you'll learn how to add mastering treatments for a professional-sounding mix. The included DVD-ROM contains supporting material and actual Cubase session files that add to the in-depth learning experience provided by Power Tools for Cubase 7. Matthew Loel T. Hepworth has been teaching music technology since 1984 and is the author of many how-to videos as well as other books on music and audio software. Power Tools for Cubase 7 - $39.99 (US). www.halleonardbooks.com.
► Radio station WKNC 88.1 FM has added a multimedia aspect to its operation with the launch of a new video project, WKNC's The Lounge. Created by Production Manager Walt Lilly and Operations Manager John Kovalchik in fall 2013, the idea behind The Lounge is to add a level of personal engagement by giving the audience a glimpse into the physicality behind the songs they listen to on the airwaves. Guitarist Daniel Bachman's performance of the instrumental "Sarah Anne" marked The Lounge's official launch Oct. 25. A three-song set by guitarist Jackson Scott was released in early November. WKNC's The Lounge videos are available at youtube.com/wknc881fm. Artists interested in performing can email This email address is being protected from spambots. You need JavaScript enabled to view it. for more information. WKNC 88.1 FM is N.C. State's 25,000-watt student-run non-commercial radio station featuring indie rock, electronic, metal and underground hip-hop. ▲