► Manley Labs, a privately owned company that designs, manufactures, and distributes high-end analog audio equipment, announced the CORE, an analog channel strip. The Manley CORE is an innovative and affordable mic preamplifier, compressor, equalizer, and limiter combo-unit that combines the greatest hits of the Manley product line with fresh technology. The intuitive design incorporates musical and forgiving circuitry that allows the user to concentrate on performance rather than be lost in a sea of knobs. No other channel strip at this price point offers higher headroom or higher end sound than the CORE, which is, like all Manley products, handcrafted in Southern California. "As more musicians are contributing to a project remotely, coached by the recording engineer over the telephone, we saw the need to provide an affordable and easy-to-use, excellent sounding recording channel for these guys. They aren't engineers, they are musicians!" commented EveAnna Manley, president of Manley Labs. "The CORE is feature-laden without being confusing. Its whole purpose is to give the musician the tools he needs to turn in a great sounding track." Front Panel Controls: 48V Phantom power switch, 120Hz High Pass Filter switch, Phase Invert switch, Input Attenuator (Variable Pad), Mic Pre Selectable Gain 40 dB or 60 dB (Total Gain >70 dB), and Line Amp Selectable Gain 20 dB or 40 dB. Inputs And Outputs: Balanced XLR mic input, balanced XLR line input, front panel direct instrument 1/4" input, insert point between Mic Preamp/Compressor and EQ/Limiter via 1/4" TRS jack, balanced XLR direct output (after Preamp/Compressor section), and balanced XLR main output. MSRP US $2250.00. www.manley.com.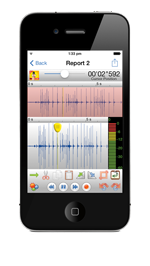 ► Codec manufacturer Tieline Technology announced support for the TwistedWave Audio Editing app in its Report-IT and Report-IT Enterprise apps for iPhone, which are designed for mobile smartphone reporting. "All Tieline Report-IT users can now purchase the affordable TwistedWave Audio Editor and with a single touch export and import recordings between Report-IT and this powerful editing app," said Charlie Gawley, Tieline's VP Sales APAC & EMEA. "The new solution is seamless and delivers impressive editing features via a simple user interface." The TwistedWave Audio Editor is available from the iTunes App Store and offers Report-IT users comprehensive non-linear editing functions, as well as compression and limiting, pitch shifting, time stretching and more. It also has support for iTunes File Sharing, Dropbox and SoundCloud. The Report-IT Enterprise application for iPhone® and iPad® allows reporters and announcers to send live broadcast-quality IP audio wirelessly from any remote location to a Tieline IP codec in the studio. Report-IT can also broadcast live and record at the same time, so audio can be sent in real-time to a Tieline codec in the studio, or uploaded via FTP sharing to a news server with no codec required in the studio. This recent integration adds to existing support for NETIA's iSnippet editing application within Report-IT Enterprise for NETIA's enterprise system users. TwistedWave Audio Editor support is available in Report-IT and Report-IT Enterprise app versions 3.2.9. Download via the iTunes App Store.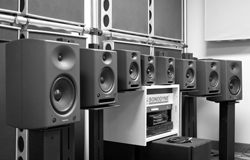 ► Sonodyne is known for designing and manufacturing studio monitors that deliver big-ticket performance without the big ticket. Company founder Ashoke Mukherjee and his research team have yet again smashed the performance/price barrier with the SRP series of bi-amplified, die-cast aluminum studio reference monitors. Five models span the series to meet different needs and budgets, from the small SRP 350, through the SRP 400, 500, and 600, to the large SRP 800. A sensible collection of back panel controls adapt the SRP series loudspeakers to a wide range of room conditions, and tapped inserts at the bottom and rear allow for a variety of mounting options. Clean self-power ranging from 20+20W in the SRP 350 to 175+100W in the SRP 800 is perfectly matched to the acoustics of the drivers and enclosures. www.sonodyne.com.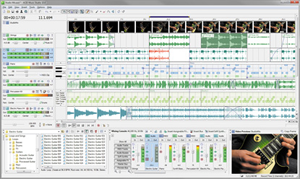 ► Sony Creative Software announced the availability of the latest upgrades to their line of consumer products which include Movie Studio 13 Platinum and ACID™ Music Studio 10. These applications offer aspiring independent filmmakers and music producers the tools to produce professional-quality projects for distribution from the desktop to the cloud. Movie Studio 13 Platinum provides users with a streamlined workflow, touch-enabled editing, 4K (ultra HD) file support, and a wide range of video and audio effects. Select from two distinct editing modes, match colors from multiple scenes, and upload the final movie directly to Facebook™ or YouTube™. ACID Music Studio 10 provides an impressive workflow and offers users performance enhancements with 24-bit/192kHz audio support, MIDI track freeze, event grouping, and drum grid editor key maps. Users can also publish to SoundCloud, the world's most popular original music upload site, from within the application. The Movie Studio 13 Suite has also been updated with the newest version of Movie Studio 13 Platinum. The Movie Studio 13 Suite adds the following applications: DVD Architect™ Studio 5, Sound Forge™ Audio Studio 10, ACID™ Music Studio 10, iZotope™ Vocal Eraser technology, video effects units by BorixFX, HitFilm 2 Ultimate video plug-ins from FXHOME, 3D Titling and Video Effects by NewBlueFX, 50 Sony Sound Series: Production Music audio tracks, and comprehensive Jump Start training tutorials. Movie Studio 13 (MSRP: $49.95), Movie Studio 13 Platinum (MSRP: $79.95); Movie Studio 13 Suite (MSRP: $139.95), ACID™ Music Studio 10 (MSRP: $59.95), and Sound Forge™ Audio Studio 10 (MSRP: $59.96) are available online at www.sonycreativesoftware.com.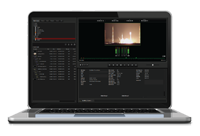 ► EditShare®, make of shared media storage and end-to-end tapeless workflow solutions, announced Mac OS X 10.9 (Mavericks) compatibility for all EditShare shared storage, Flow media asset management and Ark archiving and backup products. EditShare customers using Mavericks with Avid Media Composer 7.0.3 and 6.5.4.1, Final Cut Pro X 10.1, and Pro Tools 11.1 can connect to EditShare shared storage systems via Thursby's DAVE 11 SMB client, or via AFP for optimal performance. Avid Media Composer 7.0.3 editors who connect to EditShare shared storage via AFP and 10GB Ethernet will see marked performance improvements even when editing multiple streams of 10-bit uncompressed HD. About the EditShare Tapeless Workflow: EditShare seamlessly integrates high-performance shared storage solutions (XStream, Energy and Field) with video ingest (Geevs and Flow), media asset management (Flow), and archive and backup (Ark) tools to offer broadcast and post-production professionals a productivity-enhancing, tapeless workflow on a highly scalable infrastructure. Designed to maximize collaboration and media sharing, EditShare solutions integrate with industry-standard third-party systems such as NLE and graphics, applications, sports production equipment, and MOS-compliant newsroom computer systems. www.editshare.com.
♦