24th Radio And Production Awards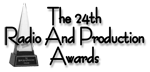 Congratulations Winners!
Please join us in congratulating the winners, runners-up and finalists of the 24th Radio And Production Awards! We have a lot of newcomers to welcome to the Winner's Table! First time trophy winners include Ron Tarrant who picks up two trophies, one for Feature Production and one for Large Market Promo. Ryan Leininger gets his first for Small Market Commercial, Brian Viggiani gets his first in Large Market Commercials, Terry Purcell gets his first in Small Market Promos, Kieran Bell gets his first in Medium Market Promos, and Chris Shapcotte gets his first in Large Market Promos as co-producer with Ron Tarrant. And welcome back for return visits, Jesse Simon, who grabs his third trophy and Chris Pottage, who adds trophy number 5 to his collection as co-producer with Ron Tarrant in their Feature Production entry. This win for Chris moves him into 4th place for all time trophy wins behind John D. Masecar, Joel Moss and Ross McIntyre!
Production 212: 5 More Simple Tips
by Dave Foxx
I have often told people who want to "pick my brain" that they are welcome to, as long as they promise not to take the last piece. I keep thinking, "If I give up 5 simple tips in every column, I'm going to run out of tips pretty quickly." Then I sit down to write the next column and, what do you know… there are 5 MORE tips. We'll keep riding this donkey until I do give up my last tip. Hopefully, that's still a ways off.
Test Drive: ISDN Replacements: ipDTL
by Steve Cunningham
...it would appear that ISDN's days are numbered, whatever the reason, as more reports of price increases appear. Fortunately, the market is already providing what appear to be suitable replacements for the venerable remote recording technology. This month, let's take a look at one of the newer entries coming to us from out of the UK: ipDTL.
How Fast Can You Talk?
by Dave Stalker
I had a dub come into the group of 5 radio stations where I work, and I normally don't even listen to dubs, I just assign them to one of the evening shift jocks to load onto the server. However, when I did tap this one up for a listen, I was appalled at what I heard.
Radio Hed: Put Your Commercial In Your Audience's Comfort Zone
by Jeffrey Hedquist
When you're clear on whom your commercial is talking to, it's time to get to know them. They'll be most receptive to a message if it's pitched right to their comfort zone. What gives them comfort is what they're familiar with. What are they thinking, feeling, experiencing? What's on their psychic hard drive?
"...And Make It Real Creative!": Taking Out the Garbage
by Trent Rentsch
So you're driving in your car, listening to your station, when suddenly this God awful commercial or promo comes on… I mean, a real dial-turning piece of crap. And you're stunned that it somehow made it on the air. And you're so annoyed by the thing that you pull over at the nearest bar and order a few shots, just to drink it out of your mind. And you say to yourself, "What the hell was I thinking when I produced that?!" Or maybe it's just me…
...and more!