He's no longer with Rogers Radio. Dave recently moved to Toronto to take on the imaging for a brand new station, Indie 88, an indie formatted station with all the potential to let Dave's creative side really shine, and it has already, as you'll hear on this month's CD. So plug it in, crank it up, and read on!
Production 212: My Field of Dreams
by Dave Foxx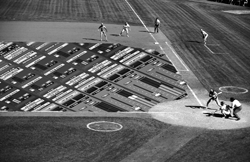 I got an email while I was on vacation in July from a young, new producer/VO artist in the NYC area who is considering building a studio in her home, wanting to know about gear and cost, along with potential pitfalls. I know I know... I was supposed to be relaxing and recharging, but honestly I had to give her my story, one that I share with you here. It's a cautionary tale that will hopefully save you some angst if you ever decide to go down that road. Here is part of my somewhat long-winded response:
The Death of Story ...and how I combat it every day.
by Jim Kipping
The art of storytelling is dying, which is sad for those of us in voice and creative. Without story, what is left? Just words. If you need proof, just listen to most creative copy being churned out in a number of broadcast stations or even ad agencies, just to get something on and fast. With today's "GOT TO HAVE IT NOW" attitude, and get it in XXX characters, the story as we know it will no longer exist in the future. That's why almost every day before I start writing, producing or voicing, I take a moment and write something in story form -- a goofy bit, a fictitious passage, or as in this case, a vivid memory. I will now always have this because it's down in words. I get numerous request from clients all over the country to help tell the story both in copy and voiced form, because I try and keep the art of "the story" alive. This is my warm up for today.
Radio Hed: Start Your Commercial Story in the Middle
by Jeffrey Hedquist
He stood up and said, "Let me talk to my manager. I'll see what we can do." At that point I just wanted out of there. I knew we were at the wrong car dealer. Earlier that day I said to myself, "I'll probably end up going to Fesler's Auto, but I have to satisfy my curiosity by shopping around first." Now I realize what a mistake that was.
In crafting commercials often the first words we write tell the listener about the setting, the back story. But we don't have time in a commercial to provide an extensive background, and it's not that interesting. Sometimes it's more effective to throw your audience into the middle of the adventure. A good story usually pulls us along the protagonist's journey to overcome struggles in pursuit of a goal. But starting as the conflict begins and ending the spot as the goal is reached, can sometimes seem too formulaic.
Technology: What Has Your Website Done For You Lately?
by Steve Cunningham
Everyone knows Google, and if you have a website as part of your business and marketing strategy, then you've probably at least heard of Google Analytics. You may even have gone diving into the various charts and graphs that are part of Analytics. But for most of us, Google Analytics is a geeky black hole of data, more appropriate for a text-slinging Terminal jockey than for a radio pro. But there is web magic in there, and the ability to extract a great deal of information that will tell you what benefits you're currently getting from your website, and how to crank up the juice.
"...And Make It Real Creative!": An Organized Mess
by Trent Rentsch
I can confidently tell you that my Mother's birthday is August 27th. This confidence has nothing to do with my memory, or any of the 7 or 8 calendars floating between my various computers, phone or tablets. Yes, I also still carry a paper Daytimer-ish calendar too, but you won't find that important date written there (or much else, for that matter). The only reason I am safe in announcing my Mother's date of birth is because I asked my wife.
It's not that my Mother's big day isn't important to me, it's that I've never been good with dates. When I was a kid, my Great-Grandmother was the one who always kept me in the know about the various important dates in the family, and now my wife has inherited that fine tradition. Lucky her... Like many Creatives, I thrive in chaos...
The Monday Morning Memo: Choosing a Voice for Your Pen
Style Guides and Audio Signatures: Part Three
by Roy H. Williams
Words shine like a movie projector on the screen of imagination, creating lifelike images in the mind.
1: Which actors will you place on the screen? Will your voice be first person "I," second person "you," or third person "they?"
2. What will be your time perspective? Will your verbs be past tense "was," present tense "am," or future tense "will be?"
These two, simple choices yield nine different voices: