► The updated Voxengo OldSkoolVerb v2.2 freeware reverb audio plug-in is now available for download. This plug-in is available in AudioUnit and VST plug-in formats (including native 64-bit support), for Mac OS X (v10.5 and later), and Windows computers. Version 2.2 adds five new reverb modes together with the mode editor. OldSkoolVerb is a freeware algorithmic reverberation AU and VST plug-in for professional music production applications. This plug-in implements a kind of "classic" stereo reverb algorithm which is technically simple yet optimal. It also produces a very clear spatial image that blends well with the mix. www.voxengo.com.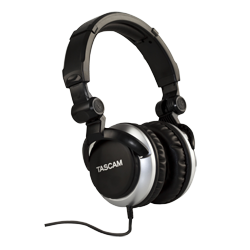 ► The new Tascam TH-2000 Headphones feature foldable design for easy compact transport; circumaural ear cuffs with industrial strength flexible headband; closed-back isolating design with clean sound, rich bass response & crisp highs; black leatherette bag for added protection & transport when not in use; screw-on 1/8" (3.5mm) to 1/4" (6.3mm) adapter; frequency response: 18 hz – 22 khz; max power: 1800 mw. Also from Tascam, the upcoming UH-7000 Standalone Mic Preamp/USB Audio Interface, which is currently in development and based off of the design and circuitry of TEAC's High Definition DACS and Audio Components. Basic features: Two ultra-high performing mic preamps designed in an instrumentation amplifier structure; hHigh-stability power supply unit and high-precision TCXO; standalone mode allows the unit to be used as a mic preamp without the need for a PC; included on the UH-7000 is an on-board DSP mixer with independent mixing and monitoring along with DSP effects (reverb, compressor and dynamic effects). www.tascam.com.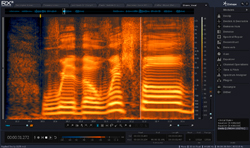 ► iZotope Inc. announced an update to its flagship audio repair suite, RX®. Ideal for audio engineers, post production professionals, broadcasters, podcasters, archivists, forensic specialists, videographers and more, the new RX 3 rescues troubled audio to save it from the cutting room floor. Highlighted features: Work up to six times faster thanks to under-the-hood processing enhancements and a redesigned user interface. Remove or reduce reverb from audio using the new Dereverb module in RX 3 Advanced. Clean up dialogue on the fly with RX 3 Advanced's all-new real-time Dialogue Denoiser. Use both your eyes and your ears to identify and fix problems within a spectral audio editor. Never lose an edit again with the unlimited Undo history, saved automatically with audio data into the new RX document format. [See complete review in this issue of Radio And Production.] www.izotope.com.

► Radio network operators and broadcast professionals in search of a way to distribute multiple high quality channels of audio via IP have embraced the Telos Zephyr iPort, a flexible networked 2RU codec tailored to the needs of program distribution and long-distance audio sharing between separate studio facilities. Zephyr iPort houses 16 stereo MPEG codecs inside a fanless 2RU rack device. These 16 codecs may be configured either as 8 bi-directional codecs, 16 "encode" codecs, or 16 "decode" codecs. iPort's efficient use of Livewire™ I/O combined with multiple codecs in a single 2RU device results in a low cost per channel compared to that of multiple single-channel codecs. Using Zephyr iPort, broadcasters can transport multiple channels of stereo audio across IP networks with guaranteed QoS, such as VPNs, satellite links, Ethernet radio systems, and Telco or ISP-provided QoS-controlled IP services. New features have recently been added that make Zephyr iPort even more attractive to program originators, says Telos Vice President Kirk Harnack. "Time-Zone Delay is the latest addition to the Zephyr iPort toolkit. Using this, large networks that span several time zones can now air breakfast shows, interview programs, or any other daypart-sensitive programming at the right time in each zone." There's a new coding algorithm, too: "Zephyr iPort has a selection of MPEG AAC algorithms, but we've also partnered with the UK's CSR to offer aptX® Enhanced coding as an option for broadcasters whose applications demand it." Standard iPort coding includes genuine Fraunhofer MPEG Layer 2, Layer 3, AAC and AAC-HE choices, plus low-delay AAC-LD, with special error resilience protection that conceals low levels of random packet loss. Zephyr iPort also includes AAC-HE v2 (High Efficiency + Parametric Stereo), the most bit-efficient codec available today. Uncompressed transmission is also supported using a linear coding mode that's ideal for bit-perfect audio where higher bandwidth is available. Additionally, iPort is convection-cooled for quiet, fanless operation and features Telecom-grade dual-redundant replaceable power supply modules, designed for ultimate uptime under demanding service conditions. www.Telos-Systems.com.

► Three new Omnia products made their world debut at IBC, RAI Center in Amsterdam last month. The Omnia Mic Processor features full input, output and processing bar graph meters on a high resolution front panel OLED display; front panel headphone out; web-based remote control for offsite tweaking; multiple talent presets; two channel, two microphone input; all processing is done in the digital domain for the highest quality; microphone and line level analog inputs, digital AES/EBU inputs as well as Livewire inputs. The Omnia MPX Tool/Modulation Analyzer features: modulation analysis tools FFT, Oscilloscope, RTA; reference quality stereo decoding; comprehensive remote control with streaming audio; HTTP server for control and logging; ITU-R BS.1770-3 Loudness Meter; Omnia.Direct™ Digital Composite (AES); optional FM tuner option will support FM/HD Radio/DAB/DAB+. The Omnia 9/XE streaming and encoding software features: extremely high quality for the discriminating streaming service; Undo with De-clipper prevents listener fatigue by removing distortion and selectively undoing the over-compression so common in mastering today; up to 16 fully independent stereo processors in one instance, and up to 8 instances on one machine; manage from anywhere with NfRemote, locally or across the internet; includes AXIA Livewire driver; simultaneous MP3/AAC/aacPlus/MP2/WMA encoding, compatible with Shoutcast, Icecast, Wowza and Windows Media servers. www.omniaaudio.com.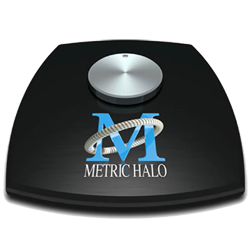 ► Metric Halo announces the availability of MIO Console v.5.6, a free software upgrade for all users of the Mobile I/O family of audio interfaces, including the award-winning 2882, ULN-2, LIO-8 and ULN-8. Version5.6 includes the following new features: I/O inserts for accessing external hardware from within the MIO Mixer, ConsoleSync hardware/software synchronization technology, AAX ConsoleConnect plug-in for compatibility with Pro Tools 11, saving of system boot states and support for EuCon 3.0. In addition to these new features, v.5.6 continues to improve stability and compatibility with current and future versions of Mac OS X. ConsoleSync is a unique enhancement to the Mobile I/O family that benefits both new and experienced users. ConsoleSync allows MIO Console to read the complete state of any attached hardware seamlessly, automatically and without any disruption of running audio. ConsoleSync auto loads the mixer configuration, complex signal processing chains, Monitor Controller settings, analog I/O configuration and even window layout from the hardware. With ConsoleSync, new users will experience a dramatically reduced learning curve for accessing the power of MIO Console. Experienced users will value the ability to have MIO Console re-connect to the hardware with exact recall of the current hardware state and no disruption of audio. For live sound and monitoring applications this allows the user to disconnect and re-connect the computer or quit and launch MIO Console without being concerned about introducing dropouts to ongoing primary and backup recordings or to the monitoring paths for talent. I/O inserts streamline the use of external analog and digital processors within the MIO mixer. This new feature also allows inserting processors that are hosted on the computer directly within the signal flow of the MIO low-latency hardware mixer. This enables the use of host-based reverbs and delays with greatly simplified routing. www.mhlabs.com.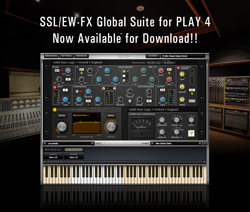 ► EASTWEST has teamed up with legendary studio console maker Solid State Logic to present the SSL/EW FX Suite, a collection of professional audio processing tools for use inside the EASTWEST PLAY 4 software. The SSL audio processing tools provide the superior precision, advanced feature set and legendary tonal characteristics of SSL console products. These tools allow musicians to achieve professional compositions that sound like a record. The foundations of the SSL collection are adaptations of two SSL console classics. The EQ & Dynamics Channel plug-in provides an EQ & Dynamics processing solution with all the power, precision, flexibility and signature tone of an SSL console channel strip. The legendary Stereo Compressor gives users the classic SSL stereo compressor that brings power and punch to the music without compromising clarity. The Transient Shaper is a 'task specific', carefully selected and crafted processing tool to get outstanding drum and percussion sounds quickly and easily. The EASTWEST Reverb, an expansion of the Reverb in the Player view, is also included. It adds some features that are not part of the Player Reverb, as well as many additional reverbs. www.soundsonline.com. ►