TECHNOLOGY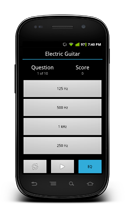 ► Quiztones founder Dan Comerchero announces the release of an Android version of the popular ear training app Quiztones. Quiztones for Android is a frequency ear training app for amateur and professional audio engineers, producers, and musicians. Previously only available for Mac and iOS, it has helped countless musicians and audio professionals train their ears to instantly and intuitively recognize frequencies. This is useful when mixing, adjusting EQ settings, and identifying/eliminating feedback. Audio professionals as well as amateur musicians spend a great deal of time analyzing frequencies, whether adjusting them for a good mix in the studio, or trying to get rid of feedback on stage. Ear training with Quiztones can make this a lot faster and easier by training the ear and eliminating trial and error methods of frequency identification such as sweeping. Ever since Quiztones hit the market, Comerchero has been receiving requests to develop Quiztones for Android. "What can I say, the 'when will Quiztones be available for Android' emails just wore me down", he jokes, and adds, "There were so many Android users asking for Quiztones, I literally had no other choice but to build it." Now, Android users, too, can use the clever quizzes to engage in training exercises from sine waves and pink noise to real-world sounds like frequency-altered drums, acoustic guitar, electric guitar, bass and vocals. Quiztones will: sharpen your ears & frequency recognition skills, improve your mixing and EQ chops, prevent noise and frequency buildup in your mixes & recordings, eliminate the need to sweep for frequencies. Quizzes included in Quiztones Android version 1: Sine Waves, Pink Noise, Piano, Drums, Bass, Electric Guitar, Acoustic Guitar. The Android version is available on the Google Play Store. www.quiztones.net.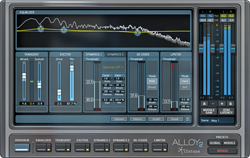 ► iZotope, Inc. has released the next generation of Alloy, a forward-thinking mixing suite that combines six essential tools in one self-contained and completely configurable plug-in. A modern twist on classic mixing, Alloy 2 takes the traditional channel strip and brings it into the future with sound-shaping tools, exceptional sound quality, and a streamlined workflow. Thoughtfully designed for mixing purposes across the music, audio, post and broadcast industries, Alloy 2 is designed for engineers, musicians, and producers looking to sculpt their sound while addressing common mix issues. "Whatever the track, Alloy 2 provides a wealth of tools that give you both corrective and expressive control over your audio while mixing. We went out of our way to create a tool that not only raises the bar sonically, but also enables engineers to achieve a desired sound simply and efficiently with a more seamless workflow," says Brett Bunting, Alloy Product Manager. "Those who have never used Alloy before will be amazed by the number of mixing solutions contained within a single plug-in, while users of Alloy 1 will be struck by how much we've managed to add and enhance while still improving usability." Key features: six powerful tools in one integrated plug-in: Equalizer, Dynamics, Exciter, De-Esser, Transient Shaper and Limiter. Hear results immediately with zero latency performance, whether tracking in real-time or in the midst of a mix session. Start fast, then go deep with over 250 presets and a tweaker's paradise of advanced controls. Alloy 2's suggested retail price is $199 /159 EUR. www.izotope.com/alloy.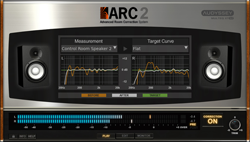 ► IK Multimedia, a music technology company, in collaboration with Audyssey®, a maker of consumer and professional audio products, announced Version 2 of ARC — Advanced Room Correction System — for Mac/PC DAWs (Digital Audio Workstations). ARC is the first acoustic correction system that combines a measurement microphone, measurement software AND a correction plug-in for most popular DAWs to improve the acoustics and sonic reliability of your studio. ARC works by measuring your room using the included measurement microphone and measurement software and then generates an algorithm to provide a correction of your room's acoustic problems that you can apply to your mix using the included plug-in. You can record and mix with confidence knowing that what you hear from your speakers is a faithful representation of how your music will translate to the outside world. MultEQ® XT32 gives the new ARC 2 an even higher-resolution EQ adjustment – especially in the extreme low frequencies where correction is usually needed the most along with a more natural and smooth midrange and high frequency performance – a combined L/R correction for high-quality control room optimization and customizable target curves so you can shape the final response of your monitors. All of these new features are nicely packaged in a completely new interface featuring a new Monitor Control panel interface for optimized control. ARC 2 is now shipping from IK Multimedia and its network of professional music resellers worldwide at a price of $299.99/€249.99. www.ikmultimedia.com.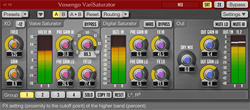 ► Voxengo VariSaturator version 1.10 update is now available for download. VariSaturator is an audio effect plug-in designed to apply saturation and overdrive effects to audio material. VariSaturator is available in AudioUnit and VST plug-in formats (including native 64-bit support), for Mac OS X (v10.5 and later), and Windows computers. VariSaturator features: Two-band processing, selectable crossover filter steepness, valve and digital saturation, multi-channel processing, internal channel routing, channel grouping, mid/side processing and more. Also from Voxengo, TransGainer version 1.4 is now available for download. Voxengo TransGainer implements an audio signal envelope adjustment algorithm that reacts on transients rather than on a signal's loudness level. TransGainer is available in AudioUnit and VST plug-in formats (including native 64-bit support), for Mac OS X (v10.5 and later), and Windows computers. This updated version fixes user interface freezing on Mac OS X 10.8. TransGainer allows you to specify positive or negative gain adjustment for a sound's transient stage. You can also choose an expected average time between transients and transient threshold level so that the algorithm delivers you the most precise results possible. With the help of TransGainer you can pass the border from good to excellent audio recordings. TransGainer features: Transient stage loudness adjustments, two different processing algorithms, 5 processing modes in the "legacy" algorithm, transient-to-transient time control, stereo and multi-channel processing, internal channel routing, channel grouping and more. www.voxengo.com.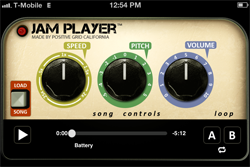 ► Positive Grid announced the release of a trio of new iOS music-utility apps: Beats Metronome, Jam Player, and AccuTune. All offer the same high level of sound quality, features, and usability found in the company's flagship app, JamUp Pro. "Each of these apps performs a specific function and does it really well," says product manager Calvin Abel. "We're confident that musicians will find all three to be essential items for their software toolkits." Beats Metronome combines a comprehensive feature set with an elegant user interface. It can be set to a whopping 35 different time signatures, including compound and complex meters. It also sports a handy tap-tempo function—great for figuring out song tempos—and 17 different click sounds. Turning on Flash Mode in the Settings page enables a strobe-like flash on each beat (it can also be set to flash only on the downbeat). This mode can be very useful onstage or in other low-light environments. A different type of graphic depiction of the beat is provided when the Visual Beats function is turned on and the iOS device is rotated to landscape mode. The display changes to show circles that represent the beats in a measure. As the metronome counts the time, the appropriate circle is highlighted, providing an easy-to-follow visualized version of the tempo. Jam Player is a simple-to-use, yet enormously powerful app that promises to make learning and practicing songs a lot easier by letting the user seamlessly manipulate the tempo and pitch of a recorded song. The first step is to load a song into the Jam Player from the iOS device's iTunes library. The Speed control knob can then be used to slow down the tempo of the song without affecting its pitch. For instance, a super-fast guitar solo could be slowed significantly to make it easier to learn, and then sped up periodically as the player becomes more comfortable with it. The Pitch control raises and lowers the pitch but has no impact on the tempo, and it's a great way for a singer who's learning a song to change the key of the original track to match his or her vocal range. Using the Speed and Pitch controls in tandem allows for manipulation of both variables. The app's sophisticated pitch and time algorithms provide stunningly good results, even at extreme settings. As its name suggests, AccuTune is a super-accurate chromatic tuner. It responds either to notes captured by the iPhone or iPad's microphone, or through a guitar adapter like Positive Grid's JamUp Plug. It provides two different views: the top of the screen is a standard meter display and the bottom a note-wheel. Both offer a great level of detail, making precise tuning easy. Pressing the Setup button brings you to the Settings screen, where you can change the calibration from the default 440 Hz, set transposition, adjust temperament, and more. Most importantly, the AccuTune features a smooth response, making tuning easy. Beats Metronome and AccuTune list for $4.99 and Jam Player for $9.99. www.positivegrid.com.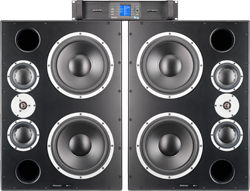 ► Earlier this year, Dynaudio Professional celebrated its 20th Anniversary with the launch of the M3XE main monitor system. Now, a single-amplifier version is available worldwide. The M3VE main monitoring solution combines driver and cabinet technology from Dynaudio Professional with amplification and signal processing from Lab.gruppen and Lake. M3VE takes monitoring to a whole new level with a significant upgrade from its predecessor - the renowned M3A 3-way monitor. To top it off, the speakers are powered by a four-channel Lab.gruppen PLM10000Q amplifier, using the integrated, active crossover between LF and MF by Lake, while passively filtering the MF/HF cross-over point. Sporting the Dynaudio ESOTAR² driver technology, M3VE features 22Hz - 21kHz frequency response and beyond 133dB SPL. www.dynaudioprofessional.com. ►
THE MIX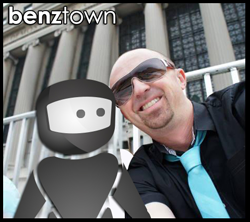 ► Benztown, the international radio imaging, production library, and voice-over services company, announced that it has named Justin Case as Director of Programming and Imaging. Case most recently served as the National Urban Imaging Director and voiceover artist for Benztown. Case made his radio debut in Albuquerque at the age of 14, working weekend shifts and fill-in, and later became imaging director, mix show coordinator and afternoon jock for KDLW – 106.7 OMG Radio/Albuquerque. Case holds a Master's Certificate in Music Production and Technology from Boston's Berklee College of Music. In his new position, Case will lead Benztown's programming and imaging teams and will ensure quality control of Benztown's 20 libraries. He will also oversee long-form programming at Benztown Radio Networks syndication. Dave "Chachi" Denes, Benztown President said: "A huge part of driving success in our industry is finding the right players, just like a baseball scout. We connected with Justin early on in Benztown's formation. I knew quickly he had the makings of a superstar and that he would fit in perfectly with Benztown's culture. His attitude, passion and skill set are as impressive as it gets, and we're thrilled to finally have him on the team!" Justin Case said: "Radio is my passion, and this is a huge opportunity to create some of the best radio programming in the business for many of America's finest radio stations. I am so excited to partner with our affiliate stations to achieve their programming goals and continually improve their stations' sound and total listener experience. We're going to do some phenomenal things together." www.benztown.com. ►