by Steve Cunningham
It's been awhile since I've attended the National Association of Music Merchants (NAMM) show in Anaheim, California. As a matter of fact, it's been well over two presidents ago. But this year I felt the need to be there, to stalk new gear for voiceover and production purposes, and to get a sense of where technology will take us in the coming year. So I donned my best-looking walkin' shoes and made the trek. What follows is a description of a few products that seemed to me to be useful, interesting, or just really hot (think gear lust), plus one clinker; read on please.
GENERAL TRENDS
The move toward ever-more-portable recording continues, and most manufacturers are using Apple's iPad as the user interface if not the centerpiece. The trend to integrate the iPad into recording seems at an all-time high, as several companies introduced software to turn the iPad into everything from a controller to a full multitrack recording rig.
Of course it's not just the iPad, or even tablets in general. It's also the iPhone and, perhaps soon, Android and who knows what else. As the traditional computer tower slowly fades into the sunset, and the line between laptop and tablet continues to blur, we can expect to see more tablets and phones working their way into our recording bag. I wish I could tell you that we're already there -- we're not quite -- but it surely won't be long. Software manufacturers are discovering how much computing power there is in our tablets and phones, and they're taking advantage of it.
AURIA
From Wavemachine Labs comes an iPad app that I probably don't need, can't quite justify, but will likely buy anyway... it turns an iPad 2 into a full-blown, 48 track audio software recorder and editor. Allegedly available during the first quarter of 2012, Auria includes a full 48 channel mixer with built-in parametric EQ and dynamics, and it supports third-party VST plug-ins. Auria is not intended as a replacement for a regular multitrack editor, but will allow one to transfer assets from a project recorded in the studio, and take that project on the road for editing and mixing. It's also possible to do remote multitrack recording using Auria and an audio interface, although there are some caveats there.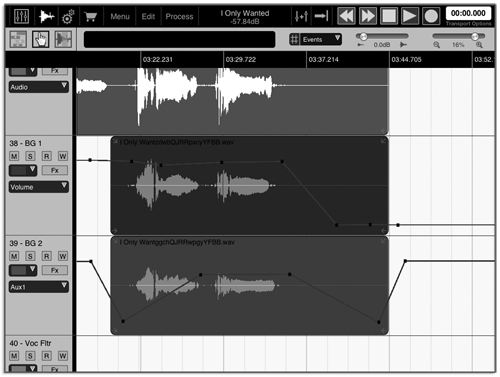 The rep I spoke to told me that some of the Auria's limitations are due to the iPad 2 itself. For example, he told me that Auria is currently limited to a sample rate of 44.1kHz, although it will work with 24-bit audio. While it works well with existing two-channel USB audio interfaces for the iPad (using the optional Camera Connection Kit that provides a USB connector), true multitrack recording requires using what he called a "class two compliant" USB audio interface. He went on to say that there are several of these on the market from the likes of Presonus, Tascam, and RME. I guess I thought that USB 3.0, being the fastest transfer rate available, is what would be required, but it turns out that this is more about what goes on inside the box and the drivers than it is about the speed of the interface.
Several effects are bundled with Auria, including some third party items from PSPaudioware and FabFilter. More importantly, the program is 64-bit and runs in the iPad's 64-bit space for increased headroom (with an approved interface, of course). It will output mix files in MP3 or .wav format, and will send them directly into iTunes, Soundcloud, or DropBox. It will also produce AAF files that can be transferred into Pro Tools, Audition, or whatever other editor you use.
Does a voice actor need 48 tracks? Highly unlikely, although I can see this software being very attractive for radio imaging and production geeks. On the other hand, the interface is gorgeous and seems easy enough to use, and one does not have to engage all tracks all the time. This one bears watching, and you'll see it here as soon as it's available. Retail price is currently set at $49.99, and the software is in beta test at the moment. Check it at www.auriaapp.com/Products/auria for more information.
RME FIREFACE UCX
You've gotta love those German companies -- they design some of the best-over-engineered products in the world, and then hang the most meaningless monikers on them. Such is the case with the new RME Fireface UCX, a USB and Firewire audio interface that takes up one half-rack unit of space, yet provides 36 channels of audio I/O including two XLR mic inputs and a total of six 1/4" TRS line inputs, and six 1/4" analog outputs. In fact, this little monster has SPDIF I/O, ADAT I/O, USB, Firewire 400, word clock I/O, MIDI I/O and every other kind of I/O. Like other RME interfaces, this one boasts inputs with 112 dB RMS signal-to-noise ratios, and gain of up to +65 dB. There's lots of good, clean gain there.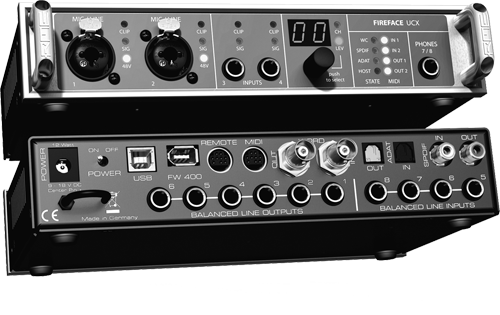 Now I recognize that even a half-size 1U box is not the most compact thing to carry around (don't forget the wall wart!), but I was excited by this little blue box for two reasons: 1) RME's interfaces sound fabulous -- I know because I have one, and 2) the Fireface UCX is "USB class two compliant" which means it can serve as an interface for the above-described Auria iPad product.
As with all products in the Fireface line, a DSP-based mixer in the interface supports fully independent routing and mixing of all 18 input and playback channels to all 18 physical outputs. Every input and output channel comes with a compliment of digital effects, including a 3-band parametric EQ, adjustable Low Cut, Auto Level, Compressor, Expander, MS Processing and phase reverse. A reverb and echo effects unit is available for all channels by way of a stereo send and return bus.
The UCX is powered by two DSPs, with the second chip dedicated to rendering effects. This means there's plenty of juice for multiple processors per channel in the TotalMix mixer. For example, at 48 kHz 36 EQs, 36 Low Cuts, 26 Compressors and Echo can be active at once. All this is configurable via the TotalMix software control panel.
The box even comes with a hardware remote control featuring a nice, big wheel that can be assigned to the main out volume, headphone out, or any other output parameter. Two buttons can be assigned to dim, source select, speaker switching, master mute, or whatever. It seems a nice little package that I'll have my mitts on Real Soon Now. The US suggested retail price of the Fireface UCX is $1,649, and it's shipping now. Visit www.rme-audio.de/en_products_fireface_ucx.php for more information.
FOSTEX AR-4i
Fostex has always been strong in audio for video, so it's no surprise that they bill their AR-4i audio interface for the iPhone 4 as an adjunct to video recording. While this product is not new, having been introduced in July 2011, it shows promise as a straight audio recorder as well.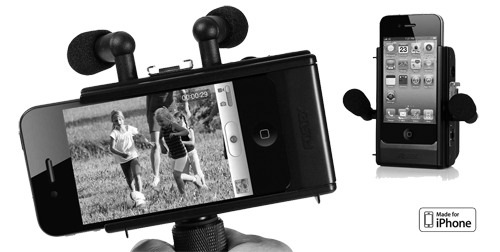 The AR-4i is a flat mount for an iPhone 4 or 4s, with a dock connector on the bottom. It is powered by two AAA batteries and has three stereo inputs and a headphone jack for monitoring or playback, as well as LED indicator lights for line level. It comes with two semi-pro-level cardioid condenser microphones with foam wind screens. Two threaded tripod mounts allow it to be attached to a tripod or other camera mount. There's also a hand grip you can hold or slide into a microphone clip on a stand.
A free application in the App Store quickly sets up the AR-4i with settings for stereo or mono recording, engaging the built-in limiter, and advanced settings such as panning the two audio channels. Once the iPhone is inserted into the connector and you start recording, the AR-4i replaces the phone's internal mic as the source of audio. A thumb wheel adjusts the input level, and a pair of LED indicator lights let you know roughly what's up with your level.
The sound of the included microphones seemed fine, although it was tough to record or hear anything reasonable at the show. But the AR-4i can accept any microphone with 1/8″ plug, and since there are two 1/8" jacks you can achieve true stereo recording. The microphones that come with the AR-4i claim a frequency response from 20Hz to 20kHz +- 4dB and a signal-to-noise ratio greater than 73 dB. The microphones can be pointed in any direction and are not fixed, so it should be possible to get reasonable stereo when recording on location. The literature says the AAA batteries should give about ten hours of recording time, which is probably longer than your iPhone's battery will last when recording.
This is another little gem I plan to acquire, at least temporarily for further (ahem) evaluation. The AR-4i has a suggested retail price of $199.00, although street prices are much lower (try Amazon.com). Check it out at www.fostexinternational.com/docs/products/AR-4i.shtml for more information.
PRO TOOLS 10
Version 10 of Avid's Pro Tools software was out in force, having been introduced last October. Unfortunately, so was the rather negative buzz over the new version. The consensus is that it represents yet another upgrade with little in the way of new features that would have a great positive impact on users. It also introduces a new plug-in format called AAX, which has few apparent benefits to users. Likewise with the new .ptx session format. Worse yet, the company hinted that a significant chunk of the current hardware (e.g., mBox 2 and its cousins, along with older TDM hardware) would become redundant one year hence, with the arrival of I don't know what -- maybe true 64-bit operation -- but it's not a happy lunch for users with a heavy investment in Pro Tools. What in the wide world of sports is going on here?
The long and short of it is that Avid has re-written the base code of Pro Tools from the ground up, since the existing code base tied them to the older Motorola 56K DSP chips and attendant architectures. The 56K family of DSP chips are very long in the tooth, and newer DSP chips have advantages besides just speed. Caught between a rock and a hard place, Avid decided to rewrite the code for the newer chips, and hopefully fix some longstanding problems in the process. The new HD hardware products with the new chips have been christened Pro Tools|HDX.
Good for them; they fixed some of their problems that should have been fixed years ago. You'll forgive me if I yawn, and I now understand why a significant segment of their user base wants to storm headquarters with pitchforks and torches.
To be fair, there are a few useful features in the new version. The one feature that I will definitely use is the clip-based gain, in which each "clip" (formerly called a region) can have its own adjustable level without using automation or rendering, and the levels stay within the clip (mind you, Logic and several others have had this for years). Pro Tools' new architecture has upped the track count exponentially, with both Pro Tools HD and Pro Tools with Complete Production Toolkit topping out at 768 audio tracks (the previous limit for non-HD use was 128). While Pro Tools is still a 32-bit program, it runs nicely on a 64-bit OS, and my brief hands-on tells me that it's quicker and more responsive than before. And Real-Time fades eliminate the entire Fade Files folder and its contents, which I suppose will excite some.
I also heard about all that's new under the hood, and there is indeed a lot going on there. Unfortunately what's new under the hood doesn't play as anything I need, with the exception of clip-based gain -- and I've lived without that for long enough that I think I'll just continue to do without. The upgrade from non-HD PT9 to non-HD PT10 is a healthy $299; for the HD versions it's a full kilobuck (that's $999 to you), and both seem a lot of cash for what is at best an incremental upgrade. Besides, didn't I just pay $249 a year ago for version 9, which at least had the benefit of letting me use non-Digidesign hardware? Wait, you'll love this -- the non-HD Pro Tools 10 software alone is now $599 for first-time buyers... it's a significant hit for a voice actor who has many other choices. I think I'll carry on with version 9 for as long as possible; in the meantime I'll use Cockos Reaper v4 whenever possible. It also gets the job done, and does so for a lot less money.
No thanks, Avid; I'll keep what I have. Talk to me when version 11 is out, and I'll consider spending a bit more then. In the meantime, visit www.avid.com/US/products/Pro-Tools-Software for more information.
♦