Page 2 of 3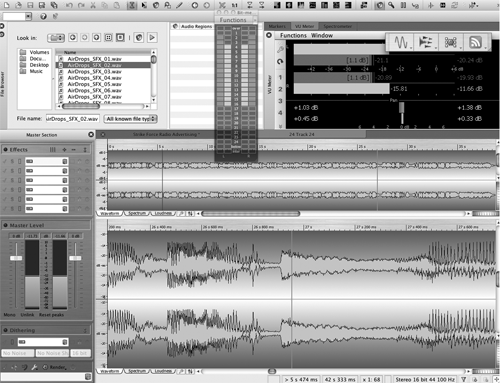 HOOK IT UP
The system requirements for Wavelab 7 are reasonable. The only real differences on the PC side is that Windows 7 is now the only supported operating system. Win XP and Vista will run (I did try it on the old XP box, but it simply ran out of RAM and thus didn't perform well), but you're on your own for support on anything but Win 7. WaveLab wants to see a 2GB processor and a Core Duo is recommended, although it seems to me that the best performance will be on a Core 2 Duo or better. The same goes for RAM; Steinberg says 1GHz is the recommended RAM, but I don't think you're going to like the performance. 2GB would seem a better minimum, and 4GB would be smokin'. More is more when it comes to RAM, that's for sure.
The requirements are similar on the Mac side, including the CPU and RAM, but of course the operating system is Snow Leopard, aka 10.6. Mac OSX 10.5 is not supported. On both platforms you can run WaveLab in 64-bit mode, although the program is not a true 64-bit application -- Steinberg says there's no real advantage to being able to access huge amounts of RAM.
The install process is fairly straightforward, although it does require a Steinberg eLicense USB dongle and its associated eLicenser software program. When you enter an activation key in the program, it goes online and downloads the appropriate license and installs it in the USB dongle. It's relatively painless, and fortunately I had a Steinberg dongle left from WaveLab 6 so I didn't have to buy one. One important note: there is a demo version of WaveLab 7 available on Steinberg's site, but it too requires the dongle. If you don't have one, you won't be able to run the demo, so you'll have to buy one. Steinberg will credit back the cost of the dongle IF you end up buying the software, but it does turn the otherwise fully-functional 30-day demo version into a gamble of about $40.
FIRST IMPRESSIONS
Since WaveLab has been around for over fifteen years, I won't spend a great deal of space reciting a list of things that haven't changed. Rather, let's focus on what is new and/or especially cool in the new version.
The most obvious item is that WaveLab 7 now includes four task-specific workspace options: Audio File, Audio Montage, Batch Processor and Podcast. These are accessible using the new the Windows Switcher, a small and resizable floating window that remains visible at all times -- even after switching to another application, although you can disable this (and you'll likely want to do so). The Switcher provides one-click access into the aforementioned audio file editing, multitrack montage, batch-processing or podcasting modes.
While you could run multiple instances of WaveLab 6 on Windows, to simultaneously work across several projects, this functionality has also been seriously upgraded in WaveLab 7. Each new workspace you open is a separate entity, enabling you to quickly switch between the four modes at will. There are also several dozen editing, viewing and analysis functions that you can now open in the new Tab area inside tabbed Tool Windows, covering such things as various metering alternatives, marker creation and editing, file browsing, error detection and correction, spectrum editing options and so on. These Tool Windows are highly flexible and can be set up to suit your workflow. As in previous versions of WaveLab, you can open and close them in stand-alone "floating" mode above your workspace or drag them to various on-screen locations and dock them.
This approach is a significant improvement, since you can carefully arrange your most-used tool windows in tabbed sets, dragging and dropping the various tool-window sections wherever you like, while all others move themselves out of the way to make room. Horizontal and vertical zooming functions now have thumbwheel graphics for easier control, and they respond nicely to a mouse scroll wheel when the cursor is hovered on the graphics. Do be careful when zooming in and out while viewing the Loudness curves, however. Since these take awhile to generate, and re-generate themselves for every zoom level, you may find yourself waiting as you try another zoom level.