TECHNOLOGY
► Harris Corporation has introduced PR&E® Oasis™, a standalone on-air and production console that enables radio broadcast operations to easily and affordably convert to digital in their own timeframe. Designed for radio broadcast studios of any size and budget, Oasis is an 8- or 12-channel analog console that offers a clear digital migration path. Although built for the demands of digital studio operations, the design avoids reliance on PC engines and assemblies to ensure reliable and consistent on-air and production operations. "Oasis delivers a true standalone console with next-generation, analog-to-digital demands in mind," said Chuck Alexander, director, audio products, Harris Broadcast Communications. Oasis incorporates both analog and digital outputs and provides multiple connections for microphones, CD players, monitors and a direct PC automation channel (no sound card requirements) to support a diverse array of on-air sources. Key differentiators include two assignable Telco channels to any fader, a modular design featuring swappable input cards, and USB playback and recording functionality — with playback available on any channel with any operating system. www.harris.com.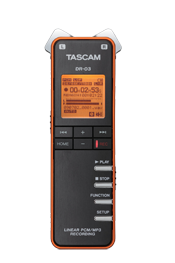 ► The new DR-03 makes Tascam-quality handheld recording available for the first time for under $100. The recorder packs 24-bit recording with built-in stereo mics into a package smaller than an energy bar. The DR-03 records to microSD media and a 2GB card is included to start capturing audio right away. Like the rest of Tascam's portable recorders, the DR-03 features playback functions like looping and Variable Speed Audition to slow down music without changing the pitch. It's designed for low handling noise when recording handheld during concerts or interviews. The DR-03 is available now from select retailers for a street price under $100. Other features include: Up to 48kHz/24-bit WAV recording or MP3 recording modes; Auto-recording function starts when input exceeds a reference level; Limiter, low cut filter and auto gain control for input; USB 2.0 connection for file transfer; 1/8" stereo microphone/line input; 1/8" stereo headphone output; Built-in speaker; Built-in desktop stand. Also new from Tascam, the GB-10 Guitar/Bass Trainer/Recorder and LR-10 Instrumental Trainer/Recorder. Like Tascam's CD and MP3 trainers and recorders, the new trainers slow down and loop MP3 files without changing their pitch to help musicians learn new songs and licks. The latest generation features CD-quality recording with overdub to build up an arrangement. The SD card slot includes a 2GB card, and the new tabletop design makes them the perfect tools for music students, hobbyists or professionals to perfect their instruments. The GB-10 Guitar/Bass Trainer/Recorder has a 1/4" guitar input and effects like amp modeling, delay and reverb for practicing using headphones. Adjust the balance of your instrument to play along with the music. A tuner and metronome are also included for precision playback, and a footswitch input allows hands-free control. The LR-10 is designed for strings, wind players, keyboardists, vocalists or any other musician. Use it to loop and transcribe your favorite music, record lessons or capture new song ideas. The LR-10 has a built-in microphone and speaker for recording and playback, and like the GB-10 includes a tuner and metronome. Other features: Records 44.1kHz/16-bit WAV files; Playback 16 or 24-bit WAV files or MP3 files; Overdub recording allows sound-on-sound build up of an arrangement; USB 2.0 jack for high-speed music transfer. GB-10 only features: 1/4" guitar/bass input and guitar/bass effects including amp modelling, delay, reverb, chorus and more. LR-10 only features: Stereo Microphone and Internal Speaker. www.tascam.com.
► iZotope, Inc. has released RX 2 and RX 2 Advanced, updates to their audio repair software suites. With a range of new features and functionality, iZotope has expanded the scope of RX into any field where audio is recorded or restored by both consumers and professionals. RX 2 and RX 2 Advanced are designed to repair common and uncommon audio problems like tonal and broadband noise, hiss, buzz, hum, clicks and crackle, distortion from clipping and interfering sounds like cell phone rings, dogs barking, car horns, string squeaks, dropped drumsticks and just about anything else. "RX 2 and RX 2 Advanced are crucial tools if you're recording new tracks or restoring old ones. Whether you're on location with a TV show or recording a voiceover at home for a company presentation, it's a challenge to get a good recording. RX gives you all the tools you need to repair damaged audio and deliver the best recording," explains Jeremy Todd, CTO of iZotope. RX 2 builds on the success of the original's Denoise, Spectral Repair, Declick, Declip and Remove Hum modules with iZotope's latest DSP algorithm improvements and the new Decrackle and Channel Operations modules. RX 2 Advanced extends the standard RX with an adaptive Denoiser mode, a Deconstruct module, third party plug-in hosting, iZotope 64-bit SRC™ resampling, MBIT+™ dither, iZotope Radius® time and pitch control, ability to export an edit history, multi-resolution mode for Spectral Repair and automatic azimuth correction. RX 2 and RX 2 Advanced include new visual editing features and functionality such as the Magic Wand, Lasso and Brush tools designed for selecting audio in the product's spectrogram. Similar to working in popular graphic design programs, these tools allow natural freehand selections around problem sounds. The Magic Wand can automatically select a sound and even automatically select its harmonics. After selecting, Spectral Repair resynthesizes audio allowing the user to seamlessly remove unwanted sounds or even fill in gaps in the recording. RX 2 and RX 2 Advanced further improve the workflow from the first release. Like the original, they are available as both a suite of plug-ins for a DAW and as a dedicated application. An extensive edit history tracks every change the user makes allowing unlimited undo and compare processing. RX 2 Advanced adds the ability to export the history to an XML file for archival or forensic documentation. The application also saves complete session information, so the user can restart the application and continue working with even the audio selection and undo history being remembered. The updated Batch Processor allows the chaining together of modules to operate on multiple files, all optimized with the use of multiple CPUs. RX 2 and RX 2 Advanced are ideal for restoration engineers, video post production engineers, forensic specialists, audio engineers, recording musicians, broadcasters, podcasters, archivists, videographers and anyone who records audio. Pricing: $349 for RX 2 and $1,199 for RX 2 Advanced. www.izotope.com.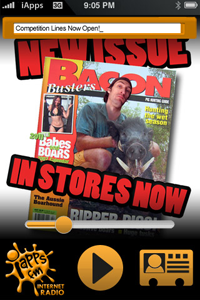 ► Software development company iApps have created RadioApp, a free application for iPhones, iPads and iPod Touch, which turns the device into Internet radio receivers, provided you can get 3G or WiFi connectivity. There is a small monthly charge for a 12 month period for the associated streaming graphic advertising. This graphic advertising space is on-sold to advertising clients and therefore a revenue stream is created for the station. You can also provide your listeners (at least those with iPhones) the ability to direct dial to your station or straight through to your advertisers from within the App. The App has the ability to run in the background while the user is engaging other Apps, so the station can benefit from constant streaming and complete user responsiveness. Stations can "skin" the app to suit their branding strategy. Download a pdf with full details at www.iappsdev.com/files/pdf/AdRadioApp.pdf.
► SuperMegaUltraGroovy, maker of Capo software, has released Capo 2.0 for Mac OS 10.6 Snow Leopard. Capo helps musicians learn to play the music in their iTunes collection using their ears, and now with version 2.0, their eyes. "This release marks a huge leap forward in self-directed musical study," says Chris Liscio, the company's founder. "Not only can you see the notes you're hearing, but also how they are being played. This is some really powerful stuff." Capo software allows musicians, especially guitar players to learn the music in their iTunes collection by simply dragging songs into the software to take advantage of its many features. Capo can slow the music down to a tempo that's comfortable for learning a solo or passage, change the pitch to match your tuning or range, insert markers for verses, choruses, and bridges, and add effects like panning, EQ, and vocal reduction. Capo 2.0 takes this concept further by featuring a detailed spectrogram for visual learning and adding the ability to detect and enter chord progressions, automatically generate TAB. Capo can even export your adjusted music so you can take it with you and learn on the go. Capo 2.0 is a $19 (USD) upgrade for existing users that purchased Capo before May 2010, and $49 (USD) for new users. www.capoapp.com.
► Ableton and Serato announced the release of The Bridge, a software partnership which brings together DJ performance and production. The new tools generated by this partnership emphasize ease and creativity while pushing the boundaries of live performance. "The Bridge encourages DJs to become producers and producers to become DJs. We can't yet see the limits of where these combined tools will take our users, but it will be exciting to watch," says Ableton CEO Gerhard Behles. 'Ableton Transport Control' allows tight synchronization between Ableton Live and Serato Scratch Live. DJs can control multitrack productions using a turntable or CDJ; pitching, nudging and looping just as with a regular record or CD. It's like having Ableton Live on one of your decks. The 'Ableton View' in Scratch Live opens a window into Live's Session View, where you can launch clips and scenes, control instruments and devices, mix, mute and solo from Scratch Live. Tight Beatgrid implementation ensures that Ableton Live stays locked to the timing of your DJ set. Record Serato DJ performances as Ableton Live Sets, complete with song placement and fader movements. Then use Ableton Live's collection of effects, instruments and production tools to edit, enhance and polish the mix. The Bridge is free for anyone who owns a registered version of Ableton Live 8.2 and Serato Scratch Live hardware. www.ableton.com/thebridge. ►
PRODUCTION LIBRARIES
► New releases from Firstcom include: AM066 Songs, Riffs and Grooves for Promos - Youth rock, indie and vocal themes for promos featuring an energetic, driving performance. CHAP358 Nyman Piano Works - Simple, beautiful works for solo piano and string quartet. EVO135 Spanish Heart, Latin Soul - From the continent, to the Caribbean, Latin American to Iberia, a collection of music styles from Spanish Classical to Latin Jazz and Rock. EVO142 The Austin Project - From garage bands to street performers to clubs, bringing the live music capital of the world to life. GM136 Slam Bam Powerbeds - Hard hitting action trailers, energized and electrified fashion and celebrity-driven music beds. MH073 Acoustic Sunshine - Uplifting, summery, acoustic indie and pop. OM147 Investigative Reporter - Ethereal/ambient tracks that build tension and suspense in very cinematic ways. SEE013 Massive Percussion - percussion and drums, global intrigue, chase, tribal fury, war and mayhem all in one unique collection. VL110 Big Bank - Chart-topping pop music is the sound of money, and nothing is stacking chips on the pop charts right now like rap, R&B and club sounds. All the latest trends in these styles. Audition these and more at www.firstcom.com.
► New releases from Killer Tracks include: KOKA 2324 Luxe - music for rich moments of extravagance in five distinct sections, including The Luxurious Thrill, Chilled & Luxurious, Exceptional Emotion, Classical & Tradition, and Love Songs. ATMOS 271 Twisted Christmas - dark and sinister Christmas music. VITMN-A09 Don't Bore Us! Get To The Chorus! - 30 vocal hooks perfect for promos and advertising campaigns. Styles include Rock, Dance, Pop, Folk, and Country(ish). In addition to vocal versions, you'll also find instrumental versions and alternate mixes, each with multiple edit points allowing for the simple construction of your track. ATMOS 269 Junk Science - a soundtrack for gadgets, gizmos and everything science. Laboratory-induced tracks, perfect for promos and documentaries that require an atmospheric balance between worlds both fictional and real. Audition these releases and more at www.killertracks.com. ▲