TECHNOLOGY
► TransAudio Group, U.S. distributor of Lehmann Audio, introduced Lehmann's new Studio Cube headphone amplifier. Similar in spirit to the existing Lehmann Black Cube, the Studio Cube is smaller and linkable, allowing multiple units to daisy chain and easily accommodate the headphone count of any pro audio scenario. Its two Neutrik 1/4-inch TRS headphone outputs are universally suitable for all headphone types, and its stereo inputs are of the highest quality Neutrik XLR/TRS. A pair of TRS "thru" outputs enables the aforementioned linking. "Norbert Lehmann has been producing audiophile-grade headphone amps for the hi-fi market for a long time, and the Black Cube and new Studio Cube bring that same remarkable performance to the pro audio market," said Brad Lunde, president of TransAudio Group. "It may come as a surprise to many in the pro audio industry that, even for high-end manufacturers, headphone amps are an afterthought. In contrast to the wishy-washy performance that most people assume is as good as it gets, Norbert's designs are accurate, with honest mids and full, clean bass. They will change the way you think about headphones." The Studio Cube is flexible and built with the highest quality materials. An input selector switches between mono and stereo source, and front-panel LEDs monitor input signal presence and overload for quick diagnostics. The output is Class A and all units are crafted with selected components in Germany. Users may also purchase a microphone stand mount to attach the unit to a microphone stand or under a table. MSRP: $499.00 USD. TransAudio also introduced the new BOCK 241 mid-priced vocal tube microphone. The BOCK 241 updates the performance level of BOCK 151 bringing it closer to the top-selling BOCK 251. The new BOCK 241 features a high frequency flat or minus switch, dedicated cardioid operation, and outboard inductor based power supply to drive the vintage inspired tube circuitry. Users will notice the 241 offers a similar look and feel to the BOCK 251 due to a revised body and head grille that better approximates the 251's cherished sonic cardioid characteristics. The 241 will replace the 151 at exactly the same price point. MSRP: $3,650.00. Bock Audio, established in 2007, builds the personal designs developed over the last eleven years by mic expert David Bock in Los Angeles, California. www.transaudiogroup.com.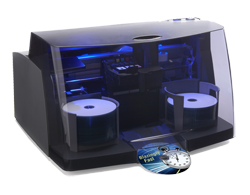 ► Primera Technology, Inc., a leading manufacturer of CD/DVD and Blu-ray Disc™ Publishers, announced its Bravo 4100-Series Disc Publishers (DP-4100-Series in Europe, Scandinavia and Middle East). Bravo 4100-Series Disc Printers and Publishers are the fastest in their class. Full-color, 100% coverage discs with near-perfect print quality are printed in just 6 seconds each. This compares to 20 to 120 seconds on competitive machines to print discs with comparable print quality. With built-in high-speed recorders, direct-to-disc printing and fast robotics, Primera's disc printers and publishers automate the process of burning and printing quantities of CDs, DVDs and Blu-ray Discs. The devices are used by a wide variety of organizations including corporate marketing, training and engineering departments, non-profits, churches, schools and universities, recording and video production studios, television stations and much more. Other features of the new Bravo 4100-Series include: Individual CMYK ink cartridges – delivers lower ink cost per disc; 4800 dpi print quality; 300% faster robotics than previous models; Seventh-generation disc picking mechanism; Compatible with Windows XP/Vista/7 and Mac OS X 10.6 (or higher); Optional Blu-ray Disc recordable drives with eSATA interface for true 12x BD-R recording speeds. Three models are available: Bravo 4100 AutoPrinter: 100-disc capacity for print-only applications; $1995 (MSRP). Bravo 4101 Disc Publisher: 100-disc capacity and one high-speed CD/DVD drive; $2995 (MSRP). Bravo 4102 Disc Publisher: 100-disc capacity and two high-speed CD/DVD drives; $3295 (MSRP). www.primera.com.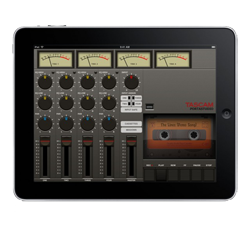 ► Tascam has introduced its Portastudio™ application for the Apple iPad™, bringing 30 years of easy-to-use home recording to the popular device. Portastudio is based on – and nearly the same dimensions as – the Tascam Porta One four-track cassette recorder that revolutionized recording in 1984. The Portastudio app records four tracks, one at a time, with VU meters and a cassette transport contributing a vintage vibe. When a production is complete, the app can mix your recording to a stereo track that appears in iTunes. A four-position selector switch assigns which track Portastudio records to, and input trim and limiting are applied to the input before recording. Audio can be recorded form the iPad's built-in microphone or a microphone plugged into the headset jack. The iPad will record from the built-in microphone if standard headphones are plugged into the jack. Pan, level, high and low EQ are available for mixing, and mixes are saved as CD-quality WAV files inside iTunes. Portastudio is available now on the iTunes App Store for $9.99. www.tascam.com.

► Telos Systems has released a free software update for the Zephyr iPort MPEG Gateway. This release, Version 1.5.1b, enables new functions like setting up a 16-decoder iPort, GPIO tied to MPEG audio streams, Shoutcast support and more. Zephyr iPort enables broadcasters to transport multiple channels of stereo audio across IP networks with guaranteed QoS, such as STL links, Internet streaming, satellite uplinks, broadcasting to cell phones, and other audio distribution systems. iPort's efficient use of Livewire I/O combined with multiple codecs in a single 2RU device result in a low cost per channel compared to that of multiple single-channel codecs. Because not every remote connection is the same, Zephyr iPort users have a comprehensive selection of connection protocols from which to choose. There are standard MPEG Layer 2, Layer 3, AAC and aacPlus choices, plus low-delay AAC-LD and high-efficiency low-delay AAC-LD+HE, both with special error resilience protection that conceals low levels of random packet loss. Zephyr iPort also includes AAC-HE+PS (High Efficiency + Perceptual Stereo), the most bit-efficient codec available today, allowing stereo operation down to 32kbps. Zephyr iPort is perfect for facilities that already have Axia IP-Audio networks, but using it with a directly connected Axia Analog or AES Node offers a low-cost solution for any multi-channel MPEG over IP application. Zephyr iPort features two Ethernet ports: one to connect to the Livewire network, and another for connection to the WAN, maintaining full isolation between the two networks for security purposes. www.telos-systems.com.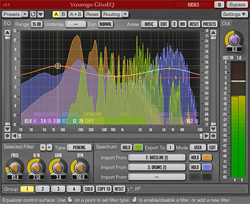 ► Voxengo has released GlissEQ version 3.3. Voxengo GlissEQ is a dynamic parametric equalizer plug-in for professional audio and sound production applications, available in AudioUnit and VST plug-in formats, for Mac OS X and Windows computers. This version implements the following changes: "Filled Spectrum" spectrum display mode switch added. Control surface crosshair option added (can be switched off in the global options). EQ range selector added (this may shift existing automation envelopes). Additional visual look variation settings added. Oversampling filter type "Min-phase/Lin-phase" switch added. Level meter's "density mode" improved. "Show All Channel Meters" metering issue in 5.1 surround mode fixed, and more. The interesting and unique feature of GlissEQ is that it offers its filters with dynamic behavior. Beside this dynamic behavior, GlissEQ features a real-time spectrum analyzer. Moreover, the spectrum of a track can be exported to any other instance of GlissEQ thus making real-time inter-track spectrum comparisons possible. This can help you free frequency ranges in one track to allow the instrument in another track occupying same frequencies to breathe. www.voxengo.com.
► The new Symetrix AirTools Voice Processor 2x implements a feature-rich DSP set that optimizes the sound of on-air voice talent. Latest in the long list of features that makes the Voice Processor 2x easy to incorporate in any studio situation is that now users can import or export specific presets without disturbing any other existing settings. "Station managers can move the entire device file of one AirTools Voice Processor 2x to another unit, but more specific transfers involving individual presets were not yet possible," said Mark Ullrich, senior technical sales engineer at Symetrix. "There may be situations where voice talent moves among various studios. With this latest software release, station managers can copy individual presets from one unit and move them to other units without overwriting other device file settings such as dynamic processing or EQ. This adds one more convenience to a device that is already very flexible." The most current version of the AirTools Multiband Processor 2m and Voice Processor 2x software can be downloaded at www.symetrix.co. ►
PRODUCTION LIBRARIES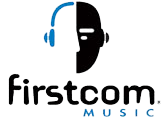 ► New releases from Firstcom include CHAP366 Gypsy Jazz - cheeky and bouncy swing jazz; CHAP368 Serene Documentary - beautiful music for beautiful pictures; EVO156 Hybrid Cinema 1 - creative docu-scores featuring dramatic beats infused with orchestra; GM139 Cool Young Stuff 7 - user friendly rock beds with a positive twist, Gotham style; GM140 Emotional Baggage - over 40 cues constructed to aide in expressing happy, sad, reflective, regretful and sincere moments in storytelling; MH70 Sonic Textures - sonic textural soundscapes and sound design, minimal beds and pulses; MH72 Positively Chilled - your positively chilled soundtrack to back rooms, bars and beach fronts; VL113 Army of Thrash - metal up your ash. Audition tracks at www.firstcom.com. ►
THE MIX
► Triad Broadcasting's six stations in Fargo, ND have followed the trend towards cloud-based production order management with the new vCreative™ PPO (Paperless Production Order) system. An additional 27 stations have also signed on to PPO including Birch Broadcasting Corp., American Media Investments, Gaytan Broadcasting, Lanser Broadcasting, Inspiration Time, and Jacobs Broadcasting. vCreative's PPO system also recently handled its one millionth piece of creative production. www.vcreativeinc.com.
► College Broadcasters, Inc. announces the addition of four new categories to its annual national student production awards competition. To better reflect the converging nature of student media operations, CBI now offers best podcast and best vodcast awards for audio and video programming intended for an online audience. Best community involvement and best station imaging are new combined categories open to both radio and television stations. CBI offers awards in 24 categories, including best newscast, station promo and public service announcement. Entries are to be original work produced by students for a campus media outlet or college credit course. Entries must be submitted via askcbi.org by 11:59 p.m. on May 13, 2011. The 2011 finalists will be announced in August. CBI is a national organization representing students involved in radio, television, webcasting and other related media ventures. A list of all category descriptions, contest rules and a list of previous finalists and winners are at askcbi.org.
► Female voice talent Erin Setch announced the launch of her new website at www.femalevoiceover.com.
♦