Page 1 of 3

Dave Foxx, Z100/WHTZ-FM, New York
by Jerry Vigil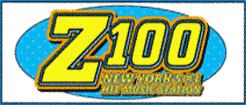 Imagine having to image only one station, being paid very well to do it, and not having to deal with commercials. A rare job description these days for sure, but dream jobs like this still exist. One of them is at Z100 in New York. But perhaps we should ask ourselves whether this dream job, or any other, would exist without the individual who has it. And in that case, perhaps it is the individual who creates the dream job. And if that's true, then we know why there are very few dream jobs… because there are very few finely polished pros like Dave Foxx. This month's RAP Interview catches up with Dave ten years after our first visit with him. We find him into his fourteenth year with Z100 and having more fun than ever.
JV: Who owned the station when we last interviewed you, and how did consolidation change things in the last decade?
Dave: Malrite Communications, out of Cleveland, Ohio owned us at the time. Milton Maltz was the President and CEO. We had seven or eight other radio stations throughout the country, and one TV station in Puerto Rico. That was it. But things changed. Slowly but surely, we saw the signs of consolidation at Z. Shamrock came along and bought the station from Malrite. Shamrock was owned by Walt Disney's brother, who is now running the Disney empire. He bought the entire Malrite chain and combined that with another one that he had, and at that point we were up to like fifteen stations.
Then came probably the second biggest jump and that's when we became part of the Chancellor Media family. After a while and a lot more acquisitions, we became Chancellor Broadcasting. Then we started talking with Evergreen. Jimmy DeCastro and the crew came in and decided to keep the name Chancellor for about a year but then changed it to AM/FM. By this time, I think we were up to four hundred and fifty stations nationwide. And of course, a little over a year ago Clear Channel came in and bought us. They already owned Jacor at that point, and the last number I heard was twelve hundred radio stations worldwide, plus outdoor advertising, plus SFX.
Consolidation has presented some interesting opportunities for radio, at least for us. Because we own SFX, it has given us some incredible promotional opportunities that we just didn't have access to before, like when it comes to doing a concert. We work directly with the promoters who do all the concerts in the New York City area. We're sister companies, and now we coordinate things and work with each other. So when someone is coming to town with a tour, it's a lot easier for us to get tickets if we want them. It's a lot easier for us to go backstage. It's just a lot easier, period. Also, because we own a lot of outdoor, we're starting to be able to utilize some of that at a reduced rate and do more outdoor advertising than we ever have before.
JV: Have there been PD changes over this time?
Dave: When I got there, Scott Shannon was Program Director, and I got there not too long after he had signed on. Steve Kingston was the Operations Manager, and when Scott left and went to Los Angeles for that brief stint at Pirate Radio, Steve Kingston became the Program Director/Operations Manager. When Chancellor came in and Steve's contract came up, they opted to go with Tom Poleman, which was really interesting to me because the two of them had been constantly vying for number one PD in a major market for years. So three PDs and six GMs, and if you count all the name changes, six companies.
JV: Did the station change format at all in this time?
Dave: Not really. In the early nineties when alternative music became such a powerful force in popular music, we were playing a lot of alternative music, and because of that, we had to change some of the trappings of the radio station. Jingles came off, and the announcing style changed because it just sounded goofy to have this nice bright happy pop sound going into Nirvana. But then, as the world took it's blinders off and started realizing that this music was really depressing, we started seeing acts like the Spice Girls and the other super produced acts that are out there now—N Sync, Back Street Boyz, Destiny's Child, Brittany Spears, Jessica Simpson. Then we were able to move that central target back into the more pop sounding kind of music. And then we were able to bring back all the other stuff—jingles and the CHR delivery that we'd been used to doing for so long. Technically, we really never changed formats. That's just where the music was for a long time.
JV: Ten years ago, it was just the one station you were dealing with there. Is it still that way?
Dave: Yes. I'm very fortunate. I know a lot of people across the country are having to image three, four, and five radio stations. I'm not sure I could deal with the insanity of that—having to put on one hat for a day so you could do an oldies station, then a different hat the next day to do a rock station. I'm very fortunate in that Z100 is the only station I deal with. I have very cordial relations with the other stations in the market, particularly in our cluster, but I don't have anything to do with their imaging.
JV: What has kept you in that one place for fourteen years?
Dave: They ain't broke. And I'm still having a good time. In fact, without talking too much inside shop, I am working without a contract, and have been for the last several years. And I've made it very clear to Tom Poleman and John Fullam, who is now leaving us, that it's fine with me to not have a contract. I don't need this job anymore. I'm at a point now where I earn quite a bit of my income from other sources, but I'm having too much fun to leave Z100. I mean, I'm having an absolute ball. Since Tom Poleman came into this radio station, it's changed everything. Of course, his timing also happened to coincide with the change from Alternative back into real mainstream CHR, but I'm having more fun now than I think I've ever had doing this job.