Page 1 of 2
by Steve Cunningham
Apogee Electronics is well known among high end recording studios for building accurate multichannel analog-to-digital and digital-to-analog converters, along with digital clocks like Big Ben that are used to eliminate jitter and errors when connecting multiple digital devices.
My own experience has been that Apogee converters are several steps above any others I've listened to critically, although they carry a price tag that is commensurate with their quality.
More recently the company has delved into a somewhat more popular price point with their Firewire-based Duet two channel interface at $499. Now they've pulled the trigger on what could be seen as the Duet's younger cousin. The Apogee ONE is a single channel USB audio interface with a built in microphone, and a US list price of $249. The ONE looks as if it could serve nicely in a remote voiceover kit or even in a VO talent's studio. Apogee's reputation for sound quality is near legendary, and the ONE offers 24-bit audio at sample rates of up to 48kHz. It even features a mic preamp for external mics, with 48V phantom power to go along with it. USB provides both power and communications for the ONE, which features a mono input and stereo outputs. Let's take a look.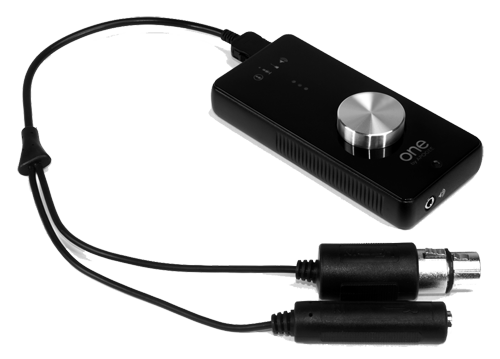 FIRST THINGS FIRST
The first issue that must be mentioned is that the Apogee ONE, like the Duet and several other Apogee converters, is designed for use with Macintosh computers only. Perhaps the company is protecting a favorite son relationship with Apple, but even if they are not it's puzzling that they've chosen to exclude the larger portion of the market in desktop audio, particularly with a product at this price point. On the other hand, if you like it then your decision to put a Mac in your VO studio may be easier. Or not. At least the ONE still supports the older G5 processors, which are rapidly becoming unsupported by software developers, in addition to the Intel chips. But the Apogee product is, at this time anyway, Mac-only.
In any case, the ONE certainly looks like it could have been designed by Steve Jobs' industrial design group. The little box is very attractive in gloss black plastic with a large-ish silver multifunction encoder-and-push-switch (we'll just call it a knob, okay?). Ribbed side panels provided enough grip to keep me from dropping the thing, which is slightly larger than an iPod at 2.25" wide x 4.75" tall x 1" high. Backlit icons on the top panel display the current I/O state of the device, and a three LED column above the knob serves as input and output meters. The built-in mic is visible as the round indented bit just below the knob. It's all quite stylish thanks in part to the encoder -- I mean the knob -- being the only input device available on the thing. Nearly all of the setup options must be entered in the included Maestro Mixer and Control software. More on that later.
The gozintas and gozoutas are on the end blocks, and nearby icons identify their life's purpose. The stereo output, which can drive either headphones or powered monitors, is delivered on a 3.5 mm stereo mini-jack connector located at the bottom panel of the unit. The input assembly is on the top panel, and consists of a proprietary connector for a breakout cable, which in turn provides both XLR and quarter phone jacks. The cable is not overly long and has a locking connector, so it shouldn't get detached in the middle of a session. Next to that is what I believe is technically a micro-B USB connector, similar to those found on digital cameras. That one obviously connects the ONE to a computer, which in turn lights up the speaker icon on the top panel.
Like many other USB interfaces, Apogee recommends that the ONE specifically not be connected to the computer through a USB hub. Rather, it should be connected directly to one of the computer's USB ports. This could present a problem should you intend to use the internal microphone while locating your computer far enough away to avoid picking up fan noise. In that instance you will want a longer USB cable than the one provided, so you'll need to procure either a longer cable with a micro-B on one end and a regular male A-type on the other, or an extension cable with a male A-type on one end and a female A-type on the other. Apogee will sell you one for twenty bucks, but a judicious bit of online shopping should allow you to do better.
From a specification standpoint, the external microphone input claims a gain range from +10 to 63 dB with a maximum level of +14 dBU, while the quarter inch input and internal microphone preamp can each deliver +45 dB of gain, with the quarter inch maxing out at a level of +11dBu. There's also a switchable 48V phantom power option for condenser mics. In addition, the aforementioned stereo output provides a maximum level of +12 dBu. As mentioned, supported sample rates are 44.1 and 48 kHz, and word length is 24 bits only. Altogether not bad for a USB- powered device.