TECHNOLOGY

► The Telos Zephyr line of IP codecs has grown again, with the addition of Z/IP ONE, a slim 1 RU codec designed to maximize audio quality from public IP networks and mobile phone data services, including connections behind NATs and firewalls. Agile Connection Technology (ACT), a Telos exclusive, is the foundation for the Z/IP's exceptional performance on real-world networks. When the network is functioning well, Z/IP provides the lowest possible delay and the highest possible fidelity. Should network conditions become challenging, the Z/IP ONE automatically lowers the bitrate and increases buffer length to ensure that the best possible audio quality gets to the studio with the least delay. As with all Z/IP codecs, Z/IP ONE is wireless capable and can connect to IP networks via Wi-Fi, EVDO, and UMTS. Telos Z/IP Server service (free to Z/IP owners) helps overcome troublesome firewalls and NATs, as well as easily connect to other Z/IPs. Z/IP ONE features include: Wide variety of high-performance audio codecs: AAC-ELD, AAC-HE, MPEG Layer 2, G.711, G.722 and linear PCM; Supports SIP 2.0 protocol and conforms to NACIP standards; works with VoIP devices and connections from compatible PBXs; Analog I/O plus Livewire™ port for one-click connection to Axia IP-Audio networks; Auto-ranging internal power supply for use worldwide. wwwTelos-Systems.com.

► Tascam's HS-8 and HS-2 are the first studio solutions for professional multi-track recording and playback to solid-state media. From studio surround recording to post production and broadcast playback of HS-P82 location recordings, the eight-track HS-8 fits a variety of multitrack roles first pioneered by Tascam's DA-88 recorders. Like the HS-8, the stereo HS-2 includes SMPTE timecode and RS-422 for use in broadcast and post production. Also true to Tascam tradition, audio is top-quality throughout with up to 192kHz/24-bit recording formats available. A mixer is built into the HS-8 for monitoring, and the stereo mix can be recorded live as a separate track. Like the portable HS-P82, the HS-8 and HS-2 use a color touch-screen interface to access settings and tracks. Audio is recorded as Broadcast WAV files to Compact Flash media. A pair of CF card slots is available for data mirroring or continuous recording. The RC-HS20PD remote control allows operation from a separate room over RJ-45 connection. Tascam's HS-8 and HS-2 are the ideal solid-state recorders for professionals, with the instant access, ease-of-use and sound quality studio and post studios demand. Other features: Balanced analog inputs and outputs on 25-pin D-sub connectors (HS-8), XLR stereo analog input and output for channels 1 and 2, AES/EBU digital I/O on 25-pin D-sub connector (HS-8), XLR stereo AES/EBU I/O for channels 1 and 2, PS/2 keyboard input, RS-422/RS-232C serial control input, Parallel control port, RJ-45 LAN control (10/100/1000) on locking connector, USB 2.0 host connector for transfer to flash memory drive, 1/4" stereo headphone output.
Also from Tascam, the LM-8ST is a 1-space rackmountable line mixer for installation, studio submixing, keyboardists or anyone who needs a great-sounding mix. Eight pairs of balanced 1/4" TRS inputs – switchable from +4 or -10dB – can be bussed to a pair of XLR balanced outputs, labeled ST1 and ST2/AUX. Pre or post-fader bussing is available for the alternate buss, and master output level controls and metering keep signals under control. A microphone input is also provided for announcements or performance. Packed with high-quality audio components, the Tascam LM-8ST is perfect for any live performance or installation. Other features: 2-segment LED meter per channel; Each channel switchable to ST2 (pre fader) or AUX (post) output; 1/4" and 1/8" stereo headphone outputs; Stereo balanced buss output/input for cascade. www.tascam.com.

► Steinberg announced shipping of a new hardware sync solution: Nuendo SyncStation. A 19" rack mount unit houses the latest sync technology designed by Colin Broad to offer sample-accurate sync with video tape recorders, analog tape machines, other DAWs, house sync generators to name but a few. Designed for but not restricted to operation with Steinberg's Nuendo Advanced Audio Production System, Nuendo SyncStation supports an exhaustive list of standards and protocols, including MTC, LTC, MMC, Sony 9-pin RS422, WordClock, VITC, Tri-level and Black Burst and Varispeed operation over a huge array of Pull-up/Pull-down settings as well as sample-accurate VST System Link over digital connections such as AES/EBU and S/PDIF. Uniquely, Nuendo SyncStation can offer extremely accurate sync using traditionally less accurate standards like MTC by referencing with sample-accuracy to each video frame. MSRP: $3,999.99. www.steinberg.net.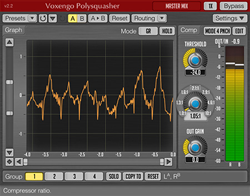 ► An updated version 2.2 of Voxengo Polysquasher is now available for download. Voxengo Polysquasher is a mastering compressor plugin for professional audio and sound production applications, available in AudioUnit and VST plug-in formats, for Mac OS X and Windows computers. This version implements the following changes and more: Gain reduction graph's precision was improved; Preset load inconsistency problem fixed; Waveform view random glitches issue fixed. Side-chain routing presets now appear dimmed to reduce confusion. Polysquasher was designed with a main goal: to be transparent. Polysquasher achieves its goal by using a unique compression algorithm which requires a small number of parameters – basically threshold and ratio only – making this compressor a joy to use. Polysquasher is best used as a finishing compressor inserted in the chain before the final mastering limiter. Also from Voxengo, VariSaturator version 1.8 is now available for download. VariSaturator is an audio effect plug-in designed to apply saturation effects to audio material. It is available for Mac OS X and Windows computers, and conforms to AudioUnit and VST plugin specifications. Version 1.8 includes the following changes and more: The "VST Function Sync" global switch was added that fixes crashes in some hosts (i.e. Tracktion); Parameter automation on AU Mac OS X now shows real parameter values; Preset "update" function implemented in the preset manager. VariSaturator can be used both to boost the loudness of the audio tracks without increasing their peak levels proportionally, and to apply subtle harmonic coloration that makes tracks sound more pronounced and polished. www.voxengo.com.
► Shovio, a developer of interactive Internet video broadcast talk shows, announced new embeddable Shovio media player, enabling access to its two-way live Internet broadcasting service from anywhere. Shovio's Talk Back TV Network enables anyone to become a show host (Shocaster) and broadcast a live video call-in talk show over the Internet. Shocasters can now embed the Shovio player right into their own websites, blogs and social networks, keeping fans on their own sites. Additionally, Shovio eliminated the requirement that viewers log in to watch Talk Back TV Network shows. Over a 14-day testing period of Shovio's embeddable media player with viewer login requirement eliminated, Shovio realized a 50 percent increase in viewership, with average view time rising to over 50 minutes. Shovio also saw a 30 percent increase in new amateur Shocasters interested in hosting and broadcasting their own shows. "Shovio is continuing its goal of bringing professional and amateur talent to the new interactive online broadcasting medium, and furthering the democratization of broadcasting," said JJ Astro, CEO of Shovio Inc. "Our new embeddable player allows Shovio shows to be viewed from anywhere on the Internet, and by opening up access to viewers/fans without the registration requirement, it makes Shovio even easier to watch." Shovio features a line-up of both amateur Shocasters and professionals, including Star & Buc Wild, sports talk show host Sid Rosenberg, The Radio Chick, and Goumba Johnny among others, whose shows enable guests and audience members to call in via live video and participate picture-in-picture (PIP), as part of the show. www.shovio.com.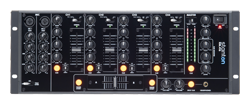 ► The RM.416 is the latest in Stanton's RM (Rack Mount) series of mixers. Stanton, manufacturer of professional audio products for DJs, has created the RM.416 for demanding mobile or club DJs. With four channels coupled with two microphone channels—in addition to a vast array of traditional connectivity—the RM.416 features a USB connection for either playing music from your favorite application or recording your mix in real-time. Additionally, the RM.416 offers a subwoofer output with built-in crossover control, minimizing the need for an external crossover while maintaining the ability to adjust the output to perfectly match your sound system. All of these features are packed into a 4-space rack unit with a rugged metal inner chassis ensuring that the components are protected from damage and assuring a long product life. Other features include: Soft power on/off for silent operation; 2 Front panel microphone inputs with Gain and 3-band EQ; 3 Band EQ per channel (-26 dB to +10 dB); VCA crossfader reduces noise and improves life of fader; User replaceable crossfader and linefaders; Balanced XLR master output with trim control; 3 Microphone, 8 stereo line, and 3 stereo phono/line switchable inputs; Talkover control for front panel microphone inputs. www.stantondj.com. ►
PRODUCTION LIBRARIES
► Air Media announces Elements, a new package of radio imaging material consisting of radio FX, news sounders, radio beds and more. Air Media is a radio production company in the UK, producing radio imaging elements for producers in the radio industry. Products include sweeper FX, radio beds for traffic and weather, and news sounders. www.air-media.co.uk. ►
THE MIX

► WGFX-FM and WKDF-FM in Nashville, TN are the latest Citadel Broadcasting stations to sign up for vCreative's PPO. On the system, submitted production orders are fully tracked with user, date and time stamping as well as perpetually archived with all associated files for easy access at any time. PPO aims to save the sales, traffic and production staff time through organization and accountability. Furthermore, Nashville producers now get the option to easily share voice talent to and from the 80 other Citadel stations currently using vCreative™PPO. www.vCreativeInc.com.
► The Board of Directors of the Radio Marketing Bureau Inc. announced that in anticipation of the creation of a new, focused, radio-only broadcast association, that the RMB would cease operations August 31, 2010. This move, coupled with the recent closure of the Canadian Association of Broadcasters (CAB), paves the way for the radio industry to re-establish its presence in the new media environment with one association dedicated to its particular legislative, regulatory, sales and marketing needs. Lesley Conway-Kelley, Chair of the RMB, stated, "Radio's future is bright and the best way to move forward and continue to be relevant in the current competitive environment is to focus our resources into one association with a broader yet focused mandate." Additionally she said, "The only way this action is possible is that we are able to build on the superior work of the RMB and its team under the leadership of its President, Gary Belgrave, to transition into a new association that will combine the strengths of both the CAB and the RMB." Industry executives are currently working together to develop the framework for this new association and further announcements will be forthcoming in the near future. For almost 50 years the Radio Marketing Bureau (RMB) has been Canada's premier resource centre for radio advertising. The RMB's mandate is to inspire and educate members, agencies and advertisers about radio's power and effectiveness in achieving and exceeding business goals. Through consultation, marketing, research and creative services, RMB supports advertisers in achieving maximum return on their media investment. www.rmb.ca.
♦