TECHNOLOGY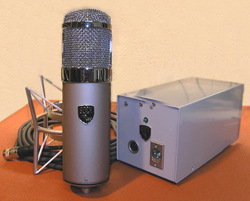 ► TransAudio Group, the worldwide distributor for Bock Audio, launched the new Bock Audio 5-ZERO-7 hand-built, large body tube microphone. Bock Audio, established in 2007, builds the personal designs developed over the last ten years by mic expert David Bock in Los Angeles, California. Engineered to fulfill high-end vocal applications, the 5-ZERO-7 is the first mic to take advantage of a new patent-pending elliptical large capsule design by David Bock and George Cardas. In development for over five years, this new capsule, hand manufactured in Germany, is different from capsule designs both past and present. Offering many technical advantages over existing round capsule designs, the Bock/Cardas Ellipse delivers higher levels of audio performance than has been seen before. The Bock 5-ZERO-7 is the first but not last mic to take advantage of this new capsule technology. Designed as a traditional tube mic/power supply package, the Bock 5-ZERO-7 is a large body mic with a beefy tube, audio transformers, fully discrete electronics and custom power supply very similar to those found in 1947 era microphones. Unique mechanical and acoustical design enables a performance level from the 5-ZERO-7 that exceeds the sum of its parts. US Retail Price is $6,995.www.bockaudio.com, www.transaudiogroup.com.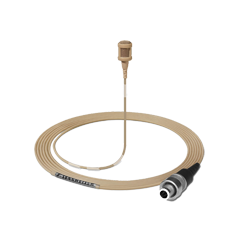 ► Sennheiser introduced its latest professional clip-on microphone, the MKE 1. With a capsule that's not much bigger than the head of a match, the MKE 1 achieves a natural, full sound with a clear and present treble, as proven in comprehensive field tests. Particular care was taken to ensure the microphone capsule was fully protected from moisture, so the MKE 1 can hold its own in harsh live conditions longer than other clip-on microphones. "Despite its tiny size – the microphone measures just 3.3mm across – the MKE 1 offers outstanding sound quality, plenty of lower mid-range, and excellent presence with good speech intelligibility," says Scott Houston, associate product manager, professional products at Sennheiser. "It has a user-friendly, omni-directional pick-up pattern. The microphone picks up predominantly direct sound with relatively little ambient noise, which is a real advantage for many applications from broadcasting to theater and musicals." The clip-on microphone can be provided with a multi-purpose cap that simply diverts any humidity past the microphone and doubles as a windshield. And from within the mic, a thin, acoustically open stainless steel membrane protects the capsule. The anti-kink sleeve has also been improved in order to increase the life of the Kevlar™ reinforced cable. With a diameter of just 1mm, the cable is highly resistant to handling noise, while a special plastic coating ensures that it tangles less readily. Also included is a small frequency response cap, which ensures a treble boost of 2.5dB for applications where the mic is hidden within the costume or when more brilliance is to be added to a voice. Three make-up protection caps and several thin plastic tubes for shielding the cable when attaching it with clips or adhesive tape, give the finishing touches to this professional package. The MKE 1 is available in beige and black with an MSRP of $750.00. www.sennheiserusa.com.

► Steinberg Media Technologies GmbH announced the availability of a new update to its Cubase 4 and Cubase Studio 4 Music Production Systems. The 4.5 versions are available now as a download for all US registered Cubase 4 and Cubase Studio 4 customers from www.steinbergupgrades.com. The 4.5 update offers many new integrative technologies, with full support for the upcoming Steinberg MR816 CSX/X Advanced Integration DSP Studios and the CC121 Advanced Integration Controller. "Software and hardware are melded together with a FireWire I/O, a tactile controller and Steinberg's Cubase Music Production System forming an exciting new system that pushes back the boundaries of what's possible in digital audio," says Helge Vogt, Steinberg's Product Marketing Manager for Cubase. Cubase 4.5 also introduces VST Sound™, a new universal media management format that is a fundamental part of Steinberg's VST3 standard. The update also offers full compatibility with Steinberg's entry-level Sequel 2 Music Creation and Performance Software as well as the new Rock, Hip Hop and Industrial Content Sets.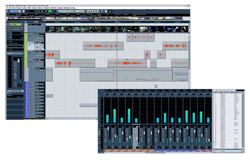 Steinberg also released a new update to its Nuendo 4 Advanced Audio and Post Production System. Nuendo 4.2 and NEK 4.2 are available now as a download for all registered customers from www.steinberg.net. "We're very excited to offer full support for our recently released hardware products, especially the new MR816 CSX/X Advanced Integration interfaces", comments Timo Wildenhain, Steinberg's Product Marketing Manager for Nuendo. "Although the focus of the new update is mainly on product maintenance, some improvements to accelerate the Nuendo 4 workflow are also included," he continues. Among the features available with Nuendo are full user interface integration, True Integrated Monitoring™ and the use of VST3 plug-ins as DSP FX in the Nuendo mixer. Steinberg's CC121 Advanced Integration Controller is also fully supported, integrating fully with Nuendo. Nuendo 4.2 also offers enhanced support for Yamaha MOTIF XS series and the KX USB Music Studio series are now even more tightly integrated than before. Nuendo 4.2.2 includes a range of improvements to enhance stability, as well as several workflow enhancements. These include new key commands for the MediaBay sound management system, new synchronization options and a range of additional minor enhancements. Nuendo 4.2 also includes support for VST Sound™, a new and improved universal media management format. www.steinberg.net.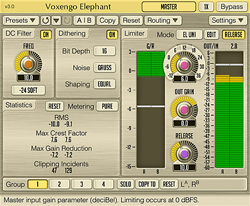 ► Voxengo announced the release of a version 3 update for their mastering limiter - Elephant. Version 3.0 features a lot of enhancements over the previous version: multi-platform support, multi-channel operation, wider selection of limiter modes, preset manager, and others. Voxengo Elephant is a mastering limiter plug-in for professional music production applications. A remarkable feature of this signal limiter is its ultimate transparency. Elephant brings sound limiting and loudness maximization without any audible "pumping" effects. Elephant features a variety of limiter modes that can be deeply customized, and includes a comprehensive set of level metering tools. Elephant limiter can be used for mixing and mastering of both stereo and multi-channel music and sound material, at any standard sample rate. Elephant can be loaded into any audio host application that conforms to the VST or AudioUnit plug-in specification. Plug-in is compatible with Windows XP, Windows Vista (32- and 64-bit) and Mac OS X 10.4.11 and above (Intel and PowerPC) computers (2 GHz dual-core or faster processor with at least 1 GB of system RAM recommended). www.voxengo.com.

► TASCAM announced an update to its combination CD & Cassette recorder, the CC-222SLmkII. The new model includes a pitch control for the CD as well as the one for the cassette, making it more useful in a wide range of installations. The CC-222mkII features a cassette recorder and a slot-loading CD recorder transport. It offers MP3 CD playback, pitch and key control and a sample rate converter for 48k input. Two sets of unbalanced RCA outputs can be configured for independent operation or both transports can play through the same set of outputs. www.tascam.com.

► IntraCom Systems, LLC, the Los Angeles based developer of VCOM, a leading software IP Matrix Intercom System, announced the availability of its VCOM Touchpanel™. VCOM Touchpanel was designed using a tablet PC core, which can readily be removed and used as a stand-alone desktop intercom station. The 3RU, 19-in. rack-mount intercom panel with high resolution, touch-screen selector activation brings unprecedented power, ease of deployment, and affordability to multi-channel intercoms and works interchangeably with VCOM Control Panels on PCs, tablet PCs, and handhelds. VCOM Touchpanel's intuitive 7-in., touch-screen GUI supports a virtually unlimited number of channels configurable for Point-to-Points, Group Calls, Party Lines, and Program Audio Listens. Moreover, the entire VCOM Matrix System can be dynamically configured and monitored from any VCOM Touchpanel on the network. The modular unit supports a gooseneck microphone and has dual integrated speakers. It can also be used with a USB headset (XLR connector optional) or wirelessly with Bluetooth. Combined with the ability of the Tablet PC core to work over WiFi, VCOM Touchpanel affords ultimate flexibility, ideal for applications such as theater where it's desirable to have comms that can be easily relocated in the main hall during rehearsals. VCOM Touchpanel has a rich feature set optimized for broadcast, defense, industrial, security, and commercial applications. Key features include: high resolution touch screen selector activation, individual channel volume controls, momentary or alternate action mode, acoustic echo cancellation, and telephone-line interface with dial pad and incoming caller ID. Additionally, the VCOM Touchpanel can be deployed anywhere with any internet connection over a wired or wireless network in minutes. www.intracomsystem.com. ▲