TECHNOLOGY
► iZotope, Inc. announced the release of iZotope Radius for Logic and Apple Soundtrack Pro, a new version of their high-end time stretching and pitch shifting algorithm previously built for Apple's Logic Pro. This new version has been updated with support for Logic 9 as well as Soundtrack Pro 3. iZotope Radius allows for independent control over timing and pitch of any audio material while preserving the character and acoustic space of the original recording. Using an advanced hybrid method, it is able to preserve transients and sustained material simultaneously, making it extremely useful for modifying fully mixed performances as well as individual instruments, voices, or other audio sources. This new version of Radius adds a new pitch coherence control that enables enhanced control over the soundstage. Because iZotope Radius is designed for completely transparent operation on a wide variety of source material, it is well suited for many applications in audio post production such as matching soundtracks, voiceovers, or other audio cues to video clips and pull-up, pull-down for film and video conversion. iZotope Radius for Logic Pro and Soundtrack Pro is available for purchase directly from iZotope for $399.99 USD. www.izotope.com.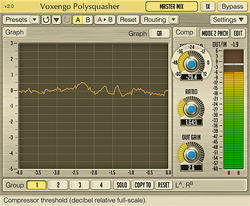 ► Voxengo announced the release of version 2 of Polysquasher - a mastering compressor plug-in for professional audio and sound production applications, for Mac OS X and Windows pro audio software that supports VST and AudioUnit plug-ins. Version 2 features the following improvements over version 1: compressor mode editor, linear-phase oversampling, multi-channel support, multi-platform support, undo/redo, routing matrix, preset manager, user interface coloration, user interface re-scaling, channel grouping and more. Polysquasher was designed with a main goal: to be transparent. Polysquasher achieves its goal by using a unique compression algorithm which requires a small number of parameters – basically threshold and ratio only – making this compressor a joy to use. More advanced settings are hidden in the "compressor mode editor" panel where you can create your own compressor modes that can be easily recalled later. Polysquasher is best used as a finishing compressor inserted in the chain before the final mastering limiter. Polysquasher can be loaded into any audio host application that conforms to the VST or AudioUnit plug-in specification. www.voxengo.com.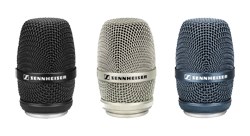 ► The evolution e 965, Sennheiser's large-diaphragm condenser microphone, is now available as a wireless version. The MMK 965-1 microphone capsule attaches to both Sennheiser's 2000 Series and evolution wireless G3 wireless series SKM handheld transmitters in seconds, allowing users of both series to enjoy the unique dual-diaphragm advantage of Sennheiser's e 965 microphone. Sennheiser's ew 500-965 G3 system, which is part of the evolution wireless G3 series, is based around the MMK 965-1 and ships with the EM 500 G3 receiver, a GA 3 rack-mount kit, and the SKM 500 G3 transmitter with the MMK 965-1 capsule. The MMK 965-1 microphone capsule offers the natural and detailed audio reproduction of a large-diaphragm studio condenser. While the capsule has the delicacy to reproduce fine nuances, it also is optimized for use in the toughest live performances. The capsule features dual-diaphragm technology, which means it can be switched between cardioid and super-cardioid pick-up patterns with the flip of a switch. This allows the capsule to be perfectly adapted to any stage situation quickly and easily. The cardioid pattern provides a very natural sound, while the super-cardioid pattern offers optimum rejection of other sounds on stages with high volume levels. As the capsule becomes more directional at higher frequencies, it effectively reduces spillover from instruments, such as a drum kit, and therefore provides generous space for the vocals to develop and captivate any audience. MSRP: $758.48. www.sennheiserusa.com.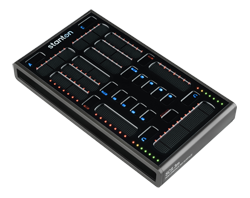 ► Stanton DJ, a manufacturer of professional audio products for DJs, announced the SCS.3m, the next installment in their SC System 3 series controllers. The SCS.3m is a portable new MIDI controller with a unique control surface that emulates the layout of a traditional two channel mixer, but is completely touch-sensitive and features the StanTouch® technology introduced in its deck controller counterpart, the Stanton SCS.3d. Each SCS.3m will ship with a new version of Native Instruments' Traktor LE that is based on the latest TRAKTOR PRO software platform, allowing the SC System 3 products to be used together to create a full DJ system with intuitive control over the software features introduced with Traktor LE. Using only the SCS.3m, SCS.3d, and Traktor LE, a complete DJ rig with performance control features that surpass the capabilities of traditional mixer/deck equipment can be setup anywhere in the world within minutes. The SCS.3m incorporates all of the functions of a two channel DJ mixer, plus a host of new performance features made possible by Stanton's unique touch sensitive control surface. The touch sensitive sliders can be used to tweak EQs, allowing DJs to bring in different elements of a song during a mix, or instantly switch the sliders to control FX parameters within Traktor LE. The wide, touch-sensitive crossfader allows for seamless slow blends between decks, but is also able to detect multiple finger presses, allowing for quick transform effects all in one control surface. The multicolor buttons can easily perform transport controls for starting and stopping playback, setting loops, doing EQ kills, or engaging effects without requiring a separate trigger controller. All of the visual indicators stay 100% in sync with applications supporting MIDI feedback, allowing for clear indication of the software settings and positions in low light situations. Additionally, the unique surface provides a new level of durability, since there are no moving parts to wear or break. The SCS.3m can be used as a standalone controller for basic software mixing, but when paired with the SCS.3d deck controllers, provide a completely mobile MIDI control rig that allows DJs to plug and play anywhere in the world without the traditional hassles. www.stantondj.com.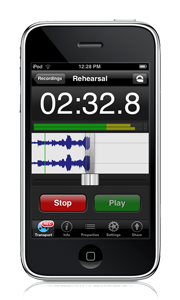 ► Audiofile Engineering, an audio software developer for the Mac, announced version 1.1 of FiRe, their professional field recording App for the Apple iPhone and iPod touch. In addition to iPhone OS 3.0 compatibility, FiRe adds to its lengthy list of professional recording features with Varispeed playback, multiple VU meter styles including K-System scales, and adjustable input gain. This new version also adds workflow enhancements such as public or private uploads to SoundCloud, web server authentication, the ability to add a picture reference to the recording, and the ability to name and rename marker points. FiRe was designed to bring serious field recording to audio professionals with an accurate real-time waveform display, audio markers, support for professional Broadcast WAVE metadata, and the instant downloading of audio files in multiple formats. Users can scroll the live waveform display with the touch of a finger or navigate it with a system of configurable double-taps. FiRe includes professional and accurate VU meters for input and output signals, a moveable playback head, configurable time units, the ability to tag recordings with location data, and an overdub mode for layering tracks. FiRe also offers native SoundCloud integration, making it simple to upload recordings directly to the web and share them with the tap of a button. FiRe is available on the Apple App Store for $5.99. Hardware Requirements: - iPhone 3G, iPod Touch (second generation), First Generation iPhone (headset only). FiRe does not support sample rates lower than 11.025 kHz. Thus, recording and playback will only work a headset on a first generation iPhone. Supported Microphones: Alesis ProTrack - requires iPhone 3G or 2nd gen. iPod Touch; Blue Mikey - requires iPhone 3G. www.audiofile-engineering.com. ►
PRODUCTION LIBRARIES
► Producer Pack released Soca Xplosion for music producers and DJ's. Now available for download, Producer Pack, created by Eddie Charles, is a 1.37GB Soca & Calypso Sample Pack. The pack contains 22 construction kits, 148 Drumloops - wav , 133 Drumloop - Rex2. Each construction kit give you the basics such as Drumloops, Bass Guitar, Brass, Guitar, Keys, Steel Drum, Melodies and more. This sample pack is available for £19.95. www.producerpack.com. ►
THE MIX
► J.R. Russ Programming and Research has entered into a Joint Venture Agreement with Hy Lit Radio Technologies, Inc. The two Philadelphia companies will market and distribute Movie Ticket Radio™. Billed as "The first NEW format of the millennium", Russ says "Movie Ticket Radio™ is "The MUSIC… from the MOVIES… on the RADIO. Not boring scores and background music but, HITS and melodic songs people know. A Classic version is now playing at www.movieticketradio.com to really drive home the concept with a broader-appeal version on the way. You hear it in movies on AMC, TCM, Starz, Encore and other classic movie channels so, it's as contemporary as the last time you heard a particular song in a particular movie." Russ says "Sam Lit as a genius at Internet broadcasting, high quality audio delivery and Personal Internet Protocol mobile devices. He has convinced me that the mobile phone is "the NEW transistor radio" and as broadcasters wade through their financial troubles, we want to be poised to help them with a strong web presence and a truly different and exciting format when they are ready." Lit added: "Movie Ticket Radio™ has web audio quality rivaling FM. The site offers not only music but, the Your Display Carousel™, providing advertisers with visual insertion. The platform will allow movie studios to place video ads, trailers and music videos directly IN the format. Listeners will also get several e-commerce options to buy the music they hear, the movie DVD's, tickets to movies, merchandise and more. We can even give away sponsor's products." www.movieticketradio.com.
► RocketOn, Inc., a venture-funded startup located in South San Francisco, is taking Blerp from Alpha to Beta with the launch of browser plug-ins for both IE and Firefox, full integration with Facebook Connect and Twitter, as well as a host of other new features. With these two browser plug-ins, Blerp's users can now post comments anywhere they surf online. The new IE and Firefox plug-ins enable users to instantly see posts and activity on whatever sites they visit. At a glance, users can spot where their friends are commenting and join their conversations. Blerp is now fully integrated with Facebook, Twitter and other social sites. Users don't have to register for Blerp, they can simply use their existing Facebook, Twitter, Gmail or Yahoo accounts to access the service. Users can take any YouTube video, photo on Flickr, or other widgets and post them on top of any website they choose: If a user's favorite celebrity has a website but it doesn't have the latest videos, the user can go to YouTube, find those videos, and post them right on the site for their friends to see. Or if a user goes to a rock concert and nabs some amazing backstage photos, the user can post them right on the band's webpage for all the fans to see. Blerp also has a collection of advanced widgets allowing users to post everything from movie reviews to live polls, maps, trivia and interactive objects. These widgets give users the power to create instant mash-ups over their favorite sites and weave them into ongoing dialogs with other users. "The idea behind Blerp is to take every comment board and forum online and unify them into a single platform," says Hoffman, "where users are in control and have the tools to post not only text, but anything that has been widgetized, including games, animations and applications." www.blerp.com. ▲