TECHNOLOGY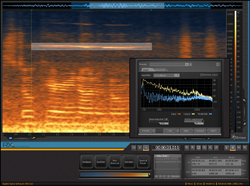 iZotope, Inc. has released iZotope RX™ audio restoration plug-ins, featuring tools for cleaning and restoring audio. Available for VST, Audio Unit, MAS, ProTools (RTAS, AudioSuite), and DirectX, the plug-ins are now included with the standalone version for the same price of $349. Current RX customers will be able to download the update free of charge at www.izotope.com. RX removes hiss and buzz, eliminates clicks and crackles, and repairs overload distortion in audio. New intelligent Spectral Repair algorithms can even analyze and fill gaps in audio files to restore previously unusable recordings. Ideal for any application that demands spotless audio, RX key features include Denoiser, Declipper, Hum Removal, Declicker, Spectral Repair, Advanced Spectrogram and a streamlined interface and workflow. RX Advanced - the Advanced version of RX has also been updated to include plug-ins. iZotope RX Advanced allows even more precise control over RX algorithms and multi-resolution processing modes. iZotope RX is distributed worldwide by M-Audio, and is also available direct online from iZotope at www.izotope.com.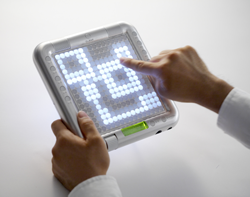 Yamaha Corporation of America revealed their new music-making technology, Tenori-on. Recently earning PC Magazine's 25 Most Innovative Products Award, Tenori-on literally means "sound in the palm of your hand" and is a twenty-first century digital musical instrument that is part art-piece, part must-have music gadget for the iPhone generation. The brainchild of Japanese Media Artist Toshio Iwai, Tenori-on emanates from his experiments with light shows and musical boxes, resulting in a hand-held, burnished magnesium-encased matrix of 256 LED buttons that glow as you access different sounds and textures ('Layers') over an infinitely repeating sequence of notes. Sound images are literally drawn with Tenori-on using a host of internal sounds as well as samples loaded from external sources. With an interface where sight and touch are every bit as integral as sound, the Tenori-on music making possibilities are as endless as they are addictive. Iwai has teamed with Yamaha forming an unusual partnership of old and new, art and music, light and sound, to bring Tenori-on to market. www.mtechmarketing.com.

Telos Systems' new Zephyr/IP is an IP Codec optimized for operation over the public Internet and mobile phone data services. Zephyr/IP utilizes ACT – Agile Connection Technology - which combines state-of-the-art loss detection and concealment with dynamic buffering and auto-varying bitrate functions – to continuously adapt to network conditions, minimizing the effects of packet loss, varying bandwidth, and jitter that occur on real-world networks. Z/IP also works directly with high-speed mobile phone data networks; a PC Card slot accepts standard mobile data cards. Z/IP also introduces another technology leap: AAC-ELD, a new codec based on low-delay AAC. With its excellent fidelity at low bitrates, nearly inaudible loss concealment, and auto bitrate and jitter tuning, AAC-ELD delivers superior audio for two-way IP applications over non-controlled networks. The Z/IP family includes both a studio codec and a PC-based server that addresses firewall and NAT (Network Address Translation) issues. Firewalls and NAT devices often found at the edges of LANs can prevent audio streams from flowing, but Telos Z/IP Server technology solves this problem, keeping track of users' online status and IP address information so that making connections is as simple as selecting from an onscreen list. Features include: Audio I/O via AES/EBU, analog and an Axia Livewire IP-Audio interface; Studio-grade 24-bit A-to-D and D-to-A converters; Ethernet and USB connections; Works directly with high-speed mobile phone data networks via an EVDO USB modem; WiFi connectivity: Connect to any WiFi hotspot; Transmission bitrates from 18 kbps to 256 kbps; High-resolution, information-rich interface with context-sensitive on-screen help; Full-VGA display screen displays network conditions in an intuitive color-coded graphics format; Dial by name regardless of the currently assigned IP address; Compatible with Telos Zephyr Xstream and supports SIP, G.711, G.722, MPEG Layer 2; Web server for remote configuration and remote control. US MSRP is $5,980.00. www.Telos-Systems.com.
Expanding its nationwide roster of top radio and internet broadcasters and shows looking to tap into the streaming media advertising market, TargetSpot, Inc. recently partnered with Fox News Radio, NRG Media, Peak Broadcasting, Woodward Radio Group, Dick Broadcasting, Steel City Media, Mel Wheeler, Inc. and the Stephanie Miller Show. These companies will utilize TargetSpot's unique platform of unlocking the monetary value of streaming media. TargetSpot has partnered with nearly 600 stations nationwide. It is already working with CBS Radio and Entercom Communications Corp, as well as several pioneers of internet radio, and a number of web 2.0 music service innovators. Additionally, TargetSpot provides access to streaming advertising on AOL Radio streams powered by CBS Radio's technology. TargetSpot's patent pending technology allows businesses of all sizes to create, buy and place their own advertising messages on internet radio services. Using TargetSpot's online ad platform, advertisers can create cost-effective customized audio, video, banner and text ads with an array of jingles, sound effects and visuals provided by TargetSpot. Clients can also upload their current creative directly into their TargetSpot account. Ads are then targeted to a specific demographic, location (down to the zip code) and/or station. Campaign costs vary, with advertising revenue being shared between TargetSpot and the participating broadcaster. Advertisers can open a TargetSpot account with as little as $50. www.targetspot.com. l
THE MIX
The National Radio Hall of Fame (NRHOF) announced the results of its national online balloting process, including three posthumous inductees, who make up the class of 2008. The inductees into America's only National Radio Hall of Fame are: Art Bell - Showing an early interest in radio, Art Bell became a licensed amateur radio operator at the age of 13. In 1989, he was offered a five hour time slot in the middle of the night by KDWN/Las Vegas. The original format was a political talk show, but Bell switched the focus to paranormal-themed topics in the mid 1990s. At its peak, Coast to Coast AM was syndicated on over 500 stations and enjoyed an audience of 15 million. While Bell has reduced his schedule, he still occasionally hosts the weekend edition. Jess Cain (deceased) - Long-time morning talk-show host on WHDH/Boston, Jess Cain began as an actor and appeared in more than 20 plays before and during his radio career. The "morning man", who died in February 2008, was the first voice many New Englanders heard each day for 34 years. Cain was beloved for finding humor in everyday moments with his song parodies, quick wit, and impressions. Howie Carr - An outspoken, conservative commentator, Carr has been on the air for almost two decades in the Northeast United States. First heard on WHDH/Boston, The Howie Carr Show now originates from WRKO/Boston and is syndicated across New England and parts of New York every weekday. Carr is also an award-winning columnist for the Boston Herald and a best-selling author. Bob Collins (deceased) - Collins was a top-rated and much-loved morning show host from 1986 until his death in 2000 on WGN/Chicago. Known to his fans as "Uncle Bobby", his show featured conversation, music and Collins' folksy charm. The native of Florida had a regular afternoon show when he was only 14 years old and spent time at stations in Milwaukee, Los Angeles, San Diego and Miami before finding a home at WGN. Michael "Mickey" Luckoff - The President and General Manager of one of America's most successful radio stations, KGO-AM /San Francisco, he is one of the industry's most respected managers. He also oversees the operations of KSFO-AM/San Francisco. Charlie Tuna - Charlie Tuna has been on the radio for over 40 years. After getting his start at KOMA/Oklahoma City and brief stints at KLEO/Wichita and WMEX/Boston, he took a job at KHJ/Los Angeles in 1967. He has been an LA fixture ever since. Tuna was one of the original DJ's at the legendary KROQ and can still be heard on KRTH/Los Angeles every weekend. He also had a 25-year run (1971-1996) on Armed Forces Radio, doing approximately 6,000 shows. Dick Whittinghill (deceased) - Whittinghill began his career as a movie and television actor, as well as a recording artist who once sang with Tommy Dorsey's big band. From 1950 to 1979, he established himself as one of the most popular morning disc jockeys in Southern California at KMPC/Los Angeles. His creativity and brash personality earned him millions of loyal fans, as well as a star on the Hollywood Walk of Fame. Whittinghill died in 2001. Focus on the Family - The Focus on the Family ministry was founded in the mid-1970s by Dr. James Dobson, a psychologist, lecturer, and author. Following a television appearance in 1978, Dobson recorded his first radio program calling for a return to conservative, Christian values. The internationally syndicated show has been on the air ever since and is heard on over 4,000 stations worldwide. Westwood One will produce and distribute the live one-hour induction ceremony from Chicago on Saturday November 8th at 10pm (ET). Tickets for the black-tie induction gala and broadcast are $500.00 each and may be purchased online at www.radiohof.org. Tables of ten are available for $5,000, $10,000 and $15,000 each. Votenet Solutions, Inc., a respected online vote tabulation firm, supervised and tabulated the 2008 National Radio Hall of Fame ballots. To learn and hear more about past National Radio Hall of Fame inductees visit www.radiohof.org.
Radio-Info.com and Radio Guide magazine announce their alliance to jointly produce technical and engineering forums, news, information and commentary for the broadcast industry. Radio Guide is a business-to-business print publication targeting radio's engineering and technical community. Under the alliance, Radio Guide's on-line content will be hosted on a new joint section of the Radio-Info.com Website, joining the industry newsletter Taylor on Radio-Info and an extensive message board community. The new content is expected to launch in October 2008. A new "Technical Tips" discussion board is launching now at www.Radio-Info.com.Radio-Info.com was founded in 1999 as a radio discussion forum and hobby of Doug Fleming. Following his untimely death in 2005, his parents Rick and Diana Fleming took on the challenge of creating a business model that blends radio industry news and information with an online radio discussion forum. in3media is a Chicago, Illinois based company that operates Radio-Info.com with the help of 19 employees. Radio-Info.com is a business to business online radio trade publication which features several products, including a daily newsletter, emailed news alerts, online features, editorials, and analysis of the radio industry, and hundreds of discussion forums. Ultimately the profits from Radio-Info.com will be donated to various charitable organizations in Doug Fleming's honor. Radio Guide was launched in 1988 by publisher Ray Topp, as a radio broadcast engineering publication of techtips and equipment repair information. As radio technology moved into the solid state, digital domain, Radio Guide adapted and currently focuses on equipment application, installation, and maintenance. Radio Guide currently operates out of Arizona, with offices in Sedona and Tucson. www.radio-guide.com.