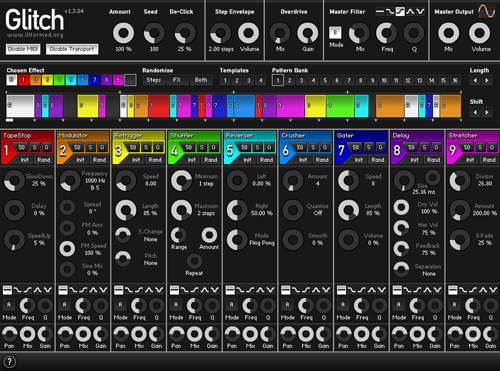 by Alan Peterson
A popular production effect is the "artificially digital" voice: bit reduction, time scrambling, extreme pitch shifting, stutter and more, stabbed into a voice track and typically so short that it is done before you knew what happened. This effect, once accomplished only by hardware processors (with some heavy editing afterwards), is now a breeze courtesy of some free software.
Kieran Foster of illformed.com, offers Glitch 1.3.04; a free VST plug-in that acts like nine classic Eventide Harmonizers in a row, each set for a different effect and sequenced by the BPM counter in your audio software. The output of Glitch can be extremely bizarre and has wow factor to spare.
The screenshot shows the modules in use. These include Tape Stop, offering a convincing mrup effect like a tape recorder braking; Shuffler which slices up audio then rearranges the elements; and Reverser which plays up to a certain point in an audio file, then flops the playback. Six other modules round out the entire plug-in, each having its own Vol/Pan settings and four-mode filter, before passing through the Master channel for further processing.
Modules can be arranged by clicking along a horizontal color bar, or can be randomized. One single module can act globally, applying its effect on top of all the other processing. Delay, for example, washes the entire output with depth and spatiality.
Glitch will work with most audio editors, but being a work in progress, it may crash some host programs. Some versions of the original Cool Edit Pro are not VST compatible and may require a DX-to-VST wrapper. I had it working fine in Samplitude SE 9.
Listen to Glitch in action and download your copy from http://illformed.com/
Mac users can enjoy a similar plug-in called Major Malfunction which can be found at defectiverecords.com/majormalfunction/index2.html. Major Malfunction is not by Foster and is not free.
♦