TECHNOLOGY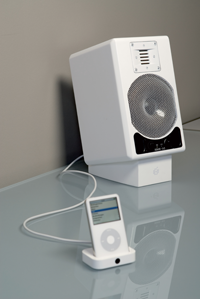 ADAM Audio introduced the new A5 Powered Monitor in the US market. Built on the heritage of ADAM's professional studio monitors, the A5 is designed for multimedia listening, mobile recording, broadcast, and surround applications. It features a compact size, three attractive finishes, and an affordable price point of $699 per pair. Powered by 2x25W on-board amplifiers, the A5 combines ADAM's renowned ART (Accelerated Ribbon Technology) folded ribbon tweeter with a 5" woofer constructed of a carbon fiber and Rohacell® sandwich. The front of the A5 sports dual ports for surprising low frequency response down to 55Hz (can be extended to 31Hz with the addition of the new compact Sub7 subwoofer), metal grills for added durability, as well as power and gain controls. The rear panel includes balanced XLR jacks, unbalanced RCA jacks, and a new development by ADAM called Stereolink. This new technology connects speakers with input and output jacks allowing the user the option to control the overall volume of the system from any one speaker's gain control, making the A5 a flexible desktop audio system. The A5 comes in a choice of traditional ADAM matte black ($699 pr) or new glossy "piano" finishes in black or white ($769 pr). Optional wedge-like stands enhance desktop use by allowing the A5 to be positioned at an upward angle. In addition to desktop audio recording applications, the A5 is well suited to mobile and broadcast applications, surround set-ups, and multimedia uses such as gaming and home audio. www.adam-audio.com.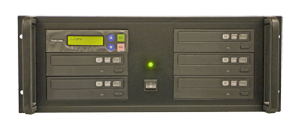 TASCAM announced the DV-W11R and DV-W14R DVD duplicators designed to fit in standard 19" equipment racks. The DV-W11R is a 1x1 DVD duplicator housed in a 2u rackmountable case. The DV-W14R provides 1x4 DVD duplication in a 4u case, and an internal hard drive is installed for higher-speed duplication. When the hard drive is used as a source, all five DVD drives can be used for burning DVDs for faster job completion. Both duplicators are built with the same TEAC optical drives used in other TASCAM duplicators, offering 16x DVD duplication and 48x CD duplication. The DV-W11R has an MSRP or $549 while the DV-W14R has an MSRP of $1,399. www.tascam.com. Also from TASCAM, the new TM-ST1 Mid-Side Stereo Microphone. Users can select between 90 degree and 120 degree stereo pickup patterns to vary the amount of ambience, audience sound or background noise captured in the recording. The Mid-Side pickup pattern captures a wide stereo field while maintaining a solid center image for great mono compatibility. TASCAM's TM-ST1 employs a back-electret condenser capsule for crisp response with a long battery life. The output cable terminates to a 3.5mm stereo jack for use with recorders like TASCAM's DR-1. Also included with the microphone are a tabletop stand, wind screen and mic stand clip. The affordable microphone excels at capturing live music, school ensembles, worship ceremonies, songwriter demos and album sessions. TASCAM's TM-ST1 is now shipping with an MSRP of $99.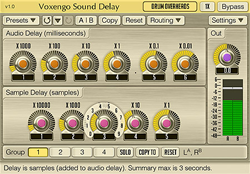 Voxengo has a new AudioUnit and VST audio plug-in for Windows and Mac OS X computers. Voxengo Sound Delay is an auxiliary multi-channel signal delaying plug-in for professional audio applications. In Sound Delay, you may specify delay time in both milliseconds and samples, with a high level of precision. This plug-in provides a basic signal delaying function only, without signal feedback or modulation capabilities. Sound Delay also features internal mid/side encoding and decoding, and allows you to delay mid and side channels independently. Sound Delay features include: up to 3 seconds overall delay; multi-channel processing; channel grouping; preset manager: undo/redo history and more. Sound Delay is free for commercial and non-commercial use, subject to its license agreement. Sound Delay can be downloaded from the Voxengo web site at www.voxengo.com.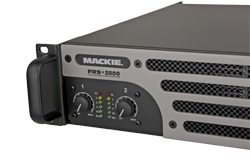 Mackie entered the lightweight power amplifier category with their new FRS Series - the FRS-1300, FRS-1700, and the FRS-2800. FRS Series amplifiers combine Mackie's Fast Recovery™ circuitry with a modern switching power supply for exceptional sound and performance in portable applications. Says Mackie product manager, Greg Young. "Fast Recovery™ means your sound stays clean, even when pushing them to their limits. These amps are perfect for the rig on-the-go…." New high-current switching power supplies make them super-efficient and ultra-lightweight—ideal for portable PA rigs. The FRS Series include a high-resolution, 6 segment LED meter per channel, defeatable clip limiter, subsonic filter, and on-board protection circuitry (short, under-impedance, over-current and thermal). The FRS Series includes 3 models - the FRS-1300, FRS-1700 and FRS-2800 with rated output of 1300W, 1660W and 2800W respectively @ 4 Ohms bridged. The FRS Series have an MSRP of $519.99 for the FRS-1300, $649.99 for the FRS-1700 and $769.99 for the FRS-2800. www.mackie.com.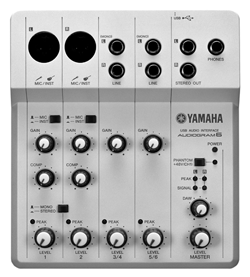 Yamaha announces AUDIOGRAM 6 and AUDIOGRAM 3, two new Computer Recording Systems designed to easily turn a computer into a powerful yet intuitive tool for recording and editing audio from virtually any microphone, instrument or audio device. Packaged as complete computer music solutions, the AUDIOGRAM Series bundle together a hardware interface with audio inputs and outputs, software for recording and producing music, and a USB cable for connection to a computer. Recording music from instruments, microphones, CD players or MP3 players is as easy as installing the included music-production application, CUBASE AI, on your computer and connecting the audio interface using the USB cable provided. "The AUDIOGRAM Series has been carefully designed to make everything from set-up to recording as easy as possible," said Athan Billias, Director of Marketing - Technology Products for Yamaha Corporation of America. The AUDIOGRAM 6 features 2 XLR combo inputs with preamps and one-knob compression for dialing in the desired sound from microphones and instruments. One of these inputs has switchable phantom power for using high-quality condenser microphones. Two stereo inputs, stereo and headphone outputs, and a USB jack complete the unit's connections. The AUDIOGRAM 6 includes separate controls for audio inputs and computer playback for complete control while recording. With a focus on simplicity, the AUDIOGRAM 3 features one phantom powered combo input switchable for microphones or instrument recording, a stereo input, a stereo and headphone output as well as a USB jack for connection to the computer. The AUDIOGRAM Series is available for $139.99 retail (AUDIOGRAM 3) and $199.99 retail (AUDIOGRAM 6). www.yamaha.com.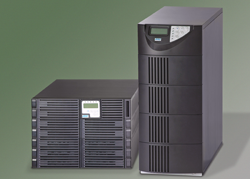 Staco Energy Products Co. introduced the UniStar P series single-phase online Uninterruptible Power Supply (UPS) which features powerful protection over a wide input voltage range at an affordable price. This true double-conversion UPS is available in 6, 8, and 10-kVA models, to protect from outages and irregularities in incoming line voltages from 160 to 280 VA at 45 – 65 Hz. Up to 4 UniStar P modules can be installed in parallel for redundancy or additional capacity. With near unity input power factor and AC to AC efficiency greater than 90% that meets industry standards for energy savings and, less than 5% reflected harmonics, the UniStar P is ideal for many broadcast applications, as well as servers and networks, telecommunications equipment, industrial equipment, medical imaging equipment or any sensitive electronic devices. A constant clean, steady sine wave protects downstream equipment even without going to battery mode. Each UniStar P features high overload handling without transfer to the bypass, and protection against short circuit and over-temperature conditions. The unique Smart Battery Management System continuously monitors battery status and recharges whenever necessary. Hot swappable battery packs allow users to change batteries without shutting down the UPS, further simplifying maintenance. Matching battery cabinets enhance the aesthetics of the UPS while providing easy access and maintenance. Available with capacities of 6 kVA, 8kVA and 10kVA, the UniStar P is easy to install, and monitor. Easy to read front-panel LCD display includes input and output voltage, input and output frequency, load percentage, battery voltage and inner temperature. Alarms are provided for line mode, backup mode, ECO mode, bypass supply, battery low, battery bad/disconnect, overload, transferring with interruption & UPS fault, line failure, battery low, transfer to bypass, and system fault conditions. Each size offers remote monitoring and diagnostic capabilities through an RS232 serial port and optional web, USB, SNMP or Dry Contact Cards. Standard software is compatible with operating systems such as Windows 98, 2000, ME, NT and XP. For maximum installation versatility, it is offered in tower and rack-mount models. www.stacoenergy.com. l
THE MIX
ATTENTION ALL S.A.I.T. GRADS: 40 years ago, the first graduating class of the broadcasting program left the halls of S.A.I.T. and went on to shape the world of broadcasting. And, since us media folks are always looking for a reason for free food and a couple of free drinks, let's have a party. If you graduated from TSR, CTSR, RTBN, NMPD, or FVP, then come on back for a fantastic get together of ALL the past students of this great program. Whether you went to SAIT in 1969, 2008 or anywhere in between… it's time to say hi to your old instructors and fellow classmates. Saturday May 2nd, 2009 (just making sure you have enough time to plan for it) we'll all get together at the "Gateway" bar, right on campus. Tour the facilities, re-connect with some old friends, or even make some new contacts. Email This email address is being protected from spambots. You need JavaScript enabled to view it. for more info.
vCreative introduces four new web based services: vCreative™ Radio, is a web-based paperless production order system designed to help expedite the production process and streamline communication between a station's sales, traffic and production departments. Account Executives submit production orders or schedule traffic changes from any internet-ready computer or internet-capable mobile phone. Traffic and production departments receive all requests simultaneously so orders do not bottleneck and all work and communication is time stamped for accountability. All scripts and final spots are saved in the system so Account Executives can track all ads in progress, listen to and approve ads, track what's on air and expiring soon as well as search archives of all past ads. For the Production Department, features like a customizable "Hot List" and sortable views keep hundreds of requests in a logical, neat order. vCreative™Radio can also pool together corporate voice talents. This paperless order system cuts down on consumables like paper and ink, making it an environmentally-friendly option. vCreative™Voice is a web-based voice casting system offers radio stations fast turnaround on commercial reads. Scripts are posted to a team of professional vCreative™Voice talents, and a dry voice-over may be returned in as little as 30 minutes. vCreative™ Network Voice Pool allows radio station clusters to share intra-corporate voice talents within their entire company. Both small clusters of stations and large corporations can assign and request voices from any of their sister stations across the country, no matter where they are located. The interface keeps all requests organized and out of e-mails and it gives each station vocal depth by offering a large variety of voice options. Outside voice pools can also be integrated into the system to add even more voice selections. vCreative™ Producer is designed to expedite the entire process of ad creation between producers and their established clients. Work for radio station creative departments, clients and agencies become streamlined with this web interface. Many freelancers rely on e-mail for communication with their clients. E-mailing requests to producers can flood inboxes with documents and mp3's, and it lacks organization. With vCreative™Producer, all data and communication is organized. Users can view the entire work flow process through real time status updates. E-mails are only used as notifications and are automated according to status changes. This system also archives all data and tracks usage for billing. www.vcreativeinc.com.