technology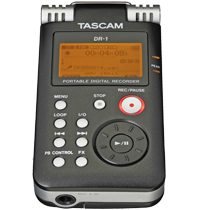 Tascam has announced the DR-1 Portable Digital Recorder, a compact unit that captures hours of music using built-in mics to its 1GB SD card. A pair of microphones is mounted on a variable angle mechanism, which allows the recorder to record from almost anywhere. The unit includes a generous 1GB SD card for hours of recording at MP3 or WAVE file formats. The DR-1 also includes auto gain control and analog limiting for easy setup and a low-frequency cutoff to eliminate handling or wind noise. Features include: 48 or 44.1kHz / 24-bit recording resolution, rechargable Lithium-Ion battery, USB 2.0 connection to computer, built-in Tuner and Vocal Cancel features, and an overdub feature to record narration, singing or instruments over an existing recording. MAP price $299. www.tascam.com.

SM Pro Audio introduced the new HP6E multi-channel headphone amplifier. The HP6E is a high-quality, powerful, flexible, and reliable six (6) channel headphone amplifier housed in a sturdy 1RU 19" standard rack-mountable metal chassis. The HP6E boasts a variety of improvements over the original HP6 including improved frequency response, additional power, digital control of input selection, and a fifth mix input. Built in flash memory has also been added to allow for last state memory recall of the input selection for each channel. The HP6E's flexible design allows any of the four (4) available audio input source signals to be routed to any of the 6 Class A headphone amps provided on the HP6E. An additional fifth stereo signal can also be mixed into each individual headphone channel. This allows for endless application support including studio monitoring, live monitoring, in ear individual mixing, signal distribution, and more. Features include: 10 TRS inputs, 5 stereo channels, auto sensing switch mode power supply, nominal output @ 32Ohm 600mw per channel, frequency response @100mw output 20Hz-20kHz +- 0.3 dB. The HP6E carries a list price of USD $249.00. www.smproaudio.com.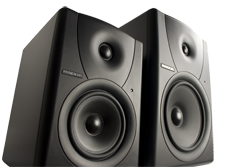 Mackie has introduced the MR Series Mackie Reference Studio Monitors. "Before, consumers looking for affordable studio monitors or hi-fi loudspeakers were given no option but to sacrifice quality for price," says James Woodburn, Mackie recording product manager. "Now, backed with decades of experience in high end studio monitor design, Mackie's MR Series Monitors bring audiophile quality within reach to a wider audience," continued Woodburn. The MR Series features a baffle molded to minimize diffraction and a precision waveguide designed to ensure broad, even dispersion, and a smooth transition between highs and lows for a clear image of your mix and an ultra-wide, even sweet spot. The amplifiers feature a proven Class A/B architecture that delivers an ultra-flat frequency response plus the addition of acoustic controls allow you to adjust high frequency and low frequency settings to compensate for room placement. The MR5 features a 5.25-inch low distortion LF woofer and a 1-inch high-resolution HF tweeter coupled with a high-headroom 55/30W Class A/B bi-amp. The MR8 has an 8.-inch steel frame low distortion LF woofer and a 1-inch high-resolution HF tweeter coupled with a high-headroom 100/50W Class A/B bi-amp. The MR5 has a U.S. MSRP of $199.99. The MR8's MSRP is $329.99. www.mackie.com.
Violet Audio recently introduced the DX16XI and DX16XT,high performance 16 channel 3 way audio signal splitter units. The DX16XI is a pure path split, whilst the DX16XT offers transformer isolated audio splits. Primarily designed for microphone signals, the DX16XI and DX16XT are flexible units suitable for use in live performance and recording environments where split audio feeds are required to be simultaneously distributed to the FOH, monitor console, and or recording engineer. Connectivity is provided with 16 XLR inputs and outputs on the front panel, with a further 32 channel outputs in the form of XLR and 25-pin D-Sub on the rear. Entirely passive, neither the DX16XI nor DX16XT require a power supply. A sturdy 2RU metal chassis construction ensures maximum durability for the road or studio. www.violetaudio.com.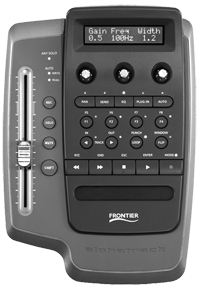 Frontier Design Group announced the availability of a Logic plug-in for AlphaTrack, providing compatibility between Apple's Logic software and AlphaTrack, Frontier's compact moving fader control surface. The plug-in gives Logic and Logic Express users the ability to tweak, edit, and refine tracks using AlphaTrack's intuitive controls. AlphaTrack speeds the process of working with EQ, plug-ins, and instruments by showing the values of the parameters being adjusted directly on the control surface, where its attractive two-line LCD provides immediate feedback. With AlphaTrack and Logic, a user can: Add automation to Logic tracks with AlphaTrack's precise 100mm motorized fader; control pan, EQ, aux sends, and automation modes; easily scroll, shuttle, and jump to markers in a Logic project using AlphaTrack's innovative scroll strip; quickly access all plug-in and software instrument parameters with the touch-sensitive rotary encoders; assign single-button shortcuts to often-used functions for a more efficient workflow; gain instant access to Logic's transport functions via a set of large dedicated buttons. www.frontierdesign.com.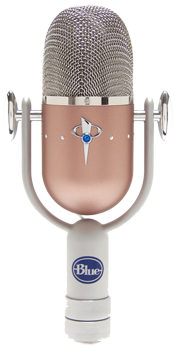 Blue Microphones recently unveiled Joe, a high-quality condenser microphone for the project studio. The newest addition to Blues award-winning microphone line, Joe is a cardioid large diaphragm condenser mic featuring Class A discrete electronics and hand tuned and tested capsules built on the pedigree of Blue mics like the Dragonfly, Kiwi, and Bottle microphone system. Joe is designed to capture a wide variety of sound sources, such as vocals, acoustic instruments, drums and more, with excellent detail and clarity. The microphone cable plugs into the mic clip, leaving the capsule housing "floating" in balance to accommodate a wider range of positioning options. $499 MSRP. www.bluemic.com. l
production libraries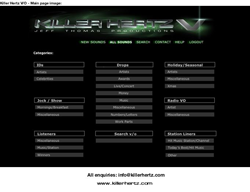 Killer Hertz V, the online radio imaging, fx and sound design service, launches a new category: Killer Hertz V/O, a collection of artist IDs and VOs, movie drops, radio & station liners, work-parts and vocal samples. Over 700 samples online with updates, fully categorized and searchable. Navigate by Theme, i.e. awards, money, music, etc.; Work-parts, i.e. numbers/letters, winners, station liners, etc.; or use the search window and enter a name or keyword to find what you're looking for, i.e. Jay Z, hits, live. www.killerhertz.com.
New releases from FirstCom Music include: CHAP 332 Human Endeavour - "Elegant strings, piano, marimba and acoustic guitar music to accompany our hopes, aspirations and challenges"; GAL079 Lo-Fi Beatbusters 2; GM-106 Cool Tech News & Promos; GM-107 STI: Scoring Tool Investigation - "Primetime episodic drama, reality stories, finding evidence and following procedures, lightly produced for easy scoring"; HM-082Q Modern Rock Tracks – "Modern rock songs of love, hate, angst, fear and moral decay"; OM111Q Juke Joint Blues; OM114Q DJ Skillz and more. Audition tracks at www.firstcom.com.
the mix
Sharon Baer has joined Megatrax Production Music in Los Angeles as Division Manager of Radio for the US and Canada. Baer left her position as Senior Regional Manager of Radio at FirstCom Music after 11 years with the Universal owned company. Sharon's shift to the independent music sector is one she was glad to make. "With huge corporations taking over most of the syndicated production companies around the globe, it is exciting, refreshing and liberating to now be a part of the largest privately owned syndicated production companies in the industry, Megatrax!" Megatrax offers seven libraries with compositions in every style. Sharon can be reached at 818.255.7149 or This email address is being protected from spambots. You need JavaScript enabled to view it..
Bryan Cox is chosen to host the nationally syndicated radio show "Old School with Bryan Cox," the latest addition to the lineup at Borderline Radio Network. Cox has 25 years of media under his belt, from imaging radio spots to hosting his first radio show, where he called upon Charlie Daniels to be his first interview. Bryan, a successful comedian who has opened for the likes of Tom Jones and is heard online each week on the feature "Road Stories of the Real Highway Comics" by an audience of 3 million people, prefers working with clients from his home recording studio, one on one. www.borderlinenetwork.com.
ComicWonder.com recently announced that Chris "Captainhilariousness" Cashman of Seattle tallied the most laughs in the first ever audio-based, online joke-telling contest. Launched in December 2007, ComicWonder.com is an innovative Web site where people just type in their phone number and the site automatically calls them so they can record their joke—similar to leaving a voice mail message. Once the joke is on the site, the world listens to it, votes on it, shares it with others and ultimately decides who is the best joke teller. "Cashman's joke-fu has proven to the world that a joke in the hands of a master can actually be a beautiful thing," says Jeff Fitzsimmons, Comic Wonder Co-Founder. "As the Comic Wonder of the Year, he's proven our point that a joke truly isn't a joke until it's told. As a result, we now hope that there is one less text joke in your inbox today." Along with the announcement, Cashman was given a $2,500 cash prize and a T-shirt with the phrase, "I'm saving the joke. Ask me how." emblazoned in real gold, and that, according to Cashman, was something he had to have. "Even though fame and fortune is looming," says Cashman, "it was really all about that T-shirt."
Debut Broadcasting Corporation Inc., a media and entertainment company, announced that it has named one of its producers, Mike Michonski, as the Director of Creative Services. In his new position, Michonski will oversee the growing line-up of production resources (including imaging, commercial production and production libraries) offered through Debut's radio syndication arm, Impact Radio Networks™ (IRN). Michonski began his career in Lafayette, Ind. with Rockford, Ill.-based Radio Works as a weekend on-air personality, and has assumed various positions within the radio industry throughout his career. In 2003, Michonski accepted assistant program director and on-air personality positions with Clear Channel's 98.1 Kiss FM (WKXJ) in Chattanooga, Tenn. Soon thereafter, he was promoted to assistant production director to oversee all of the Clear Channel stations in the Chattanooga area, while still fulfilling the duties of his other positions. Michonski was hired by Debut Broadcasting™ in August 2007 as a producer/engineer, but comes into his new position from his role as the digital fulfillment manager. Through its entertainment arm, Impact Radio Networks™, Debut sells pre-recorded radio programs and related services to more than 1,400 AM and FM stations in the U.S. and Canada, and reaches more than 45 million listeners per week. The company also provides marketing, consulting and media buying for its radio broadcast stations. Through its media division, Debut identifies and acquires (or manages) underperforming and undervalued media properties in the US. www.debutbroad casting.com.