TECHNOLOGY

► Metric Halo announced the availability of the new "future proof" 24-bit/96kHz Mobile I/O 2882 Expanded multi-channel processor and FireWire interface for recording and mixing in the studio or on the road. The portable 18-input/20-output 2882 Expanded incorporates the new 2d Card, which provides a nearly six-fold increase in the DSP power available for processing, routing and mixing in Metric Halo's FireWire audio interfaces. The 2882 Expanded features eight Mic/Line/Instrument analog inputs, eight mic preamps with individually switchable phantom power, eight analog outputs on balanced TRS connectors, 24-bit/96kHz converters on all channels, eight channels of ADAT I/O (switchable to TOSLINK), and AES-S/PDIF Digital I/O with selectable SRC. It also includes a headphone amp with front panel mute/dim, front panel metering, and remote level control on all channels. Newly added ADAT implementation includes optical S/PDIF support (independently switchable on both input and output) with asynchronous SRC for the optical S/PDIF input. Version 5 of the MIO Driver and MIO Console software, included with the 2882 Expanded, provides direct access to the power of Mobile I/O and the 2d Processing Architecture. It features a brand-new customizable mixer, as well as unified control of all the mixing and processing resources of all connected Mobile I/O Expanded hardware. The 2882 Expanded also includes a bundle of basic production plug-ins, including MIOStrip (a full featured channel strip with Gate, Compressor and six-band EQ), HaloVerb, Mid-Side Decoder, Sample Delay and Dither. The v.5 mixer also provides inserts that greatly simplify and accelerate the process of adding exceptional +DSP plug-ins to the signal path. This one-rack space audio interface, weighing only five pounds and about the size of a laptop, has the ability to run entirely from any DC power source (9V-30V), making it truly and completely mobile. MSRP of the 2882 Expanded is $1,895. A +DSP bundle software license, which adds literally hundreds of plug-ins and processors to the zero-latency 2d Processing environment, is $699. www.mhlabs.com.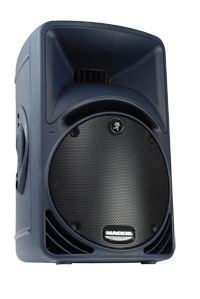 ► Ten years after launching the SRM450 and creating the Active loudspeaker market, Mackie announced the next generation of its industry-standard SRM Series Active loudspeakers, the SRM450v2 and SRM350v2. In addition to the renowned active electronics and rugged polypropylene cabinet featured in the originals, the new models feature high-tech Class-D, fast-recovery amplification, and ultra-efficient switching power supplies along with a lightweight neodymium woofer and an all-new titanium dome compression driver. The SRM450v2 is 11 pounds lighter than its predecessor and now cast in a distinctive midnight blue enclosure. "The change in sound from the originals is noticeable across the entire frequency range - the low end is punchier, the highs are more brilliant and the clarity of the mids are greatly improved thanks to the tuning expertise from EAW's engineers," said John Boudreau, Mackie Brand Group VP. The SRM450v2 features a built-in 300W class-D, Fast Recovery LF amp / 100W HF amp and weighs 40 lbs. The SRM350v2 features a built-in 165W class-D, Fast Recovery LF amp / 30W HF amp and weighs 26 lbs. The SRMv2s are now available world-wide. The SRM350v2 will have a U.S. MSRP of $699.99. The SRM450v2 will have a U.S. MSRP of $899.99. www.mackie.com.
► An updated version 1.5 of Voxengo Overtone GEQ has been released and is available for download. Overtone GEQ is a free 7-band equalizer plug-in in AudioUnit and VST plug-in formats for Windows and Mac OS X computers. Overtone GEQ was designed to be a quick EQ shape adjustment tool for mixes and sub-mixes. During its operation, Overtone GEQ applies harmonic enhancement processing that delivers a special touch and shine to the sound. Overtone GEQ features: 12 dB gain range per band, 2 graphic equalizer views, multi-channel processing, internal channel routing, channel grouping, mid/side processing and more. www.voxengo.com.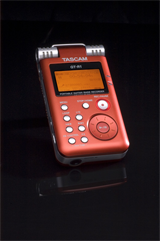 ► TASCAM has launched the GT-R1, a new portable recorder for guitar and bass players. Based on TASCAM's DR-1 recorder, the GT-R1 adds features from their guitar trainers for the ultimate songwriters sketchpad. A pair of built-in condenser microphones captures rehearsals and live shows, or musicians can plug directly into the instrument input to record with amp simulation and effects. The GT-R1 includes a rhythm player for instant inspiration, and a 1GB SD Card and rechargeable battery are included to get started right away. Features include: MP3 or WAV file recording, up to 48kHz/24-bit, 1/4" Instrument input for Guitar or Bass, amp simulation and multi-effects, over 80 rhythm tracks in a variety of styles, overdub function allows users to record over an existing track, powered microphone input, low cut filter and analog limiter on input. www.tascam.com.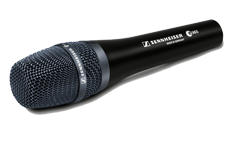 ► Sennheiser introduced the evolution e 965 microphone, its first large-diaphragm true condenser microphone. "The e 965 is an outstanding vocal mic for enhancing the evolution 900 range," explains Ben Escobedo, associate product manager for the music industry at Sennheiser Electronic Corporation. "A completely new capsule architecture was designed for the e 965. It produces a very detailed, yet warm, full sound, and offers the mic optimal protection from humidity, so that it's rock-solid even during very heavy stage use." Features include a wide frequency range, extensive dynamics, and extremely low distortion. The e 965 also features a dual-diaphragm transducer, which allows users to switch between cardioid and super-cardioid pick-up patterns. A low-cut filter effectively eliminates impact noise and reduces the low-frequency overemphasis during close miking. Handling noise is efficiently reduced by the shock-mount design, while an integrated pop shield and windshield make the microphone very user-friendly. MSRP is $878.00. www.sennheiserusa.com.
► Miss a song title or the phone number of a business that just ran a spot on the radio, and you no longer have to wait to hear it again. Simply text the station's call letters to SnipIT (764748) and automatically receive the information on your mobile phone. The new text message (SMS) service offers radio stations a new way to generate revenue by making every spot interactive. System developer Hyran Media Service recently ran a two-phase test of SnipIT's patent-pending technology with a Seattle-area radio station. Spots running eight or nine times daily, Wednesday through Sunday for three consecutive weeks encouraged listeners to send a text to SnipIT for more information about the songs they heard on the radio. During the test's first phase, SnipIT sent listeners lists of the most recent songs played. Selecting the letter corresponding to any one of the songs generated a second text from SnipIT that included the link to iTunes where they could purchase the song. SnipIT added the names of advertisers during the second phase, and selecting any one of them generates a message with more information about the advertiser (e.g., phone number, Web site, etc.). The test abstract is available for download at www.HyranMedia.com. SnipIT can also make radio interactive by sending listeners digital coupons, contests, promotions and more. Hear a spot for your favorite fast food chain and the system also has the potential to refer users to nearby locations using the GPS technology now standard in all mobile phones. Users may also register an e-mail address with SnipIT and receive all of its messages in html. SnipIT is available to all 233 million subscribers of every wireless carrier in the United States. Advertisers also benefit from the superior metrics SnipIt provides for radio campaigns. Mobile phone numbers track user interactions and cannot be deleted like Web site cookies. Most users also retain their mobile numbers when changing carriers. SnipIT offers a unique opportunity to profile users by tying together texting, mobile Web browsing and PC Web browsing habits. User identities remain private. Radio stations may benefit from data SnipIT provides about listener preferences. Rankings of inquiries about songs suggest their popularity among listeners. Advertisers may similarly benefit by examining the overall response rate to ads as well as how response rates vary during different times of the day. www.HyranMedia.com.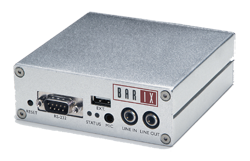 ► Barix AG, a pioneer in IP-based audio, intercom, control, and monitoring, has developed new solid-state player functionality for its range of Audio over IP devices using Barix's open source BCL (Barix Coding Language) software. Barix customers in the radio broadcast and professional audio industries can now use Barix Exstreamer audio decoders and Annuncicom intercom/VoIP devices in the studio or at a receive point as a cost-effective solution for reliable, high-quality audio playback. Said Johannes G. Rietschel, CEO and Founder of Barix AG, "Our new solid-state player applications provide a very cost-effective and no moving-parts, and a low-power alternative to traditional solid state players on the market that includes the capability to update audio content over a network connection. The source code of the applications is delivered with the firmware and allows engineers and consultants to customize their Barix Audio over IP solutions to meet specific technical requirements." www.barix.com.
► StreamGuys, Inc., a streaming media and content delivery provider based in northern California, announces RevenueStream, a new subscription-based service available to broadcasters and service providers who wish to offer premium audio and video content over the internet. RevenueStream allows broadcasters and service providers to monetize programming over the web in lieu of an ad-supported model, delivering first-rate content at premium quality. For the RevenueStream service, StreamGuys currently supports Windows Media audio/video and Icecast mp3 audio, with QuickTime and Wowza-enabled Flash audio and video support in the works. StreamGuys can enable subscription controls for existing streams or launch a completely new service, using its existing aggregated server infrastructure to provide a robust streaming platform for global internet delivery. Designed as a professional service, RevenueStream delivers a higher-quality and more secure stream than what is possible with amateur streaming services and websites. The vast streaming capacity available through the StreamGuys server infrastructure also ensures that clients are provided additional space during large bursts of traffic or popular live events. "RevenueStream is ideal for broadcasters and service providers migrating to the professional streaming world from more amateur platforms who are seeking to generate revenue streams outside of the traditional advertising model," said Nicholas Harris, Senior Technician for StreamGuys, Inc. "The secure nature of the RevenueStream service, with its password protection and direct connection to the StreamGuys server architecture, also ensures that subscription content is blocked from those who have not purchased the service." The subscription model is especially valuable for broadcasters and service providers that offer interesting or unique programming targeted to a new or existing audience. Current StreamGuys clients can easily convert existing streams into subscription models using the RevenueStream service, or launch new subscription-based streams alongside existing free content. StreamGuys can also configure both low- and high-bandwidth streams in the event that certain subscribers do not have access to a broadband connection. Broadcasters and service providers can manage the RevenueStream service manually through a web interface to the StreamGuys infrastructure that provides billing, password and other information; or through an automated system that interfaces with Paypal, allowing subscribers to sign up for the service with automatic billing. www.streamguys.com. ►
PRODUCTION LIBRARIES
► TM Studios is the exclusive sales representative of Bruce Upchurch's ZONE Radio Imaging jingle/imaging company effective today. All syndication sales of ZONE Radio Imaging products will be handled by the TM Studios sales staff in Los Angeles, Dallas, Nashville and Paris. And, for the first time, ZONE Radio Imaging products will be available for barter as well as cash. ZONE Radio Imaging, based in Scottsdale, Arizona creates jingles & imaging for clients as diverse as KS-95 (KSTP), WRAL, KYKY, KEZK, KSFI, The Peak and ABC Radio News. ZONE's founder and creative guru, Bruce Upchurch has created jingle campaigns for KIIS, WPLJ, Z-100 and hundreds of other indelible radio brands around the world. His vocal imaging for radio is considered some of the best and most memorable in the business. Bruce has influenced a generation of radio listeners (and jingle writers) with his unique brand of aural excitement. Information and demos for ZONE packages can be found at either www.TMStudios.com or www.ZONERadioImaging.com. ZONE will continue to work with custom clients on a direct basis, although ZONE's custom work is now also available for barter. ►
THE MIX
► To help advertisers, agencies and broadcasters survive and even prosper in a tough economy, Jeffrey Hedquist has launched AdvertisingSuccessStories.com, a web site where you can freely borrow proven ideas that get results for clients in a recession, contributed by colleagues around the globe. The collaborative site has commercials, campaigns, ads, promotions and sales tactics. There is no charge for the resource, and the hope is that regular submissions will make the site a valuable resource for improving business everywhere. Hedquist says it's an experiment and is asking for input on ways to improve the site.