TECHNOLOGY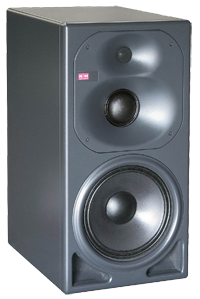 Klein + Hummel introduced the new O 410 midfield monitors. Designed specifically as a midfield monitor for use in music, broadcast, and post-production studios for tracking, mixing, and mastering, the O 410 is a tri-amplified three-way loudspeaker, featuring magnetically shielded drivers: ten-inch bass, three-inch soft dome midrange and one-inch tweeter. The drivers are powered respectively by 340, 160, and 180-Watt hybrid class A-B amplifiers. The high-capacity vented enclosure cleanly extends bass response down to 34Hz, even at high output levels. Structural resonances are avoided in the cabinet through the use of LRIM(tm) (Low Resonance Integral Molding(tm)) material. A waveguide featuring Mathematically Modeled Dispersion(tm) (MMD(tm)) reduces negative effects associated with the loudspeaker-room interaction. The most important range of the frequency spectrum is reproduced by a dedicated midrange driver, resulting in extremely low harmonic and intermodulation distortion and outstandingly clean audio reproduction. Attention to detail in design results in very low self-generated noise. The modern design allows rotation of the waveguide to permit usage in either vertical or horizontal formats. The cabinet accommodates an optional grille and an extensive set of accessories for a multitude of installation and mounting possibilities. Various input options allow the O 410 to be used with any source equipment. An electronically-balanced analog input is fitted as standard. A transformer-balanced input and a 192kHz, 24-bit digital input are both available as options. The digital input can accept AES3, AES3id, and S/PDIF signals. XLR and BNC digital inputs and a BNC digital output provide flexible and robust interconnectivity. Flexible acoustical controls adapt the monitor's response to suit its environment: bass, low-mid and treble controls for specific and common acoustical issues and a parametric equalizer for additional low frequency corrections. The electronics may be located remotely when the cabinet is flush-mounted and the O 410 can be powered on with two modes of operation (0 V and 12 V trigger). A dimmable display for protection, signal type and digital signal status is integrated on the front panel. www.klein-hummel.com.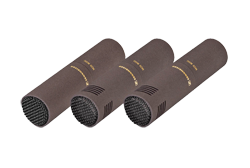 Sennheiser is launching the MKH 8000 series of microphones, which combine the company's exclusive RF condenser technology with a compact, modular form factor and a range of application-specific accessories for broadcast, recording and performance use. The MKH 8000 series is available in three models - offering omni-directional, cardioid or super-cardioid pick-up patterns - that set new standards for top-quality speech, vocal and instrumental reproduction with an extremely wide frequency response. The omni-directional MKH 8020, cardioid MKH 8040 and super-cardioid MKH 8050 each consist of two modules - the microphone head and a separate XLR module. For applications such as television, the XLR module may be removed and the mic head directly attached to one of Sennheiser's special remote capsule accessories to create a super-compact microphone assembly. The black Nextel(r) coating of the MKH 8000 series eliminates troublesome reflections and further optimizes the mics for TV use. The frequency response of the new MKH 8000 microphones ranges from 10Hz to 60kHz (MKH 8020) and 30Hz to 50kHz (MKH 8040 and MKH 8050), allowing them to record even the finest details for high sampling rate digital audio formats. The pick-up patterns have been designed for accuracy across the entire frequency response, allowing instrument groups to be clearly separated, for example. The maximum SPL is 138dB for the MKH 8020 and 142dB for the MKH 8040 and MKH 8050. The complete range of accessories includes floor stands, extension tubes, shock mounts, remote cables, table stands, ceiling mounts, clamps and various fixtures. In all accessories, the signal-transmitting components are systematically designed with two channels to allow stereo signals or dual mono signals to be processed. The 8000 Series all have a unique symmetrical push-pull transducer. Besides the normal back plate, this capsule is fitted with an additional front plate, with the diaphragm positioned between these acoustically transparent plates. The result of this balanced design is an unchanging acoustic impedance, extremely low distortion figures, a higher capsule output with much lower noise, and thus a very clear signal. The MKH 8000 series is available in three sets: MKH 8020 Set - omnidirectional pattern, MKH 8040 Set - cardioid pattern, and MKH 8050 Set - supercardioid pattern. Each set ships with microphone, windscreen, clip, and aluminum transport case. Each set retails for $1299. www.sennheiserusa.com.
American ribbon microphone manufacturer Crowley and Tripp introduced a new type of ribbon microphone that uses their proprietary Roswellite advanced material as the ribbon element. Roswellite advanced material was developed at Soundwave Research Laboratories, Inc. in Ashland, Massachusetts. The new nanotechnology-based materials exhibit properties that have previously not been possible with conventional composites and alloys. Roswellite is a unique acoustic nanomaterial that has numerous applications in medical ultrasound and sound recording equipment, such as ribbon microphones, which the company currently manufactures in its U.S. facility. Crowley and Tripp Microphones, along with Soundwave Research Laboratories, Inc., will be commercializing certain products containing the technology beginning in 2007 and will be offering licenses to the technology, supply agreements, and other rights to qualified manufacturers. www.soundwaveresearch .com.
Radio stations across the U.S. and in Mexico are broadcasting video and audio online, using WhiteBlox's Internet television technology. Early adopters of WhiteBlox's Make Your Audio Visual platform have seen a sharp rise in online traffic. Using WhiteBlox's interactive media player on their Web site, Orlando's Real Radio 104.1-FM, which broadcasts from 6 a.m. to 8 p.m. EDT, is averaging 4.7 million viewer minutes per month. The idea behind WhiteBlox's innovative solutions is that stations leverage content they are already broadcasting over traditional radio frequencies by adding a video component and making the programming available on the Internet. Doing this further monetizes the existing content inventory by giving stations a new way to generate non-traditional revenue. Stations bring their on-air advertisers on board as online sponsors via the interactive advertising features within the WhiteBlox media player. Houston's The Buzz 94.5-FM brought Bud Light on as the title sponsor of Rod Ryan's Morning Show, and dubbed the online broadcast The Bud Light Peep Show. The Morning Freak Show with Mikey and Big Bob on Pittsburgh's KISS 96.1-FM has become the McDonald's Freak Show online. Likewise, Austin's KISS 96.7-FM online broadcast has become the Time Warner KissCam. WhiteBlox's solution plays right into the recent Nielsen announcement that viewer minutes have been added to the ratings system for Web sites. The interactive features like polls, chats, surveys, and the ability to see what's going on in the studio all keep viewers engaged longer and drive up viewer minutes. Stations have gotten creative with the video, broadcasting popular shows, celebrity guest appearances, in-studio performances, favorite DJs, on-location events and special reality-television-like programming. Events like Tiffany's Slumber Party on 104.1-FM, which garnered more than 70,000 stream hits in a 24-hour period, and The Doc and Johnny Morning Show's Real Spring Break on XL 106.7-FM, which racked up 270,000 viewer minutes in a 4-day period, are exploring the power of this new medium to drive ratings. The system also allows stations to create original programming specifically for the Internet. Both original programming and the content already being aired can be archived for on-demand viewing, which extends the life of the library and provides an additional space around which to build advertising. www.whiteblox.com/radio.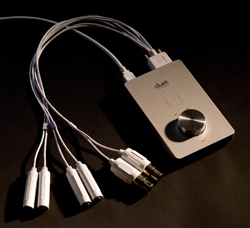 Apogee Electronics introduces Duet, a FireWire audio interface designed specifically for Apple's Mac computers. Duet is the first two-channel audio interface with control functions built directly into Apple's Logic Pro, Soundtrack Pro and GarageBand software, creating a powerful yet simple personal audio system for professional production on a Mac. Duet's inputs and outputs feature two channels of Apogee's A/D and D/A conversion. The inputs offer two premium, digitally controlled microphone preamps with 75 dB of gain and two unbalanced high impedance instrument inputs. The two channels of reference quality output are available via the 1/4" powered speaker connections and studio quality headphone jack. Duet is designed for ease of use and portability. Its sleek, ultra-compact chassis gives it a small footprint in the workspace and its bus-powered FireWire connection makes it possible to create professional recordings anywhere. Duet's multi-function controller knob can select the input or output source and set gain or level. Duet is also capable of controlling MIDI devices with a simple setting in Apogee's Maestro software application. Features & Specifications: Two channels of professional-quality 24-bit/96kHz audio input and output; Two balanced XLR inputs, with selectable 48V phantom power on each input; Two unbalanced high impedance instrument inputs; One high-level stereo headphone output; Two unbalanced -10 dBV line outputs for powered speakers; Multi-function controller knob for volume and input gain control and assignable MIDI control; Multi-segment LED meters to display input or output levels; FireWire 400, compatible with Mac OS X Core Audio. MSRP: $495.00 US. www.apogeedigital.com.
PRODUCTION LIBRARIES
D'Agostin Productions is pleased to announce the debut of Sound Freqz production library. The library is 99 tracks of radio imaging work parts, including sounders, breakers, loops and anarchy Ids. This first volume was created for use on a variety of radio formats. Sound Freqz is edgy and up to date with today's imaging trends. Priced at only $125. Listen to the library demo at www.soundfreqz.com and download FREE imaging tracks.
THE MIX
RAP readers are invited to join Jeffrey Hedquist (RadioHed) for a Free 60-Minute Teleseminar Interview with legendary broadcast sales trainer and consultant Jim Taszarek. Thursday, November 15, 2007 at 5:30 pm Pacific/8:30 pm Eastern. In this FREE one hour teleseminar, you'll hear the irreverent outspoken Taz give his uncompromising views on commercials – the good, the bad and the ugly. "Taz has done it all – seminars, articles, consulting, as well as managing radio and TV stations, even managing the sales staffs of 16 newspapers. He has strong opinions based on years of experience making money for broadcasters and their clients. No punches will be pulled. Taz and I may not always agree, but I always learn something of great value every time I speak with him," says Jeffrey. To register for this limited participant teleseminar, go to http://Teleseminar.Hedquist.com.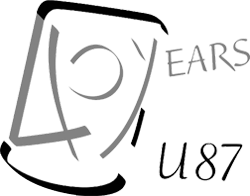 What do you associate with the number 87? Almost every audio engineer or musician immediately thinks of the Neumann U 87, probably the world's best-known studio microphone, which is celebrating its 40th anniversary this year. Those who send a short video message (maximum thirty seconds) concerning their associations with the U 87 to This email address is being protected from spambots. You need JavaScript enabled to view it. via e-mail or MMS by December 31, 2007, have the chance to win a special prize that is not for sale on the market. A drawing will be held among the 87 most interesting entries, for the prize of a trip to Neumann Berlin, providing an in-depth insight into the secrets of development and manufacture of the U 87 and all of the other legendary Neumann microphones. Of course there will also be ample time for sightseeing in the constantly changing metropolis. Additional information and conditions for participation can be found at www.neumann.com. The U 87 Anniversary Set will be available soon. As Wolfgang Fraissinet, president of marketing and sales at Neumann Berlin, explains, "This special edition set is something which collectors, fans, and all those who have ever dreamed of owning a U 87 can look forward to. It is an exclusive version with unique product features." www.neumannusa.com.
ESPN's Dan Patrick, along with longtime broadcasting industry entrepreneur Jimmy de Castro, announced that Patrick will join new broadcasting venture, "The Content Factory." Founded by de Castro, The Content Factory is an endeavor designed to revolutionize and customize how broadcasting content will be distributed for both traditional and the multitude of new media channels that exist today. Along with other broadcast industry innovators, The Content Factory will assemble and develop an "All Star" line-up of personalities to deliver, through state-of-the-art technologies and media channels, the most consumer relevant and enjoyable content available. In making the announcement de Castro and Patrick indicated that additional news and updates will be released soon.