TECHNOLOGY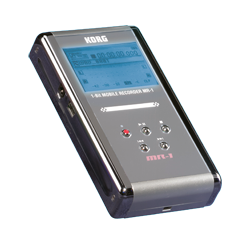 Korg introduced the world's first 1-bit professional mobile recorders. The MR Professional Mobile Recorders are an ideal, affordable solution for source recording, podcasting, broadcast journalism including ENG/EFP, as well as archiving final mixes and master recordings. The hand-held MR-1 is capable of 1-bit / 2.8 MHz recording and playback, while the tabletop MR-1000 delivers up to 1-bit / 5.6 MHz, doubling industry DSD recording quality standards.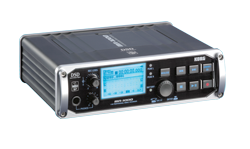 Both MR recorders support multiple recording formats including DSDIFF, DSF and WSD 1-bit formats, as well as multi-bit PCM format (BWF) with resolutions up to 24-bit / 192 kHz. 1-bit recording is the latest advancement in audio and has been adopted for use in the SACD recording format. Its fidelity, low noise floor, extended dynamic range, lifelike imaging and analog quality depth have been praised by top experts. Another benefit of the 1-bit format is that it can be converted to any other bit depth and sample rate without error or degradation. Korg's included AudioGate™ software (Mac® and PC) can convert 1-bit recordings into WAV and AIFF formats at various bit-rates (and vice versa) and offers real-time conversion/playback of 1-bit files. The software can also perform essential functions like removing DC offset, gain control, and fade in/out. Users can easily transfer data from the internal hard drive (MR-1 – 20 GB; MR-1000 – 40 GB) to a computer via high speed USB 2.0 connection. The MR-1000 features studio quality, ultra low-impedance mic preamps with balanced XLR / 1/4" inputs with phantom power and built-in limiting, plus XLR and RCA outputs. The MR-1 offers dual mini balanced inputs, an included stereo electret condenser mic and a stereo headphone jack. The portable MR-1 and MR-1000 both feature lightweight yet rugged metal housings with sleek, streamlined designs. A large backlit LCD offers optimum visibility under all lighting conditions. For added durability and location recording, each MR-recorder comes in a stylish and functional soft case that allows the recorder to be used without having to remove it from the case. Both recorders can be powered by batteries (MR-1 – rechargeable lithium polymer; MR-1000 – AA) or via the included AC adaptor. US MSRPs for the Korg MR-1 and MR-1000 are $899 and $1499. www.korg.com.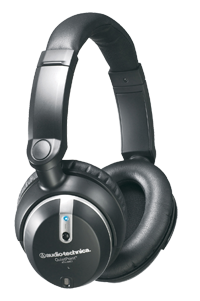 Audio-Technica announced the availability of its ATH-ANC7 QuietPoint™ active noise-canceling headphones. Engineered to deliver superior quality audio in a compact, lightweight design, the ATH-ANC7 QuietPoint headphones employ a miniature microphone in each earpiece that monitors ambient noise (such as airplane cabin or traffic noise) and creates a sound-canceling signal that successfully reduces distracting background noise by up to 85%. Ideal for use with MP3, CD, DVD and in-flight entertainment systems, the ATH-ANC7 QuietPoint headphones provide maximum comfort in a closed-back, streamlined design; they feature propriety large-aperture 40mm drivers with neodymium magnet systems for deeper bass and extended treble, and have a wide frequency response of 10-25,000 Hz. The noise-canceling electronics for the ATH-ANC7 QuietPoint headphones are fully integrated in each earpiece, with no need for external modules. The headphones fold flat for easy portability, are powered by a single AAA alkaline battery and can operate in passive mode without the battery. The ATH-ANC7 QuietPoint headphones come complete with a 5.2' (1.6 m) detachable cable (remove for noise-canceling mode without audio) terminated with 1/8" (3.5 mm) mini plugs; a 1/4" (6.3 mm) stereo adapter; a specialized airline adapter for connecting to in-flight entertainment systems; and a carrying case with attached accessory pouch. U.S. MSRP $219.95. www.audio-technica.com.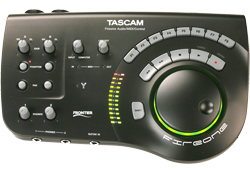 TASCAM has launched the FireOne – a FireWire Audio Interface with shortcut keys and a weighted jog wheel to inspire creative interaction with the artist's music. The most unique feature of the unit is its large, weighted, backlit jog wheel, which allows musicians to zip through their song while the backlight provides useful feedback such as a visual metronome. But aside from the shortcut controls, the FireOne is the first stereo audio interface in its class that records two mic ins and two outs over FireWire at 192kHz/24-bit audio resolution. The FireOne's mic inputs feature phantom power, pad and line switches. A guitar input switch for recording direct and MIDI input and output are also provided. It's the first FireWire interface in its class to record and play at up to 192kHz/24-bit resolution. In addition to its weighted & backlit jog wheel, the FireOne has transport keys and nine programmable shortcut keys to control functions in audio applications like Logic Pro, SONAR, Cubase, Nuendo, Digital Performer, Live and Pro Tools. The edit control interface makes it a perfect choice for video editing applications like Final Cut Pro and Premiere. US MSRP $399. www.tascam.com.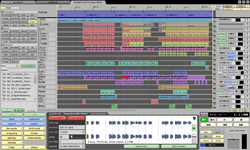 Mackie announced the release of Tracktion 3, the next generation of its Tracktion digital audio and MIDI production software. Tracktion 3 introduces more than 150 new features and improvements, while retaining the hallmark clutter-free, single-screen user interface that made previous versions of Tracktion a success. Tracktion 3 also continues to offer cross-platform compatibility, as well as full support for industry-standard plug-in, virtual instrument and video formats. Among the enhancements in Tracktion 3 are the addition of time stretching and pitch shifting, two powerful capabilities that round out the functionality of the audio production suite and bring it in line with more expensive pro recording software. Tracktion 3 also boasts a new user-friendly loop browser for quick and inspired music creation. Unlike many competing products, the Tracktion 3 loop browser supports three major loop formats — Apple, ACID and REX — on both Mac and PC for flexible music-making on any platform. Tracktion 3 is available in two boxed bundles: the Tracktion 3 Ultimate Bundle and the Tracktion 3 Project Bundle. Both bundles feature the identical core Tracktion 3 application, plus training videos. They also include premium sounds, plug-ins and loops from top virtual instrument, effects plug-in and sound library companies. U.S. manufacturer's suggested retail price of $319.99 and $129.99 for the Ultimate Bundle and Project Bundle respectively. Owners of qualified versions of Tracktion can upgrade to the Ultimate Bundle for $259.99 via the Tracktion 3 Ultimate Bundle Upgrade. www.mackie.com.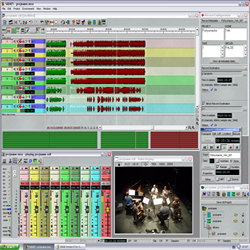 SADiE announced the availability of software version V5.6 for the SADiE Series 5 range of digital audio workstations. V5.6 introduces many new editing & recording features. These expanded capabilities will not only further enhance usage of flagship platforms such as the LRX2 and PCM-H64, but also offer benefits across the entire SADiE Series 5 range of workstations. The new MTR (Multi-track Recorder) user interface has been honed for use in live situations with the LRX2 Location Audio Workstation and PCM-H64 multi-track platforms specifically in mind. This software has been designed to require no training with such a fast learning curve that it enables the rapid setup and operation of the systems in the style of traditional multi-track recorders. Projects created in MTR may still be opened in the full version of SADiE V5.6 software later for editing and post production operations or transported to other platforms. The new LRX2 MADI card is now fully supported offering up to 64 tracks of simultaneous recording. CD's can now be burned to any CD Writer, including laptop CD or DVD writers - invaluable for creating rapid reference playback disks on location recording. Following valuable feedback from field-recording customers in the Film and TV location recording community, V5.6 also allows the direct recording of Polyphonic WAV files. Additionally, the new Delayed Mirror function allows recordings on the primary drive to be mirrored to slow media such as DVD-RAM in the background to provide simultaneous back-up of easily transportable files. Full iXML support is included in V5.6; designed to provide an unambiguous communication of file and project based metadata between various stages of workflow in production, telecine, picture editorial and audio post production. Another notable new feature is support for playback of QuickTime Movies in the playlist in addition to the DV-AVI format currently supported. www.sadie.com.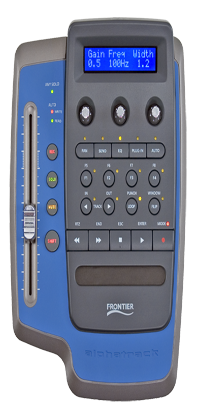 Frontier Design Group is now shipping the new AlphaTrack™ controller, and is pleased to announce support for two more applications — Apple's Final Cut Pro and Soundtrack Pro — in addition to the DAWs already supported (ProTools, SONAR, Reason, Cubase SX/SL, Digital Performer, and Nuendo). AlphaTrack combines a set of intuitive tactile controls in an attractive package that fits easily on your desktop for DAW mixing and editing. Now you can ride a high-resolution fader, turn real knobs, and scroll/shuttle with the touch of your fingers. Its compact design and USB connection make AlphaTrack an excellent portable companion for laptops too. AlphaTrack has a 100mm, touch-sensitive, motorized fader which provides true 10-bit resolution for smooth, precise level control. AlphaTrack includes three touch-sensitive encoders, a feature previously found only on high-end gear costing thousands of dollars. Use the encoders to adjust track and plug-in parameters while the 32-character backlit display shows detailed feedback in response to your touch. The encoders provide quick control of pans, sends, EQ, plug-ins, and automation. AlphaTrack also has standard transport controls, a set of user-definable buttons and a footswitch jack for easy punch-in recording. One of AlphaTrack's unique innovations is its touch-sensitive jog and shuttle strip. Slide one finger across its surface to scroll through your project's timeline. Place two fingers on the strip to control the timeline's shuttle speed. Zoom through your project with two fingers, then just lift one finger and slide to quickly set the precise position you want. To navigate through your project's markers, simply tap your finger on the end of the strip. AlphaTrack (MSRP $249) works on Windows XP and Mac OS X (including Intel Macs), and connects to the computer using just a single USB cable. For more details, including an online demo video and the latest information about supported applications, go to www.frontierdesign.com/AlphaTrack.
PRODUCTION LIBRARIES
FirstCom Music announced their association with Dallas based EhkoMusic in the production of the new Velocitysm Library. "With a strong reputation for its contemporary cutting-edge sound, the Velocity Library will follow a new approach that has been carefully crafted by the crew at EhkoMusic to maintain the successful essence of the library, while expanding the sound and bring it in line with what the taste-makers, DJs and bloggers recognize as the next trends in modern music approaches."Audition Velocity at www.firstcom.com.
New Releases from Killer Tracks include KT 193 – Wacky Tacky, KT 194 – Fantasy Land, HITS 004 – Stings, ZTS 011 – Rage-O-Matic and more. Audition at www.killertracks.com.
THE MIX
Cumulus Media-Amarillo Assistant Ops Manager/PD, Rick Andrews, hangs the Imaging sign out and adds ESPN affiliate KSEY 1230 AM Wichita Falls, Texas. For more info on his services, reach out to Rick at This email address is being protected from spambots. You need JavaScript enabled to view it. or 339-970-1291.