TECHNOLOGY

Tascam has announced its first condenser microphone, the LD-74. Designed by MXL, the LD-74 features a 1" gold-sputtered diaphragm, FET preamp, brass construction and a heavy-duty mic clip for attaching to a stand. The LD-74 is available separately, or as part of the new TNT Bundle. This package containing the US-122L audio/MIDI interface, the LD-74 microphone and 48-track Cubase LE software gives musicians a recording studio that plugs into their Mac or PC for a street price under $200. The US-122L is TASCAM's latest computer interface, employing USB 2.0 technology for up to 96kHz resolution and low latency delay. It features a pair of XLR microphone inputs with phantom power, MIDI I/O and a solid, road-tested metal construction.

Also new from Tascam is the 202mkIV, a cost effective, dual-well cassette deck designed to offer reliability, simplicity and audio quality. The mkIV is an update to the 202mkIII model and adds dual auto reverse, 12% +/- pitch control on deck one, a front microphone input with level control, Dolby B noise reduction, and Power on Play. www.tascam.com.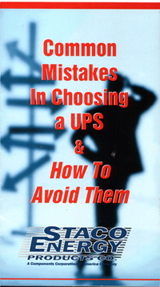 The recently published "Common Mistakes in Selecting UPS and How to Avoid Them" is now available from Staco Energy Products. This full-color, multi-page literature identifies 17 misconceptions and mistakes that occur when selecting Uninterruptible Power Supplies, and counsels readers on how to avoid them. An example of a common mistake is to improperly size the UPS - the brochure includes worksheets to accurately determine requirements. Copies of the brochure are available for download at www.staco-news.com, or can be requested by contacting This email address is being protected from spambots. You need JavaScript enabled to view it.. www.stacoenergy.com.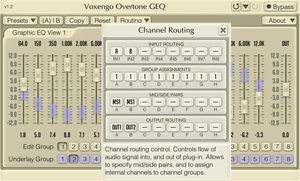 Voxengo announces the release of version 1.2 of Overtone GEQ. Overtone GEQ is a high-quality freeware graphic equalizer in PC VST format. Overtone GEQ is a 7-band harmonic (overtone) graphic equalizer with multi-channel support (supporting up to 8 input/output channels, host setup dependent: if you are using an audio host application that conforms to VST specification of a version below 2.3, 2 plug-in channels will be available only). Overtone GEQ offers extensive internal channel routing capabilities, and supports mid/side processing. Beside equalizing, Overtone GEQ applies harmonic enhancement processing. That is why Overtone GEQ is comparably CPU-heavy: it uses 7 harmonic enhancement modules, one for each EQ band. This generates complex and desirable harmonic coloration. www.voxengo.com.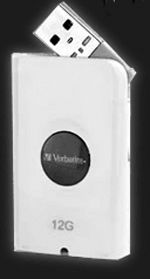 Verbatim® Corporation unveiled its newest Store 'n' Go™ USB Drive based on 1" hard drive technology with up to 12GB of storage in a unit slightly larger than a standard USB flash drive. The new 12GB Store 'n' Go USB will have a projected street price of $179. The USB storage device comes pre-loaded with Mobile Launchpad, a utility for downloading applications that can be run directly from the Verbatim USB Drive. Mobile Launchpad also allows users to have complete access to personal files and data without loading the content on a guest system. The drives can also be used in the familiar drag 'n' drop mode. With the device, users can carry and access up to 12 hours of MPEG-1 video, about 6,000 300-DPI photos, 6 hours of DVD-quality video or tens of thousands of personal or business documents. The hot-pluggable 12GB Store 'n' Go Drive has a polymer enclosure to provide shock resistance to the hard disc inside. Verbatim also provides a USB extension cable to make it easy to connect to a personal or guest computer. When connected to a computer, the blue center area of the drive lights up, showing the drive is connected and powered. The area blinks when information is being transferred between drive and computer. www.verbatim.com.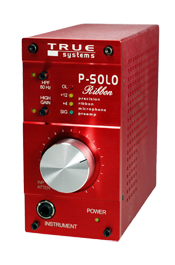 TRUE Systems announces the P-SOLO Ribbon, a single-channel microphone preamplifier that uses the circuitry of TRUE Systems' more expensive multi-channel preamplifiers with tweaks to maximize the performance of ribbon and dynamic microphones, both vintage and contemporary. The P-SOLO Ribbon exhibits the same accuracy and transparency of the multi-channel Precision 8, but its low price puts the unit within reach of a multitude of users in studio, location, and live sound applications. Like its sibling, the P-SOLO, the P-SOLO Ribbon uses balanced and transformerless. It is built with military-grade components and delivers an undistorted response that dips down to 1.5Hz and reaches up to 500kHz, offering a wide dynamic range with excellent transient response and low noise. Features include high-pass filtering, dual analog outputs, high-impedance instrument input, and four-level metering. The P-SOLO Ribbon differs from previous TRUE Systems products in ways that make it ideal for ribbon and dynamic microphones. It has no phantom power, which is unnecessary for and potentially damaging to ribbon microphones, and it has even higher input impedance and gain capability than other TRUE Systems designs. MSRP: $745. www.true-systems.com.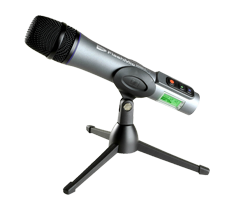 HHB has expanded their FlashMic range with the introduction of a new cardioid version - the FlashMic DRM85-C - to accompany the original, omni-directional FlashMic DRM85. Both FlashMic models share the same feature set, which includes 1GB Flash memory for up to 18+ hours recording, USB audio data transfer, a high-quality preamplifier with full manual or automatic gain control (AGC), an illuminated LCD display and nine user templates which can be configured externally using the FlashMic Manager software supplied. HHB Managing Director, Ian Jones said, "Although we expect the omnidirectional FlashMic to be the most popular model, some of our broadcast users have been requesting a more directional FlashMic specifically for use in environments in which there are high ambient sound levels, such as press scrums and conflict zones." www.hhb.co.uk.
PRODUCTION LIBRARIES
New releases from Killer Tracks include KT 191 – DJ Happy, KT 192 – Intros & Rises, HITS 003 – Greatest Hits: Kitsch, CM 66 – Dirty South Booty Quake, ZTS 10 – Big Back Ends, NM 282 – Outlaw, SLAM! 47 – Chaos Rock Show, UBM 50-51 – Peer Raben, Atmos 219 – Human Stories, and more. Audition tracks at www.killertracks.com.
THE MIX
Congrats to RAPster Kurt Kaniewski at Clear Channel/Lincoln, Nebraska. Kurt recently picked up a Gold Addy from the Lincoln Advertising Federation in the Radio/Local Market :30 category, and also received a Crystal Award of Excellence in the category of "Use of Music" in the most recent International Communicator Awards competition. Kurt also nabbed a Finalist position in this year's RAP Awards Best Commercial/Small Market category! This email address is being protected from spambots. You need JavaScript enabled to view it..
Neil Holmes of Voice Creative announces that Voice Creative is giving away months of free copywriting to stations. Prizes are a year, 3 months and a month of free Voice Creative copywriting. No purchase necessary to enter, just check Voice Creative out and fax the entry form. Copy samples, contest details and entry form are available at VoiceCreative.com. "Why are we making this offer? In short because we believe Voice Creative creates copy that sells and is an incredible value for stations. Voice Creative can provide the one thing every creative desires: time. Time for more effective station imaging, time for listener focused commercials, time for show prep, time for sales folks to build relationships (and control buys), etc." The entry deadline is April 15th. www.VoiceCreative.com/Contest.html.
Promo Only MPE recently unveiled a new artist liner service that enables record labels and artists to record and distribute artist liners in an easy and cost effective manner. With Promo Only MPE's Artist Liner Service, artists can record liners in real time over any landline, literally as easily as making a phone call. Artists can simply dial in to a centralized number via a landline telephone, enter an ID password, record their liner and playback and re-record the liner until they are completely satisfied. Once their liner is completed, the Promo Only MPE System will send a notification e-mail to the record label confirming that the liner is ready for distribution to radio via the Promo Only MPE system. www.promoonly.com.