Page 3 of 3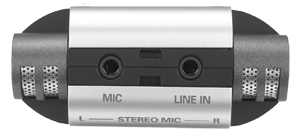 TINY JACKS
Audio gozintas and gozoutas consist of a stereo mini-jack Mic input for a mono or stereo microphone, and a mini-jack line input. You can't use both at once, and plugging anything into the line input disconnects the mic input. "Phantom" power is available via the mic jack, and you activate it through the main scroll-down menu on the front of the unit. But before you begin figuring how to connect your Neumann U-87ai directly to the R09, understand that the "phantom" power is a low-voltage source known as "plug-in power" that provides only 3.3 volts — not nearly enough for a proper condenser microphone, but perhaps suitable for a lavaliere or small electret condenser like the Edirol CS-15, which is a shotgun-shaped stereo mic especially designed for use with the R09 (I stuck to the built-in mics for this evaluation — read on for more on those). The output connector is another mini-stereo jack. This one doubles as a digital output, mostly for use with Roland's digital studio monitors, but it's also where you'll connect a pair of headphones for monitoring while recording.
The R09 is flexible regarding recording file formats, and allows you to record audio as either WAV or MP3 files. WAV files can be recorded at either 16-bit or 24-bit resolution using a 44.1kHz or 48kHz sample rate, while with MP3 files there are seven bit rates available, from 64 kbps all the way up to 320 kbps. Along with the difference in quality, there is a huge difference in the recording times that can be achieved with these formats. For example, recording at the highest quality (a 24-bit WAV at 48kHz) gives you just three minutes of recording time using the included 64MB memory card. At the other end of the scale, recording using the MP3 format at 64kbps gives you over two hours of record time on the same card. The trade-off between quality and recording time will depend on what you're recording and how you want to use it.
Incidentally, the SD memory cards the R09 uses are physically smaller than the flash cards used by other portable digital recorders, such as the M-Audio Microtrack. You can buy higher-capacity cards at 512MB, 1GB and 2GB — the 2GB card will give you two hours of record time at 24-bits and 44.1kHz, the format I like to use for easy transfer into Pro Tools and Audition. Edirol recommends Sandisk, Lexar and Kingston memory cards, and at the time of this writing I found Kingston 2GB SD cards at www.newegg.com for around forty bucks. Nice.
After recording, you track is saved automatically with a default name, for example R09_0001.WAV (or MP3 if that's how you've set it up). Obviously, you'll want to name tracks properly, and you can do that via the main menu and a lot of button presses. I found it easier to connect the R09 to my computer and name it from there, since the R09 appears on the desktop as a generic USB storage device. The file name appears on the R09's screen, so if you're calling your track "Johnson's Furniture Memorial Day Sale-a-thon" or some such, it's much easier to type that on a computer keyboard than it is to use the scroll buttons to pick out one letter at a time on the R09. You can also create folders to organize files on the SD card using the R09's menu keys, but again this is easier to accomplish with a computer.
However, it's nice to know you can do it on the R09 when you're away from your laptop. Incidentally, the R09 supports both USB 1.1 and USB 2.0, and the transfer times are quick enough — a 600MB file takes about five minutes to transfer to the old laptop.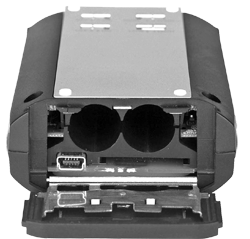 LITTLE MICS
The built-in microphones are far better than I had expected. Positioned on either side of the top of the unit, they're good quality electret condenser microphones with a cardioid pattern. They're mounted in such a way that they aim toward the corners with a 120 degree spread between them, and you can get a stereo recording with moderate separation out of them as they stand. They're shock mounted and relatively impervious to knocks, although it's easy to overload them with loud low-end signals (like you'd hear inside a Flowmaster-equipped '65 Ranchero). Kicking the low cut filter into gear takes care of that in most instances. The mics are sufficiently clean on the top end, with a generous low-end response. Keep in mind that because the R09 is a completely solid-state device, it's totally silent and doesn't make any noises for these mics to pick up.
I also tried running a line-level signal from my console to the Line In jack. The converters in the R09 won't win any awards for studio use, but they are clean and best of all they are quiet. I suppose you could use a portable mic preamp with better quality and run that into the Line In jack, but you're going to have to run the analog output into the R09's converters anyway, since there's no way to get a digital input into the recorder. For my purposes I see no need for external mics or extra preamps... what's provided in the R09 is just fine, thank you.
According to Edirol, a set of AA batteries should last around four hours when recording. As a test, I installed in new set of alkalines, dialed up the 64 kbps MP3 setting to maximize recording time, and hit Record. After five hours, the batteries still had enough life to let me mess with the menus. For long projects, you can also run off the included AC power adaptor.
Changing batteries is easy, so long as you're gentle with the bottom cover. There's an ingenious trap door on the bottom; slide the door halfway to access the USB port and memory card, or pop it fully open to reveal the battery compartment. However, don't be too casual with it — the hinges feel flimsy and the door can get off its track when fully opened.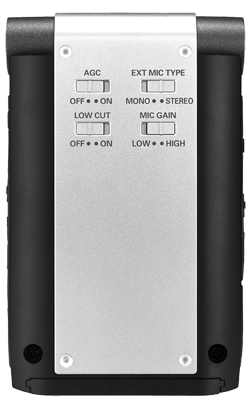 LITTLE ANNOYANCES
There are not many but there are a few, in addition to the aforementioned tiny labels. The internal clock, which is used to time- and date-stamp recordings, runs on the internal battery or AC adapter. The clock will continue to run with the power off, at least for a while, but after a few days it will stop and reset itself. This means that next time you power up you'll get a "Clock Initialized" message during startup, and you'll have to visit the Date and Time screen to set things properly. Bummer.
I also wish that the R09 could record in true mono, using only one track and doubling the available recording time. This is not a deal-breaker, but it is a minor drag that everything is always recorded in stereo.
BIG SMILES
Okay, so I like the R09. What's not to like? It could be priced a bit lower, but the street price is under four bills — the same price as M-Audio's MicroTrack 24/96, and a couple hundred less than the Marantz PMD-660. It records at 24-bits, the mics, preamps, and converters sound good, and I can transfer from it straight into the old laptop. Available accessories include a gig bag and a little desk stand to hold it, but I don't need that stuff. I'm gonna keep this one in my pocket where it belongs.
The Edirol R09 Wave/MP3 Recorder carries a suggested retail price of $450 USD. For more information worldwide, visit www.edirol.net.
♦