Page 3 of 4
A feature lacking in previous versions was the ability to record with effects. Now while you still can't record with effects in 2.0, you can at least monitor the input with effects through the new mixer. If you save your effect or effects to a preset, you can go back and add them at anytime. This gives you the best of both worlds: the effect you want to hear to help the performance, and the dry recorded track that allows you to tweak the effect to perfection on mixdown and playback.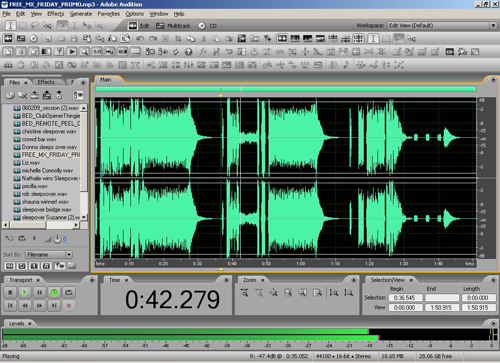 Switching to the Edit View screen, the biggest change is the Mastering Rack. Basically the same effects rack from the Mixer channels, for the first time you can now have multiple effects in Edit View that you can adjust as needed, rather than having to process and undo when switching and adding effects. Also new is a multiband compressor, designed and licensed from iZotope, the company that makes Ozone, Vinyl, and Spectron. Don't think that you're getting a free version of Ozone included though. This is completely different from that plug-in, straight forward and easy to use.
Another feature that users had been asking for is scrubbing. It seems some really need to "rock the reels" like they did with tape to get a better feel for what they are editing, or are used to shuttling through a video or DAT tape. CTRL and ALT keys are the modifiers for these functions in conjunction with the mouse, and it works exactly as users asked for.
The most interesting feature implemented into Audition 1.5 was Frequency Space Editing, where you could edit only some frequencies over time, rather than cutting out everything, allowing you to modify sounds, or cut out spurious sounds like table thumps. With 2.0 this is changed with the addition of the Lasso Tool. Rather than just stretching a block over the frequencies you want to edit, you can now draw around the frequencies you want to edit, getting much more precise shapes.
Audition 2.0 also adds Ogg Vorbis (.ogg) compressed file format support, and basic Broadcast Wave (.bwf) file support,
Switching to the CD view, the ability to save CD layouts is added. Should you need to go back and burn another copy, or edit the track order, you now can. You can now burn 99 copies of a CD layout in a single session. Data and session backup to CD is not implemented.
If you are a current Audition 1.0 or 1.5 user, your current sessions are playable in 2.0 with a couple of important cautionary notes. First note that when you open a 1.5 session in 2.0, the software prompts you to save the session with a new name. Please do this before you do anything else. Why? 2.0 sessions are not backwards compatible to 1.5. Any changes and saves to your 1.5 session make it a 2.0 session. Saving the session with a new name saves the original version of the session for later use in 1.5. The audio files in the session are the same; just the SES files are different. Why would you want to go back to the original session in 1.5? Not all effects from 1.5 have been carried over into 2.0 (Quickverb and Dynamic EQ for example). If you had a specific sound using those effects, when you go to open it in 2.0 you'll have to rebuild your effects rack using other effects and using the automation lanes to get a similar setup. If you are a longtime Audition user with many of your own custom effect presets, remember that the effects have been rewritten. You cannot just copy and paste from the .ini file to bring your presets over like you did previously. Currently the only ways to save the presets are to physically write down the parameter values and enter them in the new effect GUI, or open a session from 1.5 with those effects and presets used, save the session as noted above, and then go in and save the preset.