TECHNOLOGY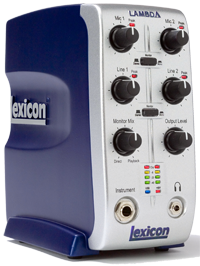 Lexicon Pro™ announced a new USB desktop recording solution, the Lambda Desktop Recording Studio. The system includes everything needed for portable and professional recordings, including the Lambda Studio USB I/O mixer, Steinberg's Cubase LE® multi-track PC and Mac® OS X recording software as well as the Lexicon Pantheon™ reverb VST™ plug-in. The Lexicon Lambda Desktop Recording Studio, a bus-powered USB audio I/O Mixer and MIDI interface, features two XLR microphone inputs designed by dbx®, with TRS inserts and switchable +48V phantom power. Rounding out the full complement of connectivity on the Lambda are two TRS balanced 1/4" line inputs, two TRS balanced line outputs, a 1/8" front-panel mounted high-power headphone output jack, a front-panel ultra-high-impedance instrument input, and MIDI input and output. Powered directly from the USB bus, the Lambda Studio can stream four channels of 44.1 or 48 kHz audio at either 16- or 24-bit resolution to Mac or PC computers. Users can record two tracks at once from up to four input sources, as well as recording MIDI. The microphone and line inputs have individual level controls and peak meters, and are summed at the analog-to-digital bus. Mono/stereo monitoring is provided, as is Zero-latency Direct/Playback Monitoring, allowing for delay-free overdubs. A 2-channel, 4-segment LED bargraph meter indicates input level, and phantom power and USB LED indicators provide status information. The Lambda Studio hardware can be used with almost any recording and sequencing software. Lambda Studio will carry an estimated street price of $199.99. www.lexiconpro.com.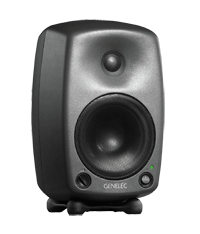 Genelec announced its smallest speaker system to date, the new 8020A (8 7/8" x 6" x 5 5/8" [height with Iso-Pod™ 9 1/2"]). The system has been designed for monitoring in difficult listening environments, particularly those characterized by lack of space. The 8020A two-way active monitoring system incorporates Genelec's acoustic design innovations to minimize all forms of distortion. The 8020A has a die-cast aluminum Minimum Diffraction Enclosure™ (MDE™), which features large internal volumes, softly curved edges and outstanding mechanical strength. Each monitor features a 4" bass driver along with a 3/4" tweeter loaded into a new Genelec advanced Directivity Control Waveguide (DCW). The free field frequency response is 66 Hz to 20 kHz (± 2.5 dB). Maximum peak SPL output per pair with music material is 105 dB. Bass and treble drivers are each powered by 20-Watt amplifiers. The 8020A is magnetically shielded for use in environments where video monitors are in close proximity. Omnimount and Genelec monitor stand fixing holes are also standard. The 8020A comes in white and silver, in addition to black. The 8020A can be combined with the new 7050B Laminar Spiral Enclosure™ (LSE™) subwoofer to provide a powerful, bass-managed and wide bandwidth surround sound monitoring system. Also new from Genelec is the 8130A Digital Monitoring System. Featuring a 192 kHz/24-bit digital audio interface, AES/EBU digital and analog audio inputs, as well as automatic detection of word length and sampling frequency, the 8130A is the latest addition to Genelec's 8000 MDE™ Series of Bi-amplified Active Monitors. The 8130A is compact with advanced integrated construction, and has excellent dispersion and precise stereo imaging, which makes it ideal for near-field monitoring, mobile vans, digital audio workstations, broadcast/TV control rooms, surround sound systems, home studios, multimedia applications, and use with computer soundcards. Bass response has been widened down to 55 Hz (-3 dB) while distortion is substantially lower due to a unique new rear port design. The 8130A has sufficient LF extension for most monitoring situations, however it can be complemented with Genelec's 7050B subwoofer (cutoff point 25 Hz) for additional low-end response. The 8130A is simple to set up and use — the only connections required are the mains supply and the line level input. The female XLR input connector can be fed with either AES/EBU formatted digital signal or analog line level audio signal. The 8130A automatically detects analog or digital signals and directs them to the correct signal paths. When the 8130A is presented with a dual-wire/single channel signal, detection is automatic and the digital input mode is selected. The 8130A features a 5-inch bass driver along with a 3/4-inch tweeter. The free-field frequency response is 58 Hz to 20 kHz. Peak SPL per pair is 108 dB, driven by a pair of 40 Watt amplifiers. MSRP is $995.00 per channel. www.genelecusa.com.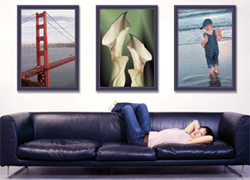 Fairfax, CA-based MSR, Inc., makers of the StudioPanel™ acoustic treatment solutions, announced that its popular line has been expanded to include the addition of the new Salon Acoustics™ decorator-friendly acoustic panels available in a myriad of graphic designs. Designed by the acoustical engineering group, PMI, Ltd., Salon Acoustics has been licensed to MSR for exclusive manufacture and worldwide distribution. Salon Acoustics sound absorption panels are engineered to offer a high degree of absorption down to 500 Hz and are an ideal choice for "de-industrializing" the look of media production rooms. Available in a variety of standard and custom sizes, the shallow, two-inch deep Salon Acoustics panels dispel the myth that acoustic absorption panels cannot be aesthetically-pleasing additions to a professional working environment. Using a unique and proprietary fabric printing process, a favorite photograph or painting can become the fabric cover for a high-quality sound absorber in a production room. Customers can choose from a wide variety of artwork images. Pricing and ordering details may be obtained from MSR's web site at www.msr-inc.com.
Voxengo announces version 1.5 of Pristine Space 8-channel convolution processor. Pristine Space is a PC VST plug-in that allows you to use sampled reverbs and other impulses in stereo and surround configurations. The update fixes minor issues and implements minor enhancements: volume envelope readout now displays 'dB' instead of 'percent' values. Pristine Space offers several useful envelope-driven non-destructive impulse editing options, including volume, stereo width, stereo pan, low-pass and high-pass filtering, and a linear-phase equalization. You can also reverse, cut and time offset the loaded impulse file with ease, non-destructively. Pristine Space is available for purchase on-line for USD 139.95. www.voxengo.com.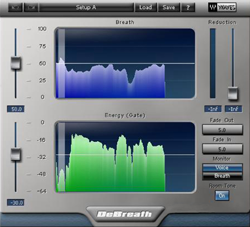 Waves introduced Tune, an advanced pitch-correction plug-in, and DeBreath, a unique plug-in that can separate and remove unwanted breathing sounds from vocal tracks. Both are included in Waves new Vocal Bundle. Tune performs pitch correction of vocals and other instruments with a new level of transparency. In addition, Tune allows users to change individual notes or entire melodies as easily as manipulating MIDI notes, while Tune's formant correction provides completely natural-sounding results. Tune features a familiar "piano-roll" interface which displays the original pitch, the corrected pitch and individual notes, offering intuitive and flexible operation. Tune also offers sophisticated editing tools that can be applied at a nearly microscopic level. A Line tool allows glissandi and other transition effects to be drawn on-screen, while the Curve tool moves the correction curve up or down. DeBreath removes or reduces breathing sounds from a vocal track, notably the inhalation at the start of a line. DeBreath is not simply a noise gate but instead actually detects breath segments and separates them out using a unique template-matching algorithm. This allows their level to be altered without affecting the rest of the signal. Room tone can also be added to compensate for its loss where breaths are removed or reduced. Because DeBreath can be used to separate a vocal track into two elements, one containing only the voice and the other only the breaths, each can be processed differently, allowing for the emotional effects of breathing to be enhanced with additional processing if desired. In addition to being used to clean up singers' tracks, DeBreath will be an effective timesaving tool for engineers working with voice-over and spoken-word recordings. Tune is available for $600 (MSRP); DeBreath is available for $350 (MSRP). www.waves.com.
THE MIX
Five time finalist and two time RAP award winner Brian Wilson has accepted the position of Program Director for ABC Radio Network's JACK FM format. Wilson, who has never toured with the Beach Boys, was the original Imaging Director for Pirate Radio/KQLZ Los Angeles, Y95/KODZ and KLIF in Dallas, WMAL Washington DC, and Scott Shannon's True Oldies Channel. Wilson released the "Sledgehammer 1" production library through TM Century and draws the cartoon "KRUD Radio" for RAP magazine. Brian says he expects to work for ABC "until someone wakes up and realizes the huge mistake they just made."
RAP contributing writer Neil Holmes has added a new Copywriters Links page at VoiceCreative.com (www.voicecreative.com/Copywriters_Links.html). It is for copywriters looking for inspiration or to kill some time, a bunch of links that can help stimulate new copy approaches. Additions to the list are welcome. This email address is being protected from spambots. You need JavaScript enabled to view it..
Following much speculation about Citadel Broadcasting buying ABC, it's official. Citadel will acquire most of Walt Disney Co.'s radio assets in a $2.7 billion deal that makes Citadel radio's third largest player. The cash-and-stock transaction was announced with Disney's first-quarter results for fiscal 2006. Citadel owns 200 mid-market stations but now makes the leap to major markets. New York buyout firm Forstmann Little & Co. owns approximately 67 percent of the company, giving Citadel an advantage in acquiring ABC due to deep relationships. The deal includes Disney's 22 ABC radio stations and the ABC radio network. Disney will spin off its radio assets and merge them with Citadel's. Citadel shareholders will then own around 49 percent of the new company, and Disney shareholders will own the rest. Disney is keeping its Radio Disney and ESPN networks.