TECHNOLOGY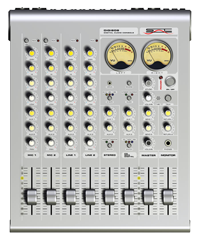 SAC Pro Audio introduced two new products: the DiGi808/DiGi818 Digital Audio Mixers and the PUMP 6A/8A Direct Field Monitor Speakers. The DiGi808/DiGi818 Professional Digital Audio Console is versatile, digital mixer featuring a high-quality analog preamp section that feeds a 24-bit/96 kHz internal digital mixing engine. The DiGi808/DiGi818's talkback mic, insert, Aux/Return, MP3 input, and multiple outputs are ideal for the home studio while its solid aluminum case, big VU meters and small footprint make it perfect for mobile recording rigs and solo performers or small bands. Specs include : 4-bus, 8-channel digital mixing engine with programmable dither and loudness compensation; 24-bit/96 kHz AD/DA, S/N 106dB, DR 106dB; high quality pure microphone preamps and 3 band analog EQ; 8 x 100mm professional faders (60mm on DiGi808); inputs 1&2 balanced XLR, with 48V phantom power switch. (MIC/LINE adjustable); inputs 3&4 balanced 6.3mm TRS line input for guitar or bass; inputs 5&6 unbalanced RCA for DAW or synthesizer; inputs 7&8 switchable between unbalanced RCA, stereo mini jack and digital input for CD player, MP3 or other digital audio player with vocal reduction facility; optical and coaxial S/PDIF stereo input/output with sample rate conversion (44.1/48/88.2/96K); 2 Aux sends and returns; headphone output with volume control and more. The PUMP 6A/PUMP 8A Biamplified Direct Field Monitors are built with a thick 25mm faceplate and solid speaker cabinets for powerful low frequency response and durability. The PUMP Series features 6 or 8 inch mineral-filled polypropylene cones with high temperature voice coils and damped rubber surrounds coupled with high-efficiency ferrofluid-cooled natural soft dome tweeters with a dedicated filter for an exceptionally clean sound. Two high S/N ratio amplifiers (dedicated woofer and tweeter) with a fourth order electronic crossover circuit provides a smooth frequency response and SPLs up to 91 dB. The PUMP 6A/8A are fully magnetically shielded, include a convenient front volume control, and include a delay protection circuit for power-on, making them ideal for a computer-based digital recording studio. Pricing: DiGi808/DiGi818 - $329 MSRP. PUMP 6A: $119 MSRP. PUMP 8A: $279 MSRP. www.sac-pro.com.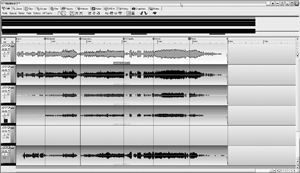 Steinberg Media Technologies presents the latest version of its WaveLab editing and mastering software. WaveLab 6 offers a range of new features including the new Spectrum Editor, enhanced editing and signal processing functions, advanced audio I/O handling and more. WaveLab 6 is now shipping worldwide for Windows XP. The new WaveLab Spectrum Editor provides new restoration and editing possibilities, including easy removal of disturbances and unwanted noise. The new "Surgical" mode allows "copy/paste" of either a whole region or the background 'ambience' of that region, as well as the application of any processes to the selection – with full undo and redo functionality. New functions also include the integration of hardware effect equipment within the mastering process, allowing engineers to combine the next-generation editing facilities in WaveLab 6 with the sound of their favorite analogue gear. Remote controller support via MIDI permits use of a tactile control surface. $699 MSRP. www.steinberg.net.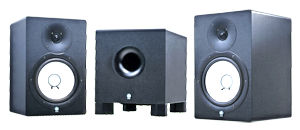 Yamaha unveils new reference monitors. The Yamaha HS Series is a two-way, internally powered speaker system designed to provide affordable, high quality reference monitoring for all types of recording and multimedia applications—home studios, computer-based music production, gaming systems, keyboards rigs and personal computer systems. Three cabinet models, the HS50M (MSRP $249.95), HS80M (MSRP $449.95) and HS10W (MSRP $599) subwoofer are available. All products are sold and packaged individually, making it easy to build flexible monitor setups and 5.1 systems. The 70-watt HS50M (5-in. cone and 3/4-in. dome tweeter) and 120-watt HS80M (8-in. cone and 1-in. dome tweeter) are housed in bass reflex-type cabinets, and reproduce surprisingly tight low end and smooth, high frequency response to beyond 20 kHz. Inputs include a balanced XLR and 1/4-in. phone jack. In addition to master level controls, each speaker has trim switches that allow you to custom-tailor low, mid and high frequency response for different applications. The HS10W powered subwoofer contains a long-stroke, 8-in. 120-watt woofer and bass reflex design cabinet that maintains high efficiency and low distortion. Connections include dual XLR and 1/4-in. inputs, and three balanced XLR outputs (Mix, L&R). Controls include master level, phase and low/high cutoff frequency. Enclosures are constructed of high-quality MDF material and a multiple layer finish that minimizes resonance. www.yamaha.com/proaudio.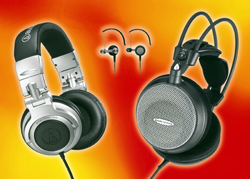 Audio-Technica announced the U.S. introduction of its Import Series headphones. Previously available only in Japan, the Import Series is comprised of 15 different models specifically designed for DJs, portable listening applications or audiophiles. Each model features the latest in transducer technology, a Neodymium magnet system, rugged construction and delivers the highest level of sonic accuracy while providing maximum comfort for hours of listening. Audio-Technica has three new Import Series professional monitor headphones created for the working DJ. Featuring a low-profile, closed-back dynamic (circumaural isolation) design for excellent isolation in loud listening environments, the new DJ headphones have the ability to handle extremely high SPLs, and employ large-aperture drivers, CCAW voice coils, rotating earpieces for easy one-ear monitoring, and OFC oxygen-free copper cable with gold-plated stereo 1/8" connector and 1/4" adaptor. The DJ range includes the: ATH-PRO700 SV, ATH-PRO5 V and ATH-PRO5 MS Professional Monitor Headphones. For portable and active applications, Audio-Technica has seven styles that include: three comfortable and adjustable clip-on models featuring an avant-garde design, which are available in either a machined aluminum housing or a wooden housing made from Japan's Hokkaido cherry wood; two lightweight and powerful ear buds made from either brushed titanium or aluminum; a lightweight ear-bud/clip-on hybrid headphone with three-position design for custom fit; and a sleek, folding headphone design. Models include the: ATH-EW9, ATH-EM9r and ATH-EM7 GM Adjustable Clip-On Headphones; ATH-CM7 SV and ATH-CM7Ti Ear-Bud Headphones; ATH-EC7 GM Ear-Bud/Clip-On Hybrid Headphones; and ATH-ES5 SV Portable Folding Headphones. For the audiophile, Audio-Technica has developed a full-range of circumaural headphones consisting of three open-air and two closed-back models. These reference-quality headphones deliver natural high quality sound with deep bass and vocal projection. Key features include large-aperture drivers, double air damping system, copper-clad aluminum wire (CCAW) voice coils, a self-adjusting 3D wing support housing, velvet or leather ear-fitting pads, high quality titanium alloy cable or OFC oxygen-free copper cable with a gold-plated stereo 1/8" connector and 1/4" adaptor. Audiophile models include the: ATH-AD700, ATH-AD500 and ATH-AD300 Open-Air Dynamic Headphones and ATH-A700 and ATH-A55 Closed-Back Dynamic Headphones. The Import Series is available immediately with pricing that ranges from $119.00 through $329.00 MSRP. www.audio-technica.com.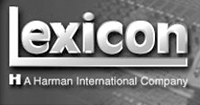 Lexicon Pro announced a new USB desktop recording solution, the Alpha™ Desktop Recording Studio. This system includes everything needed for portable, professional recordings including the Alpha Studio USB I/O mixer, Steinberg's Cubase LE® multi-track PC and Mac® recording software, and the Lexicon Pantheon™ VST™ reverb plug-in. The Alpha Studio features one XLR microphone input, two TRS line inputs and two TRS & RCA line outs. Alpha's front panel features an ultra high-z 1/4" instrument input for direct to computer recording and a 1/8" high powered headphone output for use with professional or consumer headphones. Conveniently powered directly from the USB bus, the Alpha Studio can stream two channels of 44.1 or 48 kHz audio at either 16- or 24-bit resolution to Mac or PC computers. Users can record two tracks at once from two input sources. The microphone and line inputs have individual level controls and peak meters which are summed at the analog-to-digital bus. Mono/stereo monitoring is provided, as well as Zero-latency Direct/Playback Monitoring, allowing for delay-free overdubs. The Alpha Studio hardware can be used with almost any recording software the user prefers. Alpha Studio will be available from authorized Lexicon dealers at an estimated street price of $129.99.
THE MIX
Among the casualties of Cumulus Media's recent acquisition of the Susquehanna Radio group was Johnny George, Creative Services Director for the Indianapolis cluster. Johnny was released and the position eliminated. "I thought I'd retire from radio at Susquehanna Indy and do voice work till the day I die", Johnny stated. "Guess this opens up the field for just about anything that I can dig my teeth into and still feel the creative satisfaction." Contact Johnny at This email address is being protected from spambots. You need JavaScript enabled to view it. or visit his site at www.johnnygeorge.com.
TM Century promotes 28-year-old Chris Stevens to the newly created position of Vice President/Creative Director. Chris joined TM Century last fall as Creative Director. Previously, Chris worked for BBC Radio 2 in London. Prior to his work with the BBC, Stevens was Group Head of Production for the Guardian Media Group, overseeing the sound of Real Radio and Smooth FM. www.tmcentury .com.